theartsdesk in Oslo: The Tape to Zero Festival |

reviews, news & interviews
theartsdesk in Oslo: The Tape to Zero Festival
theartsdesk in Oslo: The Tape to Zero Festival
Boundaries between musical genres get a seeing to in Norway
Biosphere (left) and Deathprod battle it out at Tape to Zero
The on-stage collaboration between north-Norwegian ambient maestro Biosphere and his similarly inclined but sonically darker countryman Deathprod was a one off. At Oslo's Tape to Zero festival, Biosphere and Deathprod bought the you-had-to-be-there moment. The pair had collaborated for a remix project of composer Arne Nordheim in 1998, but this was about new music.
The two days weren't just about this unique partnership. Tape to Zero united Susanna Wallumrød (who performs as Susanna and was formerly half of Susanna & the Magical Orchestra) and off-kilter Dutch singer-songwriter Jessica Sligter, who records solely for Norwegian labels. Germany's Joker Nies, Peru's Andrés Prado, and Norway's own Skyggespill and sPacemoNkey were also playing.
Tape to Zero defined itself as a "mini festival with a focus on contemporary jazz, electronica and ambient music." The host venue was Norway's Nasjonal Jazzscene (National Jazz Scene) at the Victoria theatre, along Oslo's main street Karl Johans Gate. Built as a cinema in 1915, Victoria has been through different incarnations since films ceased being screened in 1985 – a cabaret venue and as an outpost of Norway's National Theatre. It became Norway's home for jazz in 2008. (pictured right: sPacemoNkey at Tape to Zero. Photo: Andreas Ulvo)
It's an enviable space. The sound is great. The stage can be seen from anywhere, even from a stool along the bar. Ranks of padded banquettes at the back are complemented by two balconies hugging the walls. Tables range in front of the stage. The capacity is 350. But this is Norway and there is a price to pay: a bottle of beer can cost 162 krone – £16. And it is easy to miss the door. Zoning regulations mean Victoria cannot place billboards outside during daytime. The entrance, once found, is down a corridor flanked by a single TGI Friday's restaurant. During quiet passages of performances, noise can bleed in from the kitchen. Insulation is needed. Despite all this, it is a fantastic, world-class venue.
Holding the festival at a jazz venue brings pause for thought as genre definitions are particularly elastic in Norway. Preconceptions had to be stowed. Joker Nies is all analogue and plays a white, be-knobbed device shaped like a tennis racket which appears to have a integral Theremin. His noise is the collision of Bebe and Louis Baron's Forbidden Planet soundtrack, two agitated stylophones and The Clangers's Soupdragon with a headache. Peruvian guitarist Andrés Prado makes more sense, and his collaboration with drummer Terje Evensen and double bassist Terje Gewelt is restrained, refined and not about instruments arguing with each other.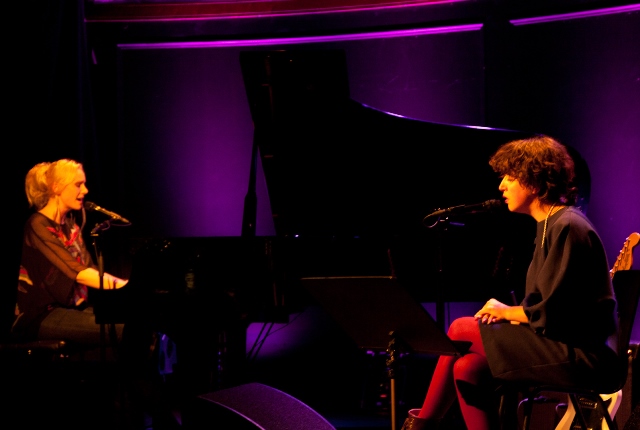 There was also the equally measured yet spellbinding and intense alliance between Susanna and Jessica Sligter. On album, Sligter's shadowy, affecting music underpins lyrics of identity and gender. Susanna has recently issued The Forester, a modern classical album opening with a 15-minute suite (it's in the blood: her brother is experimental composer Christian Wallumrød). On stage together, the duo were closer to a melding of Susanna's last but one album Wild Dog and Sligter's own, solo, releases. Their contrasting voices should not have worked together, but did. (pictured left: Susanna [left] and Jessica Sligter at Tape to Zero. Photo: Joker Nies)
sPacemoNkey were Tape to Zero's revelation. Susanna's former Magical Orchestra partner Morten Qvenild appeared in the duo with drummer Gard Nilssen (who also plays with the challenging Bushman´s Revenge). They turn British Seventies fusionists like Colosseum inside out. But instead of making it heavier and faster, like fellow Norwegians Elephant9, they deconstruct and reassemble the music as stripped-down, rolling crescendos so powerful the venue shook. Perhaps TGI Friday's took notice. Most of their single-piece set was improvised. Qvenild stood up to give his grand piano and electronics a seeing to, while Nilssen pummelled his kit into the floor. Marvellous.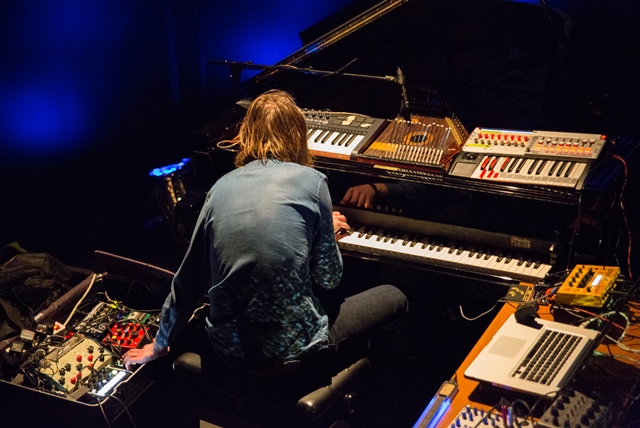 It ended as it began, albeit with two men staring at laptops, rather than one. Tape to Zero had kicked off with Skyggespill (Shadow Play) the new electronica project of Kjetil Husebø. His dense, swirling take on the ambient conjured images of water thundering through undersea caves, early Ash Ra Temple and Kluster. (pictured right: Morten Qvenild of sPacemoNkey's electronics. Photo: Unless Media)
The end came with Deathprod & Biosphere. Deathprod (Helge Sten) works under his given name as producer for bands like Motorpsycho, but this was firmly within the electronica he releases under the assumed name. Biosphere (Geir Jenssen) has followed various branches of the same path but, again, what was heard at Tape to Zero was what may be expected. This had to be about the music, as watching two men facing each other over the screens of laptops doesn't make for a gripping spectacle however interesting the lighting effects and however smart the less-hirsute than familiar Sten looks. The untitled piece was closer to 1997's Biosphere album Substrata than anything else, albeit minus the glitchiness and with a hard, ringing edge enveloping the wash of sound. Sten – and it is of course relative– appeared to have brought out Jenssen's rock side for this immersive new work.
Tape to Zero is a brave venture, bringing together partnerships which on this evidence really should not be one-offs. More than this though, its appeal is straightforward: to showcase fantastic, sometimes confounding, music in a fantastic venue.
sPacemoNkey were Tape to Zero's revelation. Their rolling crescendos were so powerful the venue shook
Explore topics
Share this article