Mandela: Long Walk to Freedom |

reviews, news & interviews
Mandela: Long Walk to Freedom
Mandela: Long Walk to Freedom
Idris Elba and Naomie Harris lift a solid biopic of the late, great Nelson
Thursday, 02 January 2014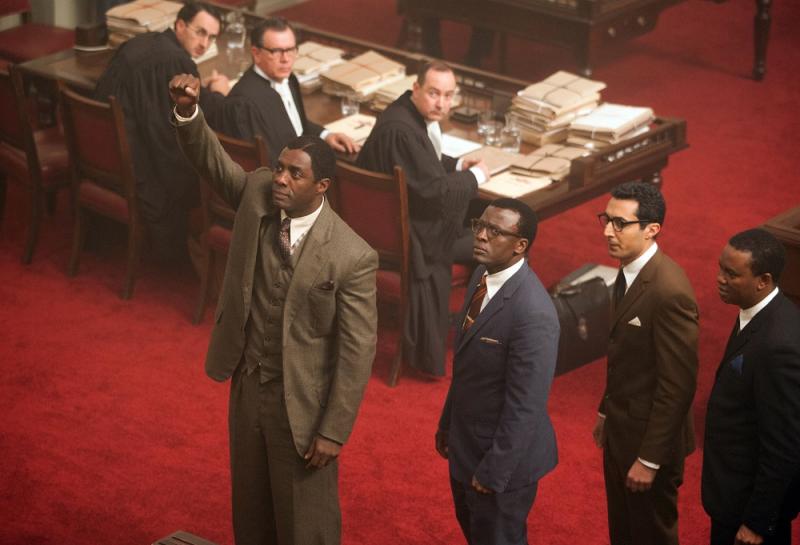 Black power: Mandela (Idris Elba, left) is defiant in court
It took the last 16 years of Nelson Mandela's life, almost to the day, to bring his autobiography to the screen. South African producer Anant Singh eventually handed Mandela: Long Walk to Freedom to British director Justin Chadwick and screenwriter William Nicholson to make a film for international audiences. The iconic weight of a violent rebel who became a living saint can't wholly be thrown off in this authorised (though freely made) biopic.
It does, though, remind you that Nelson Mandela was very far from Mother Teresa. Rough and earthy struggle preceded his Robben Island refinement into the 20
th
century's most successful man of peace.
We're quickly dropped into Johannesburg in 1941, where Mandela (Idris Elba) is 23, and an ambitious, sharp-suited lawyer. Only official indifference to the police's fatal beating of a friend convinces him to join the ANC's collective struggle.
Elba is the film's winning ace, initially convincing as a virile young Nelson who's hot in every sense, catching the eye of the most glamorous woman on every rally's edge, then bedding them with scant regard for his first wife Evelyn. Headstrong and charismatic, and enjoying the nightlife of Sophiatown, a mixed-race redoubt against approaching Apartheid, this big man who loves to box gives pumping blood and sinew to the grandfatherly statesman we knew. Pre-jail Mandela is also part of brilliant ANC resistance tactics as Apartheid becomes law in 1948: barging onto white-only train carriages in unstoppable numbers, for instance, in an inspirational and thrilling scene. The 46 years of unbroken struggle ahead before their hopes were realised is a more chastening thought.
Listed: The Many Faces of Nelson Mandela
'I photographed Nelson Mandela'

The 1960 Sharpeville massacre's confirmation that the state will slaughter opponents without compunction convinces Mandela and the ANC that non-violent, ignored resistance is redundant. This second Mandela becomes an armed fugitive, supporting terrorist tactics against Apartheid terror. He and seven co-defendants decide to be executed in defence of that right when put on trial. Fear of their martyrdom jails Mandela for 27 years instead. The story the world knows starts here. But in what is inevitably a political film, Mandela the revolutionary who never recanted comes first.
Winnie Mandela (Naomie Harris, pictured left with Elba) is the film's emotional and political counterpoint; the beloved second wife left on the outside to raise two children, continue her husband's activism, and suffer persecution and torture. Harris gives Winnie a warrior's fierce love and courage, curdled into bitter, vengeful violence over time. Elba's Mandela, meanwhile, greys and mellows – and gains an unfortunate, mummifying make-up job – till a sweaty F.W. de Klerk (Gys de Villiers) begs him to save South Africa from chaos. The loss of children whom he didn't glimpse again till they were adults, and of the Winnie he loved, are the humanising tragedies Chadwick and Nicholson emphasise in this unique statesman's life. They do a solid, unspectacular job with an important story. And where the film-makers can't strike sparks, Elba and Harris unfailingly do.
Overleaf: watch the trailer for Mandela: Long Walk to Freedom
Headstrong and charismatic, this big man who loves to box gives pumping blood and sinew to the grandfatherly statesman we knew
rating
Explore topics
Share this article