The Fifth Estate |

reviews, news & interviews
The Fifth Estate
The Fifth Estate
Cumberbatch towers as Assange, but the latest Wikimovie could use some redaction
Thursday, 10 October 2013
Screen hero? Benedict Cumberbatch as Julian Assange in 'The Fifth Estate'
There is no end to The Fifth Estate. Instead, like those outtakes at the end of cartoons and comedies, there are cut-ups from an interview with Julian Assange holed up in the Ecuadorian embassy. "A WikiLeaks movie?" he says wryly. "Which one?" Well quite. Assange is box office, and it's the argument of both The Fifth Estate and the documentary We Steal Secrets that deep down this is what he always wanted: to be a screen hero.
This isn't the real Assange, of course, but Benedict Cumberbatch's beguiling take. Quite what constitutes a convincing impersonation of such a slippery and unknowable presence is one for the shrinks - only the most cursory focus on the mythopoeia of his traumatised childhood is offered here. In cinematic terms, Cumberbatch's Assange has the swagger of an action geek taking on the system, with great snap to his lines to help him along. "I just want you to do your job properly," he loftily advises the Guardian. He also has something of the tragic Shakespearean hero, brought down by the hubristic flaw of pride.
The Fifth Estate is a partial account of the WikiLeaks story. Adapted (by West Wing staff writer Josh Singer) from the memoir of WikiLeaks' German spokesperson and tech-whizz Daniel Domscheit-Berg, it is essentially the narrative of a failed bromance. Daniel Schmitt, as he calls himself, is played with beardy intensity by Daniel Brühl (pictured with Cumberbatch) as loyal and earthed Panza to Assange's quixotic white-maned magus. They first meet in the cybersphere and then for real at a crummy tech fair in Germany where they agree to take on the secretive world of high finance and big government armed only with a couple of laptops.
It's somehow symptomatic of their superpowers that those laptops seem never to be connected to any wires or plugs. The film jumps around the functional cities of Europe from Reykjavik to Berlin (they don't bother much with the southern half of the continent - perhaps the wi-fi is unreliable) and everywhere they whip computers out of rucksacks and carry on slinging rocks at Goliath. Most of these encounters take place in grungy flats or cafes or nightclubs. Bill Condon (last seen directing the Twilight saga) has tackled the problem of showing boys with (to look at) quite boring toys by locating some scenes in a virtual office open to the skies, with monitors on desks disappearing to the horizon. It doesn't quite work.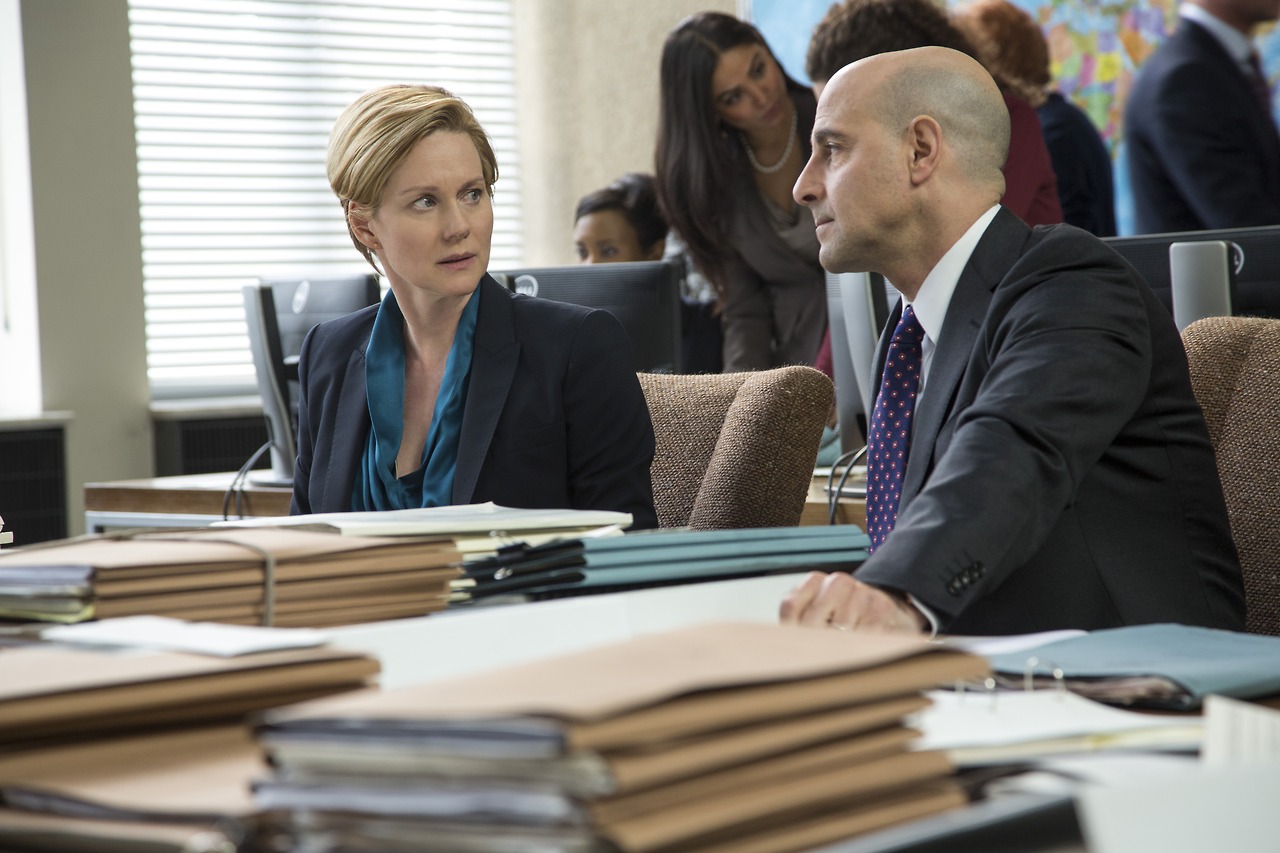 The thing that doesn't remotely work is the story set in the State Department in Washington and Libya, where through Laura Linney's high-ranking diplomat (pictured with Stanley Tucci) we see the leaked cables' impact on the American government played out, both as a political embarrassment and a human drama. These scenes are bolted onto the side of the movie like a buy-one-get-one-free add-on, suggesting a fatal lack of confidence in the WikiLeaks story. The trailer (see overleaf) cravenly advertises The Fifth Estate as some sort of shouty pirate-chasing spy thriller. It isn't. Try as everyone might – and Alan Rusbridger and the chaps at the Guardian bite their nails like dutiful spear-carriers - there is zero tension in what is essentially a psychological study of a monstrous ego.
So most plaudits going belong to Cumberbatch. He inhabits Assange's damaged psyche with guile and charm and a persuasive tilt to the neck. Brühl does what he can with the leftovers. A girlfriend (Alicia Vikander) has the dual function of wearing little in bed while, Cassandra-like, telling him what a bastard Assange is. But his private agonies as Assange brutally slaps down his uppity colleague fail to ignite the screen.
As a parable about journalism, The Fifth Estate tries to say all the right things. An excellent opening montage flicks through the history of the news from the first hieroglyph to the instant disseminations of Twitter. As Guardian gorgon-slayer Nick Davies, David Thewlis swaggers around like a leathery oracle spouting nostrums about the future of journalism. But fatally for a film about news gathering, it somehow misses the story. Bradley Manning is just a face on a screen, and the Swedish ladies currently hoping to see Assange in court are not part of Domscheit-Berg's tale. The final rupture comes when, to prevent the publication of unredacted names, Daniel and his Euro-cronies defy Assange by disabling WikiLeaks' submission platform. It may have been an epic moment for them, but it's not big enough to carry a film which could have profited from a bit of its own redaction.
Overleaf: watch the trailer to The Fifth Estate
rating
Explore topics
Share this article