We Steal Secrets: The Story of WikiLeaks |

reviews, news & interviews
We Steal Secrets: The Story of WikiLeaks
We Steal Secrets: The Story of WikiLeaks
Heroism and self-destruction collide in a revealing look at Julian Assange
Most wanted: Julian Assange in the spotlight
The story you think you know slides beneath your feet in this rigorous investigation of Julian Assange and Bradley Manning. "I'm a combative person," WikiLeaks' founder says, setting out his motives. "I like crushing bastards." Director Alex Gibney's intentions are more nuanced.
An Oscar-winner for
Taxi to the Dark Side
's exposé of US abuses in Baghdad, he has similarly probed the poisonous roots of banking (
Enron: The Smartest Guys in the Room
) and the paedophile-protecting Catholic church (
Mea Maxima Culpa: Silence in the House of God
). Gibney's restless filmography also includes the unsparing humanisation of Hunter S. Thompson in
Gonzo
and reconstruction of Ken Kesey's finest hour in
Magic Trip
.
We Steal Secrets meshes the latter films' realistic re-evaluation of counter-culture heroes with the formers' investigation of institutional abuses. Assange stands blurred at the boundary, a dashing anti-hero warped by his own exposés of the state. Refusing to cooperate with Gibney, the Ecuadorian Embassy's most notorious tenant still steps into an unflattering, forensic light.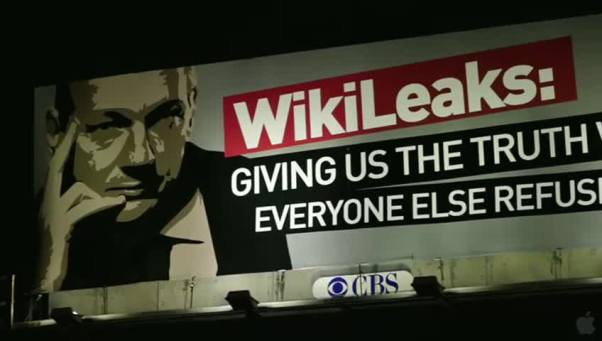 We see him in the early days of WikiLeaks, lecturing in Reykjavik with a hunched-over, diffident, perhaps seductive air. There's an earlier photo of Assange as a dreadlocked teenage super-hacker in Melbourne, the subject of Robert Connolly's more admiring biopic Underground. Later snaps of Rock Star Julian chomping a cigar, with an expensive suit, mirror shades and stubble show how swiftly hubris intervened.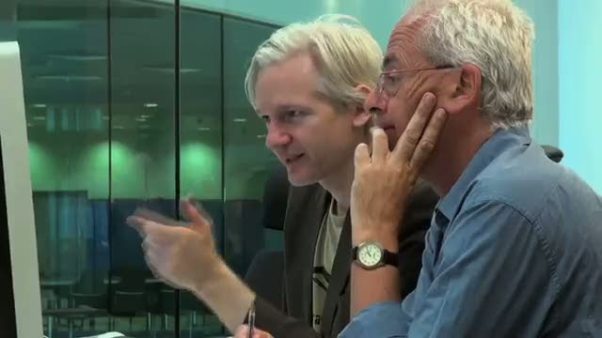 Gibney makes sure the bigger picture of the unaccountable state Assange helped expose stays in the frame, showing the footage of a US helicopter crew carelessly mowing down civilians in Iraq which brought WikiLeaks to the world's attention. The problem in canonising Assange for this is that the moral perspective he works with is as naive as George W. Bush's. The "ultimate digital man" is, says a disappointed former ally, "unsullied by the limitations of human nature". The Guardian's reporter Nick Davies (pictured above right with Assange), who worked with him on the first mass release of US files, recalls him saying, as possibly fatal consequences to individuals were wrestled with: "If an Afghan civilian helps the occupying forces, they deserve to die." The disgraceful baying for his own murder on US TV is a mirror image.
The final straw for another British journalistic supporter, James Ball, wasn't the sex charges in Sweden but, he alleges, Assange's wilful public conflation of them with US charges which have never materialised. His flawed personality has dragged WikiLeaks' mission down. The driven David who took on Goliath with little more than a laptop fractured in the media's glare.
Gibney is more interested in Private Bradley Manning (pictured left), the whistleblower who handed WikiLeaks that mass of files. This sexually-torn, soda-addicted, twitching Army misfit lip-synced to Lady Gaga while uploading its secrets, and has since been tortured, Guantanamo-style. He's a classic bullyable victim, brought down by his addiction to the false confessional space of the internet chat room, where he tells Adrian Lamo, the blogging Judas who betrays him: "I am a lost soul." This thriller-paced film finds its visual language in the digital realm where typed, spied-on secrets have infected all our realities. It's several cautionary tales at once.
Watch the trailer of We Steal Secrets: The Story of WikiLeaks
Sexually torn, soda-addicted Army misfit Bradley Manning lip-synced to Lady Gaga while uploading its secrets
rating
Explore topics
Share this article