Imagine Woody Allen: A Documentary, BBC One |

reviews, news & interviews
Imagine... Woody Allen: A Documentary, BBC One
Imagine... Woody Allen: A Documentary, BBC One
Nobody can fully explain New York's most illustrious nerd, but Robert Weide's epic film won't be bettered
Woody: from teenage joke-writer to the Bergman of Brooklyn
You might wonder if anybody really deserves three and a half hours of TV biography, but after the first half of Robert Weide's immense survey of Woody Allen, the nebbish messiah, I was pawing the carpet in anticipation of part two. Documentaries don't, as a rule, leave you in seizures of mirth, but the judicious selections from Allen's bottomless catalogue carried a sealed-in guarantee of hilarity despite being snatched from their original context.
But it isn't just comedy, or perhaps it's comedy as the visible tip of a fully-rounded philosophical iceberg. Even Allen's shortest one-liners may contain not just a joke, but an essence of his mordant, fatalistic universe: "My grandfather, on his deathbed, sold me this watch."
It would be technically correct to pigeonhole Allen as "Jewish comedian", just as you might describe Leonardo da Vinci as a cartoonist. Allen's evolution from the Brooklyn schoolboy who wrote jokes to send to newspapers to a fully-fledged auteur capable of squaring up to the Great Unanswerables of existence is one of history's more memorable artistic arcs.
Allen acknowledged the eccentric, even ridiculous, mix of ingredients which has fuelled his obsessive-compulsive urges, which keep him churning out new movies annually even though he's now 77: "I found myself in an odd position where I was influenced by Groucho Marx and Bob Hope and Ingmar Bergman." Which is more or less what he told us with his 1975 movie, Love and Death.
Stoutly resisting any desire to cut to the chase or race to the finishing line, Weide's portrait moved languorously, seductively, elliptically. His evocation of Allen's background and upbringing in pre-war Brooklyn in itself was almost enough to bring a tear to the eye, in its depiction of a secure, tightly-knit community sprinkled with baker's shops and delicatessens and where the Coney Island funfair was a 15 minute ride away. It was also peppered with now-vanished movie-houses, which Allen remembered with longing. We saw him visiting the sites where they used to stand as though he were remembering beloved, long-lost relatives.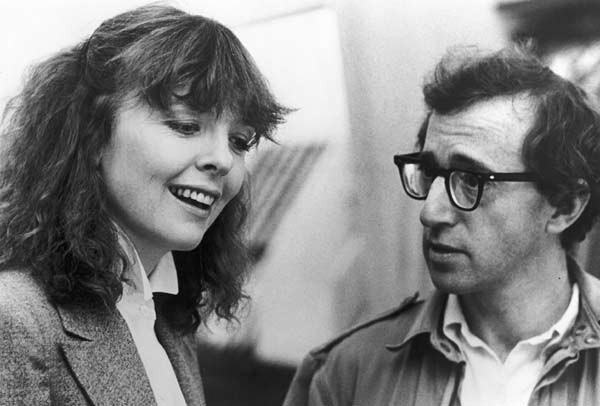 Always a precocious and absurdly effortless writer, Allen's trajectory was established when, still a mere child, he "discovered mortality". Thus furnished with both means and motive, he was off on his great mission, knowingly or not. As he put it: "We all know the same truth and our lives consist of how we choose to distort it." For Woody, there's always darkness on the edge of town, and he explained how he values the "tragic muse" more highly than its comic counterpart (Allen with Diane Keaton in Annie Hall, pictured above).
Nonetheless, 1950s New York was a comic mecca, a-glitter with the likes of Sid Caesar, Mort Sahl, a young Mel Brooks et al. Allen, the budding writer, took to it like a puppy chasing sticks across the beach. Then he broke through his personal hysteria-barrier to become a performer during the folk club boom of the early Sixties. "He could barely talk to people, never mind perform for them," noted his manager Charles Joffe, but Allen managed to advance from doing stand-up in Greenwich Village clubs to boxing with kangaroos on TV, then to appearances on Dick Cavett and Johnny Carson, then he wrote plays, then he got into films... where, after a brief false start, he always kept complete artistic control and shot on fanatically disciplined budgets.
The difficult personal stuff with Mia and family belongs in part two, but Weide had bagged a lovely interview with Diane Keaton, Woody's mid-period muse, and Mariel Hemingway talked about making Manhattan with a precision both affectionate and analytical. For once, more can be more.