Resident Evil 6/McPixel |

reviews, news & interviews
Resident Evil 6/McPixel
Resident Evil 6/McPixel
Four-pronged mutant zombie shoot'em up and a wittily pixellated problem-solver
Resident Evil 6: no half measures in this slick, entertaining refresh of a waning franchise
Resident Evil ****
There's a war going on in the world of Resident Evil, and it's not between soldiers and zombies. In one camp there are those who long for the good old days of horror-filled fixed-perspective wanderings through zombie-infested mansions, while in the other are those who are more open to the fact that franchises have to evolve to survive.
Resident Evil 6 is set a few years after the action of Resi 5 and brings the characters of the previous games together into four separate but interweaving story campaigns. This narrative chop-up is a deliberate move by Capcom to offer players four different gaming styles, and is a bold move away from what some fans were hoping for – a return to the tense horror of the original titles. Instead, Capcom's solution to rescuing a franchise that was failing to please anyone is to attempt to please everyone. The result plays like an episode of 24, but with mutant zombies (zomboids, if you will). It's also brilliant.
In the Chris/Piers campaign you are thrown into combat so similar to Call of Duty you'd be forgiven for thinking you were playing the wrong game. In the Jake/Sherry campaign you're in Uncharted territory, except Jake is nowhere near as charming as Nathan Drake. The Leon/Helena campaign is by far the closest to the original game's style as a creeping problem solver. The Ada Wong campaign, meanwhile, is reminiscent of Batman: Arkham Asylum and is also the only single player story mode, unlocked once you've completed the other three stories.
The effort that has been put into the cinematic visuals pays off a hundredfold
Also unlockable are the Mercenary and Agent Hunt modes. The first involves timed battles against hordes of zomboids, while the all-new second involves becoming a zomboid yourself and turning the tables on other online gamers. Another new feature is the ability to collect and use skill points to build your character's killing repertoire. There are some great melee moves available here, and you'll cherish those moments when your partner stamps on a zombie's liquefying head for you.
You will unfortunately have to figure these moves out for yourself, because the game will not adequately explain the controls. There is also no pause button, and you have to quit the game entirely in order to swap between campaigns. Slightly anachronistically, you still have to collect and mix herbs in order to create health pills, which can feel a little odd while in the midst of one of Chris's Medal of Honor sequences. Still, it's a nice little keepsake from the original games.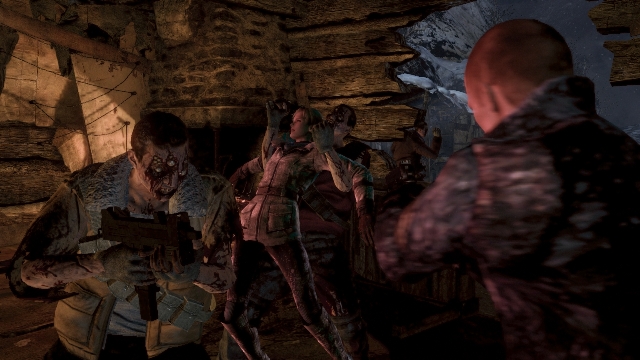 There is a great variety of locations in each campaign, and the effort that has been put into the cinematic visuals pays off a hundredfold as the characters and settings come alive. However, the biggest draw back of the game for me is how little else there is on offer besides the shooting. Whereas Ada and Leon's campaigns feature good old fashioned mutants and zombies, the enemies of Chris and Jake's campaigns are basically humans with mangled faces that occasionally erupt into monsters. Squint a bit and you could be in any shooter game released in the past five years.
Resident Evil 6 represents the final stage of this move into the action genre, and to their credit, there are no half measures in this slick, entertaining and cinematically impressive refresh of a waning franchise. As long as you remember to alternate between campaigns – after you complete a chapter is best – then you're going to get the best from a game that wants to give you everything.
Resident Evil 6 developed and published by Capcom. Platform: PS3, XBOX 360, PC. Age rating: 18
McPixel *****
Life as a pixellated man with strawberry-blond hair can be pretty tough, especially when that hair is a mullet, and you're constantly being thrown into situations where a bomb is going to explode in twenty seconds unless you find a way to defuse it. Lucky then that you are given an unending amount of attempts to fail.
McPixel is a spoof in a long line of spoofs of MacGyver, where an unsuspecting, mulleted hero is expected to defuse a bomb using only the items around him, no matter how bizarre or unlikely they are to help. Once you've weighed up your options and clicked, what happens next could be anything from urinating on an alien, to pulling a duck out of a waitress's mouth, to being flashed by an Eskimo in pink knickers, to stimulating an old man with a zombie's disembodied hand.
Whatever you might expect to happen, I guarantee it will not be what actually happens. Your first interaction with any item or person is to either kick it or repeatedly hit it, so more often than not the item you click on will cause the bomb to explode anyway. However, you'll be laughing far too much to care.
There are four levels to each of the four chapters, and in the event of you actually managing to defuse each bomb, you have the opportunity to replay everything to find all the gags and unlock bonus levels too. You can even create your own levels and become part of the McPixel fandom/cult. So whether it's a mullet on your head or an exploding giraffe, with 20 seconds to save the day, games don't get much better than this.
McPixel developed and published by Mikolaj "Sos" Kaminski. Platform: PC