Eugene Onegin, Holland Park Opera |

reviews, news & interviews
Eugene Onegin, Holland Park Opera
Eugene Onegin, Holland Park Opera
A production which understands the beating heart of Tchaikovsky's triumph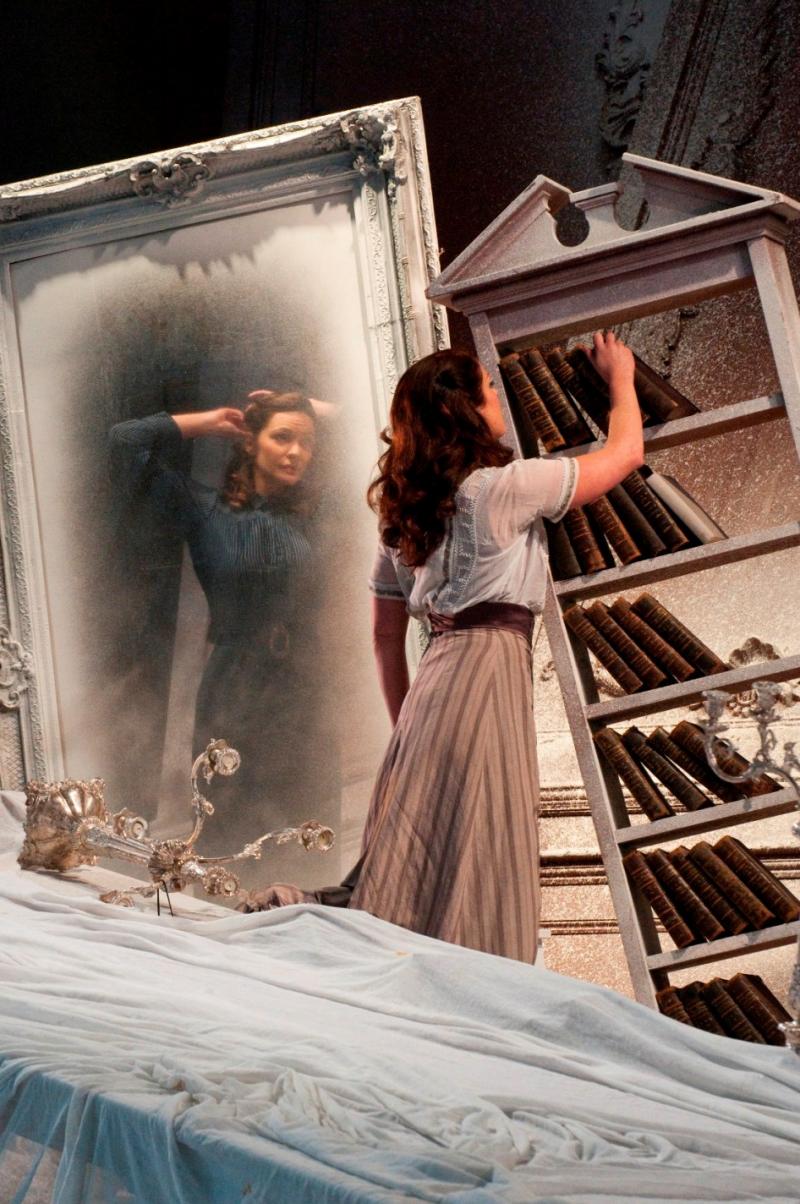 Anna Leese as Tatiana and Hannah Pedley as Olga
There are no two ways about this: Eugene Onegin is a masterpiece. The plotting is so thrillingly concise, the cunningly built-up musical passion so astonishingly detailed that there simply is no excuse for an underpowered or melodramatic production. But for the last 20 years, the Royal Opera and English National Opera have offered up one flawed – I'm being kind - production after another. Enter director Daniel Slater.
His thrillingly intelligent Opera Holland Park production trounces them all.
From the moment the overture begins it's clear there's a controlling intelligence at work. To Tchaikovsky's repeatedly descending, minor-key strings, two figures in formal black silently stare at and stalk one other across the enormous width of Leslie Travers' set, a snow-encrusted, splayed-out ruin of a formerly grand room.
Performances are so convincing that only voice snobs will worry
This is not just a framing-device designed to flatter a directorial conceit. Setting up the opera as existing in Onegin's memory immediately underlines the ache of Tchaikovsky's score as much as it enhances the traumatic regret of Pushkin's story of failed love. But in harmony with his entire creative team, Slater's approach also fires up the drama, not least in the transitions which instead of being merely reflective now become wholly energised.
Indeed, animation is key to the approach. The expressionist set relieves everyone of the burden of naturalism (which almost never works for opera) but it's a risky choice. A white set exposes the performers' every gesture but Slater's singers are more than up to the challenge. Indeed, although both Mark Stone as Onegin and Anna Leese as Tatiana are not ideally cast – the former's voice is a little too light, the latter is not consistently rich enough – their performances are so convincing that only voice snobs will worry.
Slater and his choreographer Denni Sayers make the singing-acting unusually dynamic. No one falls prey to the standard operatic (bad) habit of, say, striding downstage as directed exhibiting generalised emotions. Every shift in sung thought feels motivated and ideally placed. These performers play properly calibrated developing thoughts rather than "my character is gloomy/anguished/enraged" emoting.
We're told that Onegin is a man ostentatiously bored by provincial life which leads many down a dramatic blind alley. Make him a snob or near psychotic loner and his tragedy becomes an overly drawn-out foregone conclusion. But when not allowing us to see the pain of his memories as revealed in the transitions, Stone presents Onegin as smiling and self-confident. Not only does this make far more sense of his character's appeal to Tatiana and, indeed, everyone else, it makes him far more interesting to watch and hear.
Leese's Tatiana is similarly re-thought, not least in contrast to Hannah Pedley's Olga. Vocally, the latter is intriguingly cool-toned which comes in fascinating contrast to her outward coquettishness. It's always been a puzzle as to why Olga is perfecty happy to be flirted with by Onegin at the party. Is she merely a fool? In Slater's interpretation there's a reason why there is no convincing love duet between her and Lensky: she's actually not very interested in him after all, as revealed in a tiny masterstroke it would be unfair to give away.
As Olga's lover Lensky, Peter Auty has a slightly old-fashioned tenor sound, produced from quite far back in the voice. But the bigger the sound grows, the more powerfully expressive Auty becomes. With his engine of a voice fully unleashed, Lensky's seething jealousy towards Onegin makes ever-increasing sense.
The rethinking of the roles around Tatiana releases Leese (pictured left with Mark Stone) from playing her as merely naive. Leese uses a brooding sound and presence to make her more thoughtful – not for nothing does Tchaikovsky underline the fact that she is forever reading novels. This in turn gives weight to her love and its wreckage after she sends the fatal letter, and fires up the climax which she plays and sings with such dignity that when Onegin reaches out to her to – finally - touch her, you feel the audience flinch.
Furthermore, in something of a directorial coup, Tatiana's seeming understanding of her plight is given still more emotional weight as the opera is revealed to be not just Onegin's purgatorial memory. Ahead of the second act party that follows Onegin's rejection, Slater brings on a chorus of young women, all identically dressed and brandishing copies of Tatiana's letter, who taunt and haunt Onegin. But in the scene that follows, it's suddenly clear that this is Tatiana's nightmare too. The dance is staged as a constantly repeated round of blind-man's buff. Every time the blindfold is whipped away, Tatiana is confronted by her nemesis Onegin. Even Triquet, a character usually existing solely as light relief is cunningly pressed into service. Patrick Mundy presents him as a man so wrapped up in demons of his own that when launching into the second verse of his little song, he barges in front of Tatiana who was heading straight towards a showdown with Onegin.
That kind of expressive detail is typical of a wholeseale rethink which even updates the action to impressive effect. Ballet-fans will be disappointed by the removal of the Polonaise dancers at the top of the third act. Fans of music-drama, however, will be engrossed by that scene's justification of the time-shift. We're now in the Soviet era and the chorus are party workers taking charge and replacing the home's grandeur with a shrine to Lenin. Satisfyingly, this feels entirely organic rather than imposed. Slater has already set this up beautifully having turned the first act peasants' merrymaking into a sharply effective scene of workers' anger.
Holland Park is, let's face it, not the ideal acoustic for the paradoxically honeyed violin sound the score begs for, and under Alexander Polianichko's occasionally sluggish conducting there are a few intonation problems in the strings. But such infelicities vanish beneath a production which understands and delivers the beating heart of Tchaikovksy's triumph.
Eugene Onegin at Holland park Opera on 17, 19, 21, 23, 25, 31 July and 2, 4 August
Setting up the opera as existing in Onegin's memory immediately underlines the ache of Tchaikovsky's score
Explore topics
Share this article