DVD: Classic Bergman |

reviews, news & interviews
DVD: Classic Bergman
DVD: Classic Bergman
One masterpiece and four curiosities in a five-disc selection from the master's earlier output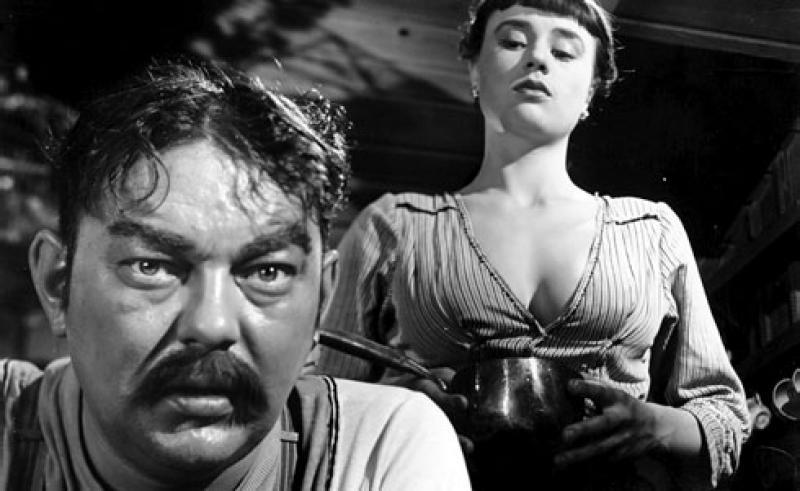 Åke Grönberg and Harriet Andersson as the circus owner and his mistress in Sawdust and Tinsel
Only one of the five films in Artificial Eye's selection is palpably a classic, a turning point in Ingmar Bergman's early career. It's flanked by curiosities spanning 11 of the master's 59 years as a film-maker – two of them flaunting the beginner's uneasy mixture of melodrama and realism, two later specimens making good use of the actresses who came to dominate his world.
All have characteristic moments of intensity and will be welcomed by Bergman buffs keen to add to the substantial roster already available on DVD.
The masterpiece is Sawdust and Tinsel, Bergman's fantastical 1953 take on how things fall apart when the denizens of a mangy circus and a troupe of provincial actors lock horns. Integrating image with a haunting expressionist score by Karl-Birger Blomdahl – the most substantial, surely, in any of Bergman's films - the film has a unique rhythmic virtuosity. Sven Nykvist's first appearance on the scene as one of Bergman's two cinematographers underpins the visual panache which never flags from the opening narrative of how clown Frost (Anders Ek) went crazy when his wife bathed naked with the military, told in a dreamlike flashback, to the parallel humiliation of circus owner Albert Johansson. Chubby all-round light entertainer Åke Grönberg strikes wild depths as Albert; Harriet Andersson beguiles as his volatile mistress.
Bergman later claimed Grönberg as an unlikely alter ego; far closer to his youthful self was the lean and hungry Birger Malmsten, star of so many of his early films. But if Bergman had ambitions to be the Swedish Marcel Carné in It Rains on Our Love (1946; Malmsten pictured right with Barbro Kollberg) and A Ship Bound for India (1947), Malmsten was no Jean Gabin. The first of the two films, about an outcast young couple almost wrecked on the reef of bourgeois propriety, has surprising charm at times; the second, pitting Malmsten's character as love-rival against a brutal father (Holger Löwenadler), fails to blend its sombre ingredients into a coherent whole.
The premise of Dreams (1955) is the parallel disillusionment of two women – an immature model (Harriet Andersson again) and an older fashion photographer (Eva Dahlbeck) – on a trip to Gothenburg. The counterpointing of their experiences is skillfully handled, and the rhetoric of disgust unleashed at the culmination of each tale tastes like vintage Bergman, but the overall resonances seem slight, raised above the anecdotal by the actresses and a desolating performance by Gunnar Björnstrand as the older man who plays patron to Andersson's Doris for complex reasons.
The three leading ladies of So Close to Life (1957) also make this low-budget maternity-ward drama worth watching. The suffering doled out to Stina (Dahlbeck in a bad wig) and Cecilia (Ingrid Thulin) is harsh; it's left to Bibi Andersson's teenage single mother (pictured with Thulin left) to provide a note of cautious optimism. Prints are crisp and vivid - there's a Blu-Ray option – and two extras offer pleasantly freewheeling group interviews by saturnine film critic Nils Petter Sundgren focusing on Bergman's attitudes respectively to men and women.
In Sawdust and Tinsel, things fall apart when the denizens of a mangy circus and a troupe of provincial actors lock horns
rating
Explore topics
Share this article