Thrill Me, Tristan Bates Theatre |

reviews, news & interviews
Thrill Me, Tristan Bates Theatre
Thrill Me, Tristan Bates Theatre
Pocket-sized but powerful American chamber musical about the perfect murder
Fatal attraction: Jye Frasca and George Maguire plot the perfect murder
Does the perfect murder make for the perfect musical? One doesn't have to make undue claims for the work's chamber-size appeal to warm to Thrill Me, the American two-hander that has arrived at the Tristan Bates Theatre as this season's entry in retelling the story of the Chicago killers, Leopold and Loeb.
(Last season's was the superb Almeida Theatre revival of
Rope
, from director Roger Michell.) While getting up close and personal with a show can sometimes magnify its flaws, the intimacy on this occasion allows a real appreciation of the performers, especially newcomer George Maguire, of whom it might fairly be said that a star is born.
Maguire enters the action some minutes into a short, interval-free piece, the narrative chores having been handed to Jye Frasca's compelling Nathan Leopold, who is looking back on the 1924 scenario whereby he and Richard Loeb, self-evidently the love of the puppyish Leopold's life, kidnapped and then killed a 12-year-old boy. It's 34 years later and Leopold is up for parole, but he remains haunted by memories of the galloping heedlessness of the take-no-prisoners Loeb, a Nietzschean who regards himself as above conventional morality. Not to mention reproach.
Stephen Dolginoff's show has been around for the better part of a decade in various incarnations and was seen in 2005 Off Broadway, where it must have been a welcome antidote to the big, bloated, inevitably movie-spawned musical extravaganzas that saturate both New York and London these days. The downside of Dolginoff's approach is a certain earnestness that hangs over proceedings, as if Thrill Me were the work of a highly conscientious graduate student, rather than a confidance man of Loeb-style assuredness who trusts his material enough to have some fun with it.
One begins after a while to crave a degree of wit; after all, as Sweeney Todd conclusively proves, slaughter and gallows humour can co-exist. Instead, we get some rather wearisome rhymes ("offer"/"proffer"; "John"/"c'mon"!) amid a score that goes its methodical, informative way without quite taking wing, an 11th-hour solo for Loeb ("Afraid") a notable exception: it makes sense, by that point in the baleful tale, that the seemingly imperturbable Loeb should sing of being "afraid of fear". Here's a man who has couched unknown quantities of emotional and sexual longing beneath a coolly charismatic facade, and there's something thrilling in Thrill Me about watching that carapace begin to crack.
The role is a terrific one - who wouldn't want to play bravura giving way to panic? - and Maguire meets it head on, bringing a firm voice, patrician mien, and something of a fledgling Jude Law to his depiction of a young man at odds with his father who regards himself above society in his quest for a "superior" crime to trump the "trivial" ones like arson that he has indulged before. (Pace the Oscar-nominated Law, this actor would make a great Dickie Greenleaf.) Treading an artful line between insouciance and insolence, this Loeb is a nattily dressed, dickie-bow-wearing time bomb waiting to explode.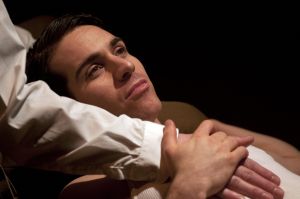 Frasca (pictured right) has greater West End experience (an extended run in Jersey Boys included) if not quite as unerringly pitched and strong a voice, and he's good, too, playing an accomplice in the clutches of a putative lover in Loeb who doesn't give much back beyond contempt for the world around him. Frasca nicely captures, too, the sense of reversal that gives Leopold the upper hand long after Loeb's grim fate has been revealed. His performance may be a bit more "acted" than Maguire's, but even that is of a piece with Leopold's need to will himself into sympathy with Loeb's master plan: anything to curry favour, even if it is Loeb who is quick to apportion blame as and when the scheme unravels for good.
The director, Guy Retallack, knows his way around the London fringe and making economy of scale work, and he lets Richard Williamson's musky lighting contribute much in the way of atmosphere to a largely bare stage defined for the most part by the key deployment of props. If the overall result prompts admiration as opposed to awe, that may have something to do with the fact that we have been here before, not least for those film buffs who know the indie movie Swoon.
And when Leopold remarks at show's end that there are "new killers like me every day", he could be taking a leaf from Chicago, the musical long-runner that happens to be playing just minutes away. Roxie and Velma, meet Leopold and Loeb.
Thrill Me at the Tristan Bates Theatre, London WC2, until 30 April
Loeb is a terrific role, and Maguire meets it head on, bringing something of a fledgling Jude Law to one's sense of bravura yielding to panic
Share this article