DVD: Polish Cinema Classics |

reviews, news & interviews
DVD: Polish Cinema Classics
DVD: Polish Cinema Classics
Revisiting the glorious informal brilliance of late Fifties Polish film
Stylish love on the beach in Janusz Morgenstern's Goodbye, See You Tomorrow - Zbigniew Cybulski (right) was the "Polish James Dean"
There's a phrase in Andrzej Wajda's 1960 film Innocent Sorcerers, "spirit of our time", that perfectly captures the atmosphere of the four films on Polish Cinema Classics, originally dating from 1957 to 1960 whose great black and white photography is very stylishly restored here in Second Run's release.
It's a light and playful world of young people looking for their personal identities through love; there's little hint of politics in sight, and the melody of their lives is jazz – in Wajda's film, as well as Janusz Morgenstern's
Goodbye, See You Tomorrow
from the same year, set to the music of brilliant Polish jazzman Krzyztof Komeda.
French critics christened the group of directors and writers who appeared in the mid-1950s as the Polish Film School: stylistically they owed something to the Italian neo-realists (and nothing to the Socialist realists), and certainly passed on something to the French New Wave. They came out of the Lodz film school (a November 2011 interview with Wajda included here as an extra has him remembering how random it was that he went ahead with cinema – literally, a question of whether a day dawned sunny or cloudy: it proved cloudy, so he made the journey to sit the entrance exams, the start of one of the most illustrious careers in Central European film).
The four films here all came out of the Kadr production house, where Jerzy Kawalerowicz, another veteran of Polish cinema who died in 2007, was a dominant force (his classic Mother Joan of the Angels from 1962 is also available from Second Run). He's represented here by Night Train (pictured right) from 1959, a stylish thriller about a killer travelling on a sleeper to the Baltic coast that owes much to Alfred Hitchcock. Watch out for some brilliant lensing by Jan Laskowski, who remembers the challenges of the filming process in another DVD extra.
The fact that Night Train went on to be remade by Hollywood seems curiously appropriate, since this was a generation well aware of their place in world cinema. Director Roman Polanski made the journey in the fullest sense (he appears in Goodbye alongside Zbigniew Cybulski, the "Polish James Dean"); composer Komeda followed him to Hollywood, where he scored Rosemary's Baby, before he died in an accident at the age of 38.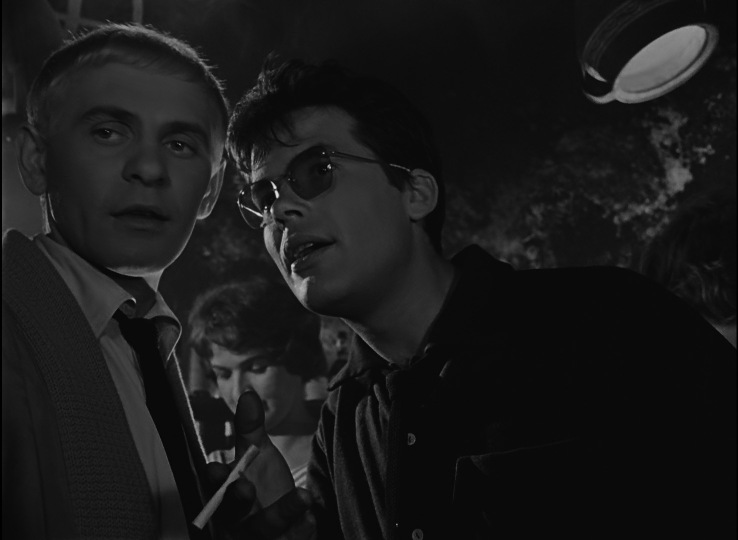 Andrzej Munk, director of Eroica from 1957, died young too, four years after that film at the age of 41, in a car crash returning from a shoot of his last film, the masterful Passenger (available from Second Run). It looks the strangest film in the new collection, subtitled a "heroic symphony"; its heroism is highly ironic, however, casting a sceptical, darkly comic glance back at events in two distinct stories of Polish resistance to the Nazis.
Wajda's interview here explains that his contemporaries' preoccupations were with the events of World War II, and the rise of Communist Poland that followed – his characters in Innocent Sorcerers (pictured above left) were "not my generation". The censors encouraged him to give his boy-meets-girl film a happier ending, with girl returning to boy (after what must be one of cinema's longest flirtation scenes): the fact that said hero was a fancy-free philandering jazz fanatic seems to have escaped their attention.
The fact that Wajda's hero was a fancy-free philandering jazz fanatic seems to have escaped the censors' attention
rating
Share this article