DVD: Red Psalm |

reviews, news & interviews
DVD: Red Psalm
DVD: Red Psalm
Miklós Jancsó 's opaque Hungarian screen poem mystifies anew
Thursday, 20 October 2011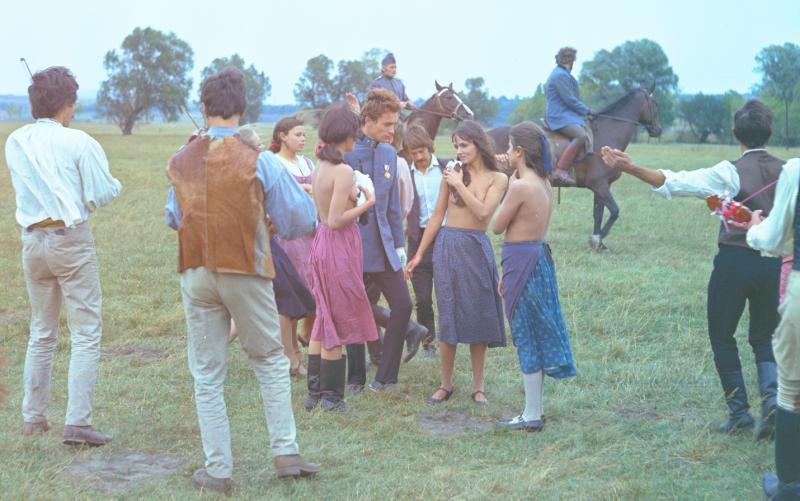 'Anarchistic formalism, cynical use of nudity and petit bourgeois pessimism': the Party's response to 'Red Psalm'
They don't make films like Red Psalm any more. They rarely made them then either. In Red Psalm (1971), Miklós Jancsó imagined a corner of a Hungarian field in 1898 in which the forces of revolution were pitted against the uniformed, armed and often mounted might of the establishment. But unlike a regular piece of schlock-heroic agitprop, Jancsó envisions an encounter that is somewhere between a ballet and a debate, a folk opera and a game of toy soldiers.
Rather than simply shout at or shoot one another, his peasant protagonists and young soldiers engage in stylised argument. One side spouts Engels and sings "La Marseillaise", the other denigrates the concept of workers' rights. Jancsó was a true believer but, for all his film's finally triumphal lionisation of the spirit of socialism, it did not find favour with the authorities. In a sleeve essay whose erudition is typical of Second Run DVD's output, Peter Hames reports that it was criticised for "anarchistic formalism, cynical use of nudity and petit bourgeois pessimism". The cynical nudity features three young women who drift across the screen like the Three Graces, emblems not so much of sexuality as spiritual and moral purity. When one of them is shot through the hand - it's by no means the only act of ritual violence in the film - her red palm becomes the film's signature emblem of bloodied idealism.
Red Psalm feels almost like a parody of a certain kind of East European cinema that flourished in the 1960s when directors were encouraged to experiment by both the spirit of the age and the parameters placed upon their freedom of expression. It gave rise to dreamy symbolism and impacted opacity that is not, nowadays, for all tastes. In truth, no one has ever really known what Red Psalm means, so those who venture anew into Jancsó's seductive labyrinth should not feel at a disadvantage.
Watch short clips from Red Psalm
Red Psalm feels almost like a parody of a kind of East European cinema that flourished in the 1960s
rating
Explore topics
Share this article