Toumani Diabaté, St George's Bristol |

reviews, news & interviews
Toumani Diabaté, St George's Bristol
Toumani Diabaté, St George's Bristol
Mali's musical ambassador and master of inspired improvisation
Thursday, 03 November 2011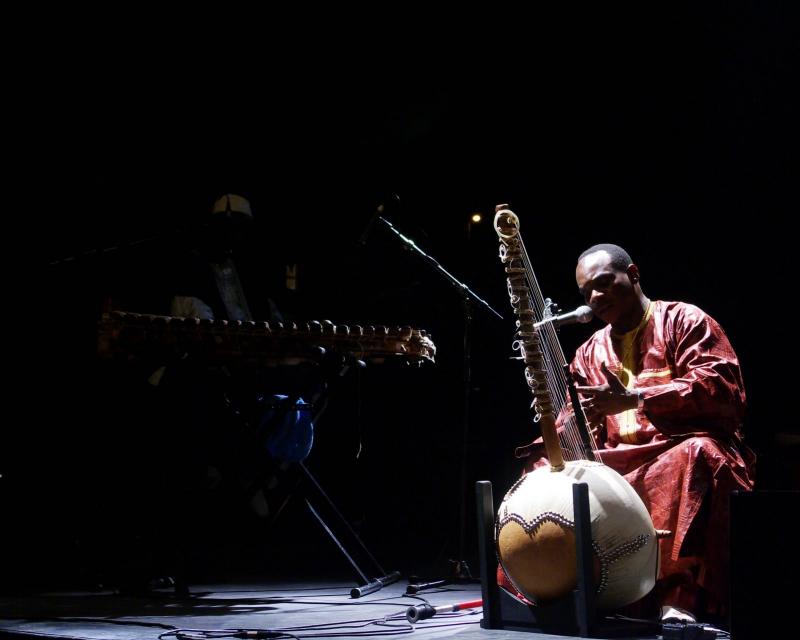 The world master of the kora weaving his unholy magic
Toumani Diabaté is the world's greatest and best-known kora player. Plugged in deep to a musical tradition that goes back over seven centuries, this griot or jali takes his custodial role very seriously, but he is also an adventurer who has stretched the repertoire of his ancient strings by listening avidly to music from an astonishingly wide range of sources.
All of this was already obvious when he first came to Bristol in 1987, to take part in a number of WOMAD-sponsored activities which were the subject of a Channel 4 film I was making at the time. Toumani, a fresh-faced 22-year-old, came with his great uncle, the Gambian kora master Amadou Bansang Jobarteh. They played together in the WOMAD field at Glastonbury, pieces from the great reservoir of Manding musical culture. The gentle flow of the two instruments captivated an audience who were still relatively innocent of world music's many treasures. They did an acoustic set at the Agoraphobic Parrot, a small café tent, and that day I understood why Lucy Duran, Amadou's pupil, had told me that the kora was a magical instrument, a tool for healing body and spirit. Back in Bristol, after doing a workshop in a local school, Toumani worked up some fusion pieces with a couple of local musicians. It was playful stuff though nothing to rave about.
Toumani has gone on to combine devotion to the Manding tradition with an almost promiscuous series of collaborations – with avant-garde jazz trombonist Roswell Rudd, the neo-flamenco group Ketama, bluesman Taj Mahal, various symphony orchestras, sub-Saharan guitar wizard Ali Farka Touré, Björk and most recently the Afrocubism project. Half an hour before going on stage, Toumani tells me that, although he enjoyed playing with Bassekou Kouyate, Kasse Mady Diabaté, Djelimady Tounkara, Eliades Ochoa and the other members of Nick Gold's supergroup, he is keen to go solo again and to promote the kora. His instrument's sound was buried, he felt, in the rich texture of a band of which he wasn't the leader.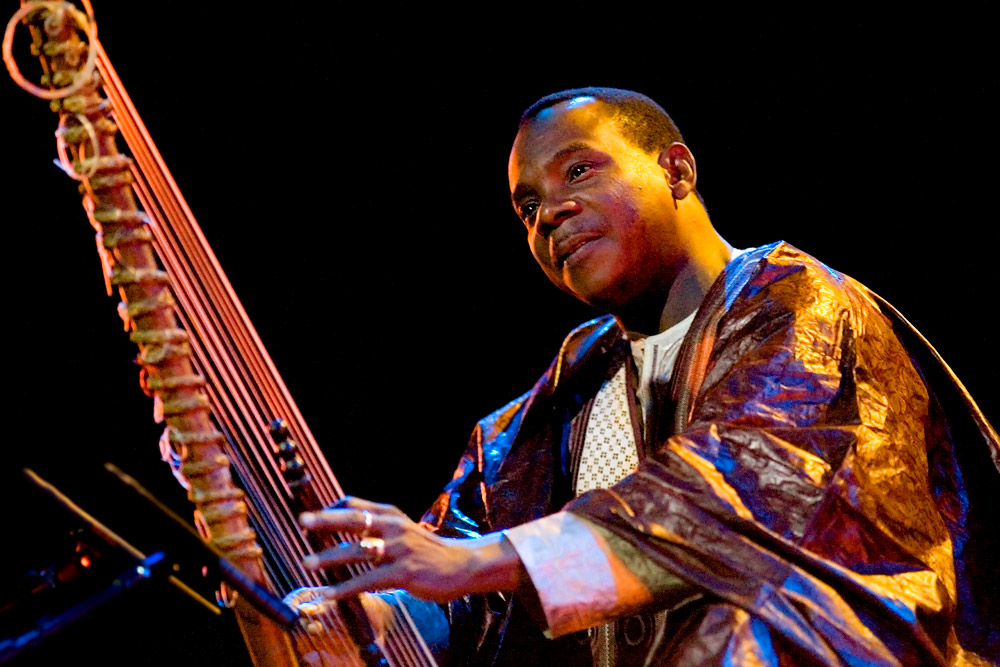 On his return to Bristol he played solo, with backing from three musicians whom he kept in the background, although the sometimes unsatisfactory mix made them a little too present at times. He played the kora with his customary brio but, over-amplified, as if to compensate for his time as a member of the more democratic band of Malians and Cubans he last toured with. The kora's delicate textures fared badly through a cranked-up PA: yes, you could hear it loud and clear, but there was a harshness at times which may have appealed to a gallery fed on rock-guitar histrionics but didn't accord with the instrument's power to open the heart more gently.
Toumani, while we talked before the show, spoke of his duty as a griot: "We are ambassadors, we have to take Manding music and its instruments into the world." In his usual way, he spent time telling the audience about the instrument, which "combines the roles of bass, melody and improvisation". In order to make this clear, he said, he had literally translated the kora's versatility into a small band, with electric bass, guitar and drums. Malian music of the last 50 years has worked in the same way, with guitarists like Djelimady Tounkara playing in the style of the kora, balafon or ngoni, but it has never been done with the sense of didactic mission that Toumani displays on this tour. There was something a little forced about the combination which wasn't helped by the less than perfect sound mix and the fact that Toumani clearly rules over his cohorts with a bandleader's iron grip, rarely allowing them the space to stretch out. Before the interval, the band spent more time sitting there like lemons, while Toumani charmed the audience with cascades of notes and improvisational adventures that surpassed anything he has done before.
This was music that set the heart racing as well as soaring, and the audience were yelping with pleasure
In the second half they hit a stunning groove as they played a revved-up version of "Soubou ya ya", one of the tunes on Toumani's Grammy Award-winning In the Heart of the Moon - his first collaboration with Ali Farka Touré: as if by magic, the backing band achieved a tightness and discretion that allowed them to provide a mesmeric rolling riff, over which Toumani delivered a series of increasingly daring spontaneous explorations. He'd talked to me of producing a Manding version of jazz, and this was it - "nothing to do with "Take Five" or "Summertime"", he had insisted. He was now making music that set the heart racing as well as soaring, the audience were yelping with pleasure, and it felt as if the kora master had taken us one step further, at once rooted in the Manding tradition and breaking into new ground, with total confidence and to blazing effect.
The near-perfection of this extended moment couldn't be sustained and at the end of the second set Toumani succumbed, as so many African musicians, to the singalong and handclapping routine. The audience loved it, of course, but the on-the-beat predictability of the clapping went firmly against the off-beat and polyrhythmic message that Toumani, as ambassador, could be promoting. This was the beat of the political rally, not the glorious interplay that makes the music of Africa and the diaspora so appealing in the first place. For the encore, Toumani stepped out again on his own and played a new song which, as he explained in a very simple and moving introduction, spoke musically of humanity's need "to put culture, soul and spirituality back into a world that is obsessed with economics". He played with extraordinary lucidity and passion, demonstrating as he did at the start of the show, before the band came on, why he is so highly regarded by audiences and fellow musicians the world over: he is one of the great soloists of the age, at one with his instrument and with an eloquence that both enchants the mind and touches the very soul he is hoping to re-awaken.
Toumani Diabaté is on UK tour until 13 November
Watch Toumani Diabaté perform
We are ambassadors, we have to take Manding music and its instruments into the world
rating
Share this article