Kasse Mady Diabate, Queen Elizabeth Hall |

reviews, news & interviews
Kasse Mady Diabate, Queen Elizabeth Hall
Kasse Mady Diabate, Queen Elizabeth Hall
West African quartet proves the highlight of the Southbank's Africa Utopia festival
Sunday, 13 September 2015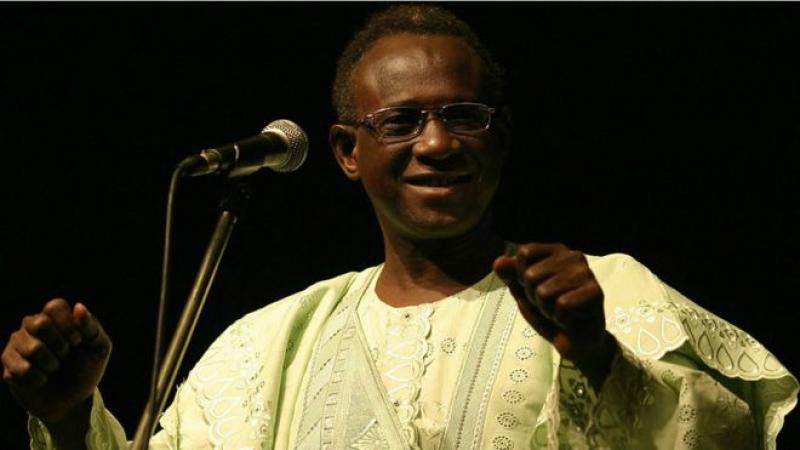 The Voice of Mali: Kasse Mady Diabate
Not many concerts at the Queen Elizabeth Hall culminate in a string of beautiful African women sashaying down the aisles to the stage to press fivers and tenners upon the still-crooning singer. After taking their hands in turn, as if in benediction, Kassy Made Diabate turned and dropped the fistful of notes at the feet of his ngoni player.
Then, after the encore, the final bows, the raising of the house lights, the
ngoni
player got up with his instrument and left the money there behind him. Enough for a very good night out. Perhaps the roadies were going to get lucky.
Kasse Mady Diabate, one of the greatest of all Malian griot singers, has worked extensively with Toumani Diabate on projects such as Kulanjan and the Symmetric Orchestra. Last night he led a quartet featuring Ballaké Sissoko – who cut the classic New Ancient Strings album with Toumani Diabate in 1999 – with his kora, from the Casamance region; Lansiné Kouyaté on balafon, from the central zone; and Makan Tounkara's ngoni, from the northern deserts of Mali.
Diabate conducted himself on stage like some ritual specialist passing on important knowledge
Tounkara's ngoni opened the first song, the epic "Simbo" – also the first song on Kasse Mady Diabate's new album, Kirike (No Format), its dry northern sound blending with the warmer, verdant tones of the balafon from the greener south and the flash of the fast-flowing kora, all topped by that golden voice, Diabate's warm, measured baritone soaring over the multi-layered melody lines and rhythms of the music.
At first, Diabate conducted himself on stage like some ritual specialist passing on important knowledge. His is a voice for depth, and the music a near-irresistible spiral route into some kind of private realm of contemplation through the merging and converging of the music's constantly repeating, hypnotic rhythmic patterns. The music is intense, mesmerising, and has the same focus and concentration of a classical chamber piece or great jazz quartet.
Over the next 90 minutes, the four musicians performed Kirike in its entirety, along with "Maimouna", most recently recorded on the Afrocubism album. Each player took an opening solo theme, with the others falling in alongside them to expand that theme. On "Hera", the ngoni delivered a spectacular African blues, followed by a complex, audacious solo from Sissoko on the kora. Diabate began to direct his singing to a row of African women in the front stalls (their response was rowdily enthusiastic – you've pulled, mate), and by the next song, he gestured for them to come up on stage. Sure enough, there they were, seven of them laughing and dancing in a line, Diabate singing to each directly, the ritual specialist bearing more than a flicker of a smile. This griot is a man of the world, after all, not only a library of knowledge.
The music has the same focus and concentration of a classical chamber piece or great jazz quartet
rating
Explore topics
Share this article