Joan Baez, London Palladium review - fare-thee-well generosity |

reviews, news & interviews
Joan Baez, London Palladium review - fare-thee-well generosity
Joan Baez, London Palladium review - fare-thee-well generosity
Last notes from a timeless figure whose influence is finally acknowledged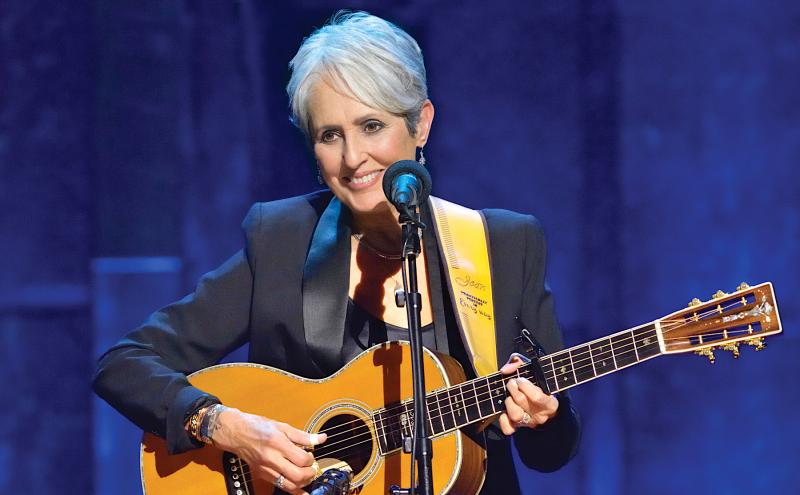 Baez bids a final farewell
"If you look at music, you see theme, variation, you see symmetry, asymmetry, you see structure," observed Dave van Ronk, the late folk musician known as "the Mayor of MacDougal Street" in Greenwich Village.
He was doubtless talking about composition itself, but it applies also to musical careers. What struck me most watching the last two nights of Joan Baez's tour in which she bade farewell to the UK was the symmetry of it all. As has been her custom in recent years, she began solo: just her and her bespoke Martin guitar on "Don't Think Twice, It's All Right" before introducing "my big band", multi-instrumentalist Dirk Powell and, on percussion, "my lovely son Gabe". She also ended solo, digging deep into her song bag for "Dink's Song", not a regular in her repertoire and a number which acquired a particular poignancy here.
And solo was how she began her career, emerging almost fully formed at Club 47 in Harvard Square 60 years ago, and how she performed way into the 1970s, Woodstock a notable exception. Baez's eponymous debut album and her most recent and final opus, Whistle Down the Wind, bookend a genuinely remarkable career which, following years of "silence and ashes" in the 1980s, closes on a high, her contribution to contemporary music finally acknowledged – not least by her induction last year into the Rock and Roll Hall of Fame.
She's been the soundtrack to so many lives, giving voice to our grievances and our grieving, and much happiness too
There's symmetry, too, in our lived history, battles we thought won now being fought again, as many songs reminded us. "Joe Hill" celebrates a man who fought for workers' rights a century ago – once more we are having "to organise".
While many in the audience were in possession of a Freedom Pass, there was no shortage of young people: Baez has not always been timely but she is timeless. The once bright-white diamond voice is now a deep topaz, tempered by age and experience. The former was certainly thrilling (and could have handled all sorts of repertoire, as her 1964 recording of Villa-Lobos' Bachianas Brasileiras/5 demonstrates) but the rich pinot noir of a contralto with which she has made peace over the last five years or so is a wondrous instrument, bringing a depth of emotion that was sometimes lacking in the early years.
This week, Baez was battling the remnants of a chest infection (she delivered a paean of praise to the NHS) though you had to know her voice well to notice – technique and a hot toddy got her through. Bob Dylan, the Village vagabond with whom she will forever be associated, wasn't mentioned by name though he was present in a mighty handful of songs of which "A Hard Rain's a-Gonna Fall" was the highlight. Written as the world held its breath over the Cuban missile crisis, it still seems horribly prescient.
Woody Guthrie's "Deportees" is topical once more. Written in 1948 about the plane crash that killed 28 migrant farmworkers who were dignified with names only last year, it now speaks for the global refugee/immigrant crisis. "This is not a time to be building walls but to be feeding the hungry and clothing the naked," Baez commented, to lusty cheers, adding that "Trump would be worth a chuckle if he weren't so dangerous." (It surely didn't escape her attention that he and Kim met in the Hanoi Metropole, where, as a guest of the Committee for Solidarity with the American People, she had sheltered during Nixon's 1972 Christmas bombardment. The recordings made there formed the basis of Where Are You Now, My Son?, her words-and-music documentary.)
Baez offered a varied and well-paced programme that majored on songs from her great Sixties albums (among them "Silver Dagger", "There But For Fortune", "Farewell Angelina") and her most recent (including "Silver Blade", "Another World" and "The President Sang Amazing Grace"), with the 1970s represented by "Suzanne", "Gracias a la Vida" and "Diamonds and Rust". The 1980s was not a happy time for her yet neither was it a void and the decade or so from 1995 was rather fine. Still, 60 years is a lot of ground to cover.
Grace Stumberg added harmonies on a number of songs, including "Diamonds" and a niftily rearranged "Forever Young", a universal prayer that age has not withered, and she took a wonderfully bluesy solo on "Me and Bobby McGee". Jasmine Harris, on tour with her grandmother for a week, was accorded one number and, rather ambitiously, she'd chosen Adele's "Someone Like You". Baez ("I feel very hip and groovy") added backing vocals while proud dad looked on from behind the percussion.
It was in every respect a generous concert, Baez bowing to Dirk Powell and Gabe Harris after each of their solos, and giving five encores. The audience cheered her to the echo, the lights coming up to reveal many a moist eye. She's been the soundtrack to so many lives, giving voice to our grievances and our grieving, and much happiness too.
There's something about her particular combination of voice and moral courage that is (for me, at least) endlessly appealing. I discovered her in my sister's record collection in 1968 or '69 and first saw her live at London's Rainbow Theatre – Bill Graham's Fillmore Far East! – in 1971. I was 14. Twenty-four years later I was in New York, reporting for Mojo on the Ring Them Bells sessions at the fabled Bottom Line. Twenty-four years after that, I'm working on The Village Trip, the festival I founded to celebrate the history and heritage of Greenwich Village. It's been an exhilarating journey.
As to Joanie, I'd rather it were au revoir but I suspect it's fare thee well.
The rich pinot noir of a contralto with which she has made peace over the last five years or so is a wondrous instrument, bringing a depth of emotion that was sometimes lacking in the early years
rating
Explore topics
Share this article