Darlingside, Cecil Sharp House review - finger-picking good |

reviews, news & interviews
Darlingside, Cecil Sharp House review - finger-picking good
Darlingside, Cecil Sharp House review - finger-picking good
Boston quartet win hearts and minds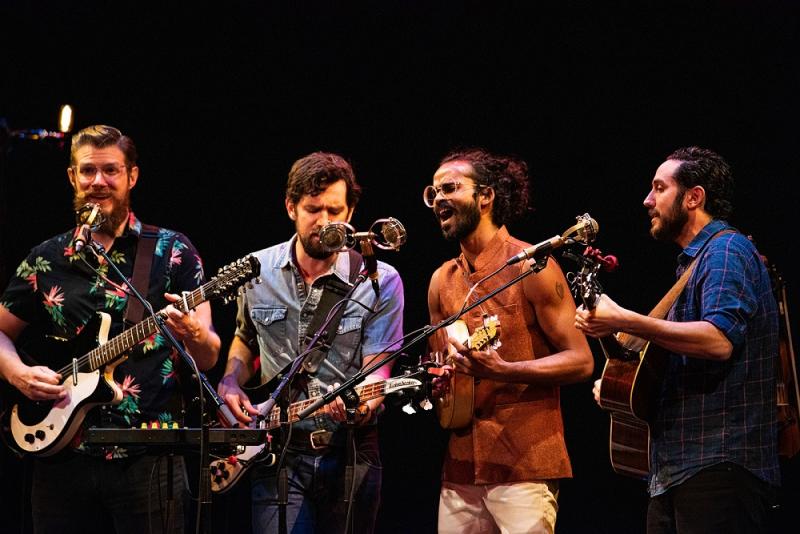 String theory
The four young men who comprise Darlingside met at Williams College, in the Berkshires which, each October, declares a "Mountain Day" when students hike up Stony Ledge and celebrate with donuts, cider and a cappella singing.
Perhaps on one such hike was born the idea of a band and perhaps one day in the future the names of Don Mitchell, Auyon Mukharji, Harris Paseltiner, and David Senft will be added to the roster of notable Williams alumnae that includes Elia Kazan, Stephen Sondheim and Michael Beschloss.
Take a bow, Darlingside, who returned to Britain this week for just two dates. Named in honour of William Faulkner's advice to writers to "kill your darlings", Folk Alliance International's Artists of the Year 2016 make music in a style described by NPR as "exquisitely-arranged, literary-minded, baroque folk-pop". David Fricke reviewing the band's 2012 debut in Rolling Stone discerned "a rich line in acoustic textures and chamber-rock dynamics" and anyone who's heard a UK gig (or indeed listened to an album) will hear echoes of the Byrds, Crosby, Stills, Nash and Young, Simon and Garfunkel, and even a hint of Beach Boys – harmonies that transport us back to a kinder, gentler time. Those days are a long time gone (to coin a phrase) and there's now every reason to turn on, tune in and drop out and fondly imagine (though not as Ronald Reagan did) that it is, indeed, morning again in America.
Based in the Boston/Cambridge area – cities that face each other across the Charles River, each with a distinguished folk and rock heritage – Darlingside make a beautiful noise, its four members playing at least two instruments apiece, including the cello, a rare sight on the folk-rock stage. (It looks to me like a Luis & Clark carbon-fibre instrument, which travels well and is impervious to temperature and humidity.) They gather tightly around the mikes, preppy-looking guys, with the exception of the top-knotted Auyon Mukharji, who could have stepped out of a mid-century photo at the Opry, or Newport where Darlingside has played to great acclaim.
The capacity audience at Cecil Sharp House spanned the ages, young hipster folkies and maybe even some old enough to remember Ewan MacColl dismissing Bob Dylan as "a youth of mediocre talent". On a dreary November evening, Darlingside's up-beat style and friendly banter was as uplifting as their music as they free associated on the idiosyncrasies of the British menu and old Cecil Sharp himself, whose own free association in Appalachia a century ago made him the founding father of the British folk revival.
Darlingside's musicianship is of a high order, which given the band's pedigree as alums of Harvard Square's celebrated Club Passim is no surprise. (The successor to the hallowed Club 47, Passim has just marked its 60th anniversary, America's longest-running folk club.) Their 90-minute set featured numbers old and new, among them "Go Back", "White Horses", "Clay and Cast Iron", "Hold Your Head Up High" and "The God of Loss". They joked about how many songs laid down in the studio could not be performed live because on-stage they can only handle one instrument at a time. Or actually two, Senft playing both his Rickenbacker bass and kick drum simultaneously, and Mukharji swapping back and forth between fiddle and mandolin during the course of one song. And they are creative in the way they use their instruments, Mitchell making chord shapes high up his banjo neck (as few pickers do), thus changing its timbre; Paseltiner coaxing percussive sounds from his trusty Martin; and Mukharji at one point bowing his mandolin. Mitchell's choice of guitars is itself interesting: an electric 12-string, which he used for much of the set, and the semi-hollow-bodied Fender Starcaster, which has a notably bright sound. Vocally they are top-notch, tight and pure harmonies and, here and there, a spot of polyphony.
Folk, folk-rock, alt-folk, Americana. Whatever you want to call it, Darlingside is a great band and a great act – and judging by the line at the merch table after the show (Dar-Jee-Lingside tea alongside the CDs and T-shirts) they've made a lot of friends. Good to know that work has already begun on a new album for 2020. Check 'em out.