Albums of the Year 2020: Steve Earle & The Dukes - Ghosts of West Virginia |

reviews, news & interviews
Albums of the Year 2020: Steve Earle & The Dukes - Ghosts of West Virginia
Albums of the Year 2020: Steve Earle & The Dukes - Ghosts of West Virginia
In a year when we all dug deep, Steve Earle discovers a rich seam
Wednesday, 23 December 2020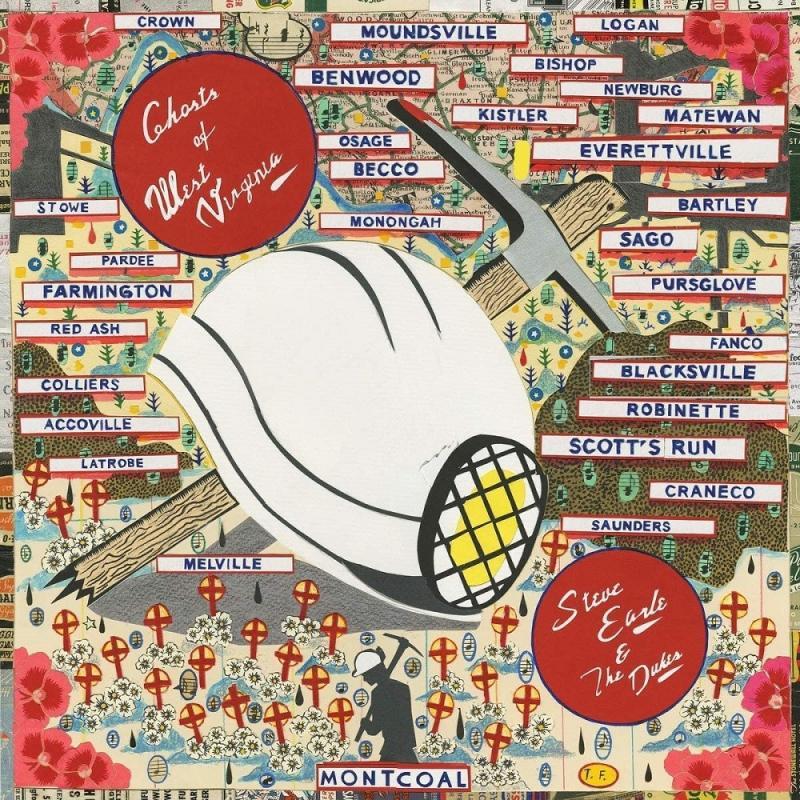 In this most dark and dislocating of years, music has sustained me as it always has. Balm, refuge, escape, retreat. A way of opting out of the daily horror show, often with familiar sounds – musicians and albums that have long been old friends, familiar grooves that seemed more profound in the other-worldly silence and isolation of 2020.
I even found myself analysing that hoary old chestnut "We'll Meet Again" to figure out why it still had the power to move us, and I was made all too aware of the cautious, provisional injunctions of "Have Yourself a Merry Little Christmas", a song written amid the rubble and existential angst of World War Two. The original lyric, written for Judy Garland in
Meet Me In St Louis
, was more downbeat than the one we've come to know and even the line about muddling through somehow was too much for Frank Sinatra.
Muddling through is what we've all been doing, and the many artists who sang into their iPhones brought joy and uplift. In the grief-stricken early weeks of lockdown, Joan Baez put down her paintbrushes and picked up her guitar once more to sing for those sheltering and for the key workers who enabled us to do so. Mary Chapin Carpenter's Songs from Home, a couple of sessions a week from her Virginia farmhouse, have been a go-to, and her Thanksgiving concert, One Night Lonely, was an utterly involving and consoling two hours.
As to live gigs, I treasure the few I crammed in before the curtain came down, including two in New York: Barb Jungr, and a celebration of 80 years of "This Land is Your Land", the song that's long been America's second national anthem – a reminder, back in February, that the country of which Woody Guthrie was writing needed to be reclaimed. And early in January, Judy Collins gave a superlative performance at Liverpool's Grand Central Hall. I took my sister, who'd never seen her live before and was enthralled. Heartbreakingly, Maureen and I will never again share a musical experience.
Ghosts of West Virginia, Steve Earle's 17th studio album, gets under your skin like coal dust in a miner's lungs. The songs were commissioned for the New York Public Theater's play Coal Country, written by Jessica Blank and Erik Jensen, which told the story of West Virginia's Upper Big Branch mine disaster. Recorded at Electric Lady, the Greenwich Village studio built by Jimi Hendrix, the songs were performed on-stage by Earle, playing just guitar and banjo.
Covid put paid to a proper run, but a powerful piece such as this will in due course have a stage life, and the CD can only serve to enhance the reputation of the play. But the album works on its own terms, a powerful suite grounded in familiar folk and country music tropes which make the songs seem familiar even on first hearing. Each tells a story, not just of a tragedy that took 29 good men and true but of the rural mountain communities bound together by mining, music and grinding poverty, by "Union, God and Country", as Earle sings. Why did these people think Trump would make their lives better was a question he sought to answer while writing. "I was trying to figure out how to start a conversation", he told me as America's election campaign entered its critical months.
Ghosts – which also contains three songs unrelated to the play – is full of splendid music-making and Earle's always empathetic lyrics, mixing bar and bible in the way they do down south. His voice roils up from the depths, rough and workmanlike here, tender and caressing there; weary and resigned, and understatedly angry. In "It's About Blood", he names the men lost with what feels like a visceral howl of pain. The song that immediately follows, "If I Could See Your Face Again", is exquisitely and heartrendingly poignant, a brief, "if-only" meditation on the pain of loss beautifully sung by Eleanor Whitmore, whose fiddle-playing graces the album.
It's a powerful and profoundly moving album which contains multitudes, by a man who defines Americana.

Two More Essential Albums of 2020
Rough and Rowdy Ways – Bob Dylan
Old Wow – Sam Lee

Musical Experience of the Year
Judy Collins – Grand Central Hall Liverpool
Mary Chapin Carpenter – Songs from Home stream

Track of the Year
Between the Dirt and the Stars – Mary Chapin Carpenter
Steve Earle's 17th studio album, gets under your skin like coal dust in a miner's lungs
rating
Share this article