Album: Neil Diamond - A Neil Diamond Christmas |

reviews, news & interviews
Album: Neil Diamond - A Neil Diamond Christmas
Album: Neil Diamond - A Neil Diamond Christmas
Like a long Boxing Day afternoon with tiresome rellies
Thursday, 08 December 2022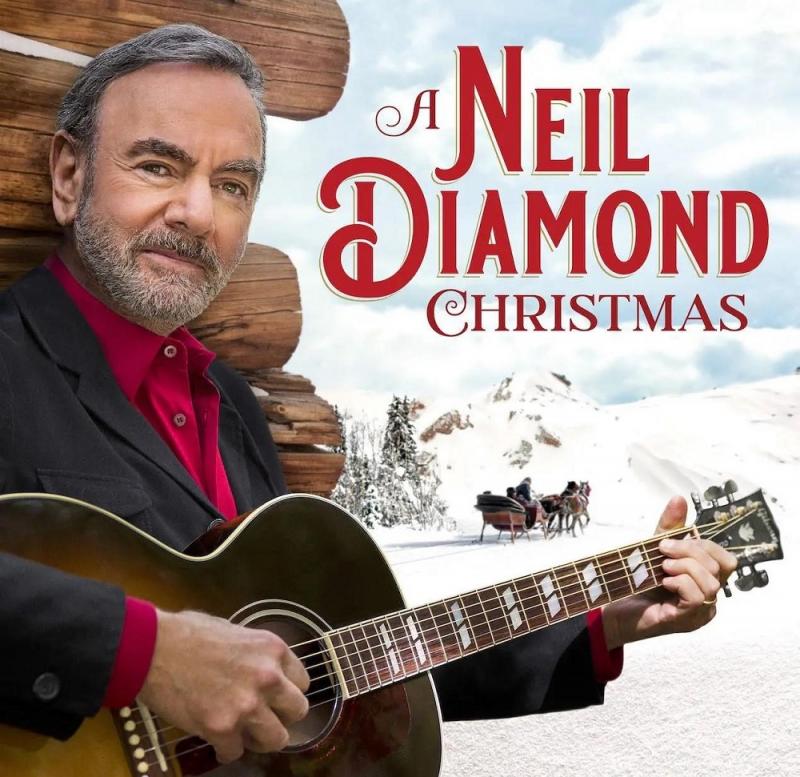 Diamond's bombast is entirely unsuited to Christmas carols
Oy vey. Where to start. This is essentially painful – and I write that knowing that Neil Diamond is a genuinely nice guy and that he is now stricken with Parkinson's. But there is no way round it: A Neil Diamond Christmas is an auditory assault.
I'm not one for Christmas albums. I have Joan Baez's Noel, a bit of a curate's egg from the mid-1960s, tastefully arranged by Peter Schickele and featuring Baez's sublime voice and some truly beautiful moments ("Cantique de Noel" and "Carol of the Birds") but only because I'm a completist. That is, however, it. I certainly never bought Bob Dylan's more recent seasonal effort.
In general, I think they're icky. I make an exception for Phil Spector's Christmas Album and who doesn't like Slade's "Merry Christmas Everybody" (though I'm not proud of myself for doing so). John and Yoko's "Happy Christmas (War is Over") is of course a timeless classic – but it doesn't benefit from the Diamond treatment.
The album's opener, the John Lennon/Yoko Ono number is however one of the better tracks on a double album which seems to go on forever, like a dreary Boxing Day afternoon with tiresome relatives. Almost 90 minutes long, it embraces "the full breadth of Neil Diamond's holiday spirit… [a] curated compilation of the greatest songs culled from Neil's four beloved and best-selling Christmas albums. The tracks Neil has personally selected for this compilation all originally appeared on September 1992's The Christmas Album, October 1994's The Christmas Album Volume II, October 2009's A Cherry Cherry Christmas, and November 2016's Acoustic Christmas". Apparently, "critics have praised Neil's holiday originals while celebrating the inventive arrangements of the more traditional songs, singling out Neil's 'trademark gritty soul and flair for inflection' while also noting his performances are 'much more than a man and a guitar'." Discuss…
Diamond's voice and style is distinctive but while that big histrionic, shouty delivery works on those celebrated seventies pop ballads delivered at Madison Square Garden or the Greek Theater, it doesn't work with Christmas carols which require tenderness and intimacy. He's too bombastic and grandiose, aggressive even – his voice and style are simply unsuited to the material. Take "Silent Night", one of the most beautiful of carols: it should not be turned into an overwrought production ballad. His can't do subtle, there is no light or shade – and the voice is too much to the fore and hits you between the ears. Things are toned down a little on "Mary's Boy Child" but Harry Belafonte was – is still – so much better. Diamond's voice would wake the dead, never mind a baby!
He fares better with "Children Go Where I Send Thee", which is not a specifically Christmas song – nor "Morning Has Broken", familiar to Brits in the Cat Stevens version – and "The Little Drummer Boy" has its moments, but…
As to "The First Nowell", you want to cover your ears – Diamond's portentous vocal backed by a warbling choir. There are however some nice instrumental touches. "God Rest Ye Merry Gentlemen" vaguely passes muster. "Angels We Have Heard on High" is too slow and plodding – the "gloria in excelsis Deo" chorus should be faster, and gossamer light. The album closes with "Joy to the World", featuring a children's choir, strident lead guitar and a disco beat.
Pass the sherry. I need a drink. Now! Give me "Fairytale of New York" any day.
Pass the sherry. I need a drink. Now! Give me "Fairytale of New York" any day
rating
Share this article