Project CARS |

reviews, news & interviews
Project CARS
Project CARS
Racing simulation puts choice over personality
'Project CARS': A gleaming surface, a roaring engine, little human life…
Shiny cars, going fast. In real life, obsessing over gravel-crunching oversteer or the downforce your rear spoiler exerts is one for Jeremy Clarkson fans or pimply youths in suburban retail car parks, late at night. But there's something about the mix of sheer muscularity and precision strategy that appeals when racing is on TV or in videogame form. It's a spectacle, meant partly in the situationist sense.
Project CARS doesn't start out spectacularly, though. Perhaps because it's come not funded by a big publisher, but as a crowd-funded developer project, Project CARS comes in with a menu and approach that will be utterly intimidating to most casual players.
There is neither the slick handholding of the Forza games, nor the narrowed focus of the early stages of Gran Turismo – its two key road-and-track rivals. Instead, there's all the options, right there, for you to try. Want to try Kart racing? F1? GT touring cars? You can – with all tracks, all cars open pretty much.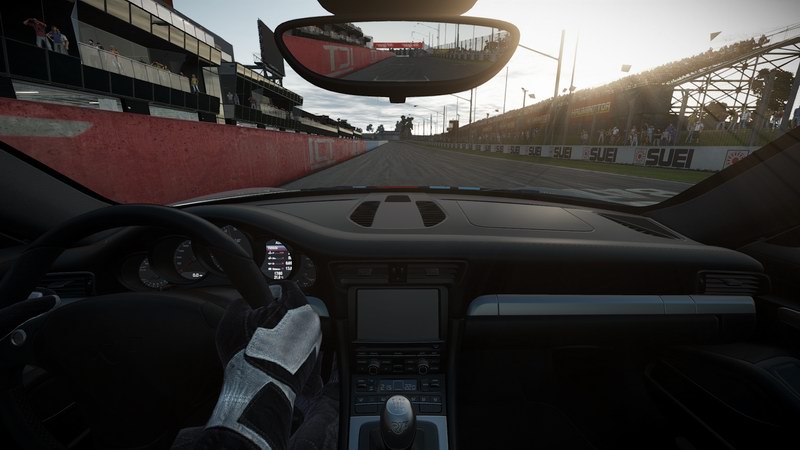 In the same vein, online you can jump into a game straight away – but there's little in the way of filtering or handholding – so unless you're careful, you can wind up in an epic multi-race campaign as likely as a quick classic car knockabout.
You're also left to tweak car setup – a deep and useful process – without much help, as well as decide on pit strategies, learn handling tips and set your difficulty using a plethora of driving aids. Generally, Project CARS just expects you to get on racing – but doesn't really bother to explain to new players how, or provide any sort of backstory as to why.
The result is that rather counter-intuitively, it's more of a challenge to race the lower power cars as a novice (the very ones that look in the menus as a natural starting point), than the higher-powered ones. The Karts are incredibly twitchy and hard to manoeuvre in a pack. Whereas the high-end F1 cars are so well set up that jumping straight into a race will likely see you pick up podium places quickly.
Once you're in the driving seat properly, though, Project CARS delivers a one-two combo that may prove hard to beat. Immediately obvious is how good it looks. It is absolutely sumptuous. With the dynamic weather sweeping over you, this delivers gorgeously atmospheric car action in gallons – it'll have Clarkson weeping into his beer.
Even better, as you master controlling each car type, learn to tweak setups and delve into the depth of the game it gradually unfurls. Cars become tameable as you master their handling quirks, computer AI race opponents gradually shift from being frustrating to brilliantly clever and the depth of the simulation, down to tyre heat, becomes more visible.
But a few niggles remain even as you start to delve deeper. It's still riddled with too many glitches and bugs; the career mode doesn't let you easily switch among the race/car types and there's still something slightly unphysical about the controls – a tad off (although a racing wheel rather than gamepad might fix this).
For hardcore racing game fans, then, Project CARS is a treat – it looks and drives right. For those out for cheap speed thrills? Stick to more arcadey fodder like the Burnout games.
Project CARS is out now for PC, PS4, Xbox One. Developed by Slightly Mad Studios and published by Bandai Namco Entertainment.