The Wolfpack |

reviews, news & interviews
The Wolfpack
The Wolfpack
Outstanding documentary reveals how movies offered escapism and salvation for a family living in the shadows
With a costume made of cereal packets and yoga marks, Batman considers leaving home without his parents
A few months ago I saw a documentary called Ming of Harlem: Twenty-One Storeys in the Air, about a man who kept a tiger and an alligator as pets in his tiny New York apartment. It was a staggering thing to comprehend, not just because of the logistics involved, but the blithe cruelty in doing that to an animal, even a savage one. Then I saw The Wolfpack.
No, this doesn't concern cruelty to wolves, but to children, and not just any children, but a man's own. I'm beginning to wonder what they put in the water in Manhattan.
This is a fascinating film, often difficult to believe, about six brothers and a sister, all but imprisoned for years in their Lower East Side apartment by their father. There are two particularly extraordinary things about their story. The first is that these kids weren't chained or, as far as we can tell, physically abused; they were home educated, culturally nurtured – most notably, through cinema – and loved, certainly by their mother. Yet both Oscar and Susanne Angulo, a Peruvian and a Midwesterner, were fearful of the world of downtown Manhattan, and the father acted on a lethal combination of paranoia and arrogance in shutting his family away from it.
This is an excellent example of a certain kind of documentary filmmaking, founded on trust and access The second extraordinary thing is that being deprived of the world, of socialisation, did not drive these kids mad. In an odd way, it's made them rather special. And it's their character, more than their treatment that makes The Wolfpack such an absorbing documentary.
It opens with a funny, slightly disorienting sequence, involving the six boys as they re-enact Reservoir Dogs. They're pretty good, cutting a dash in their dark suits and shades, armed with matching toy guns, perfectly replicating the dialogue and the moves of Mr Pink et al. And so we're introduced to them in their element, bringing to life their favourite movies, demonstrating their creativity.
Speaking directly to the camera, they reveal how important films have been to them. "It makes me feel like I'm living," says Mukunda, the strongest personality, who transcribes screenplays scrupulously from their DVD collection and types them out for his brothers to enact. "Without movies, life would be pretty boring," adds Govinda, perhaps the most sensitive of the six. "And there wouldn't be any point to go on." They're clearly Tarantino fans, have The Godfather in their top 10, enjoy horror films, and Govinda loves Gone With the Wind. They assert that they "know the difference between films and reality". Indeed, rather than take the boys further away from reality than they already are, cinema seems to have anchored them, given them a focus, and bonded them.
It also fills an almighty gap. Mukunda estimates that they might venture outside the apartment five times a year, one year only once, another year not at all. And so, as the boys tell their story, occasionally joined by their mother, questions badger us. If this is true, how is it that they're speaking to the camera, along with their mother, while dad occasionally prowls in the background? If they're prisoners, what are filmmakers doing in their home? How an earth can they be so well-adjusted, so articulate?
A key to solving those mysteries is to mark the tenses they use in their comments. Suffice to say, a turning point in their story (and our understanding of it) comes with their discovery of Christopher Nolan's The Dark Knight, an experience that pushed the then 15-year-old Mukunda, who plays Batman in their home version, to take charge of his life.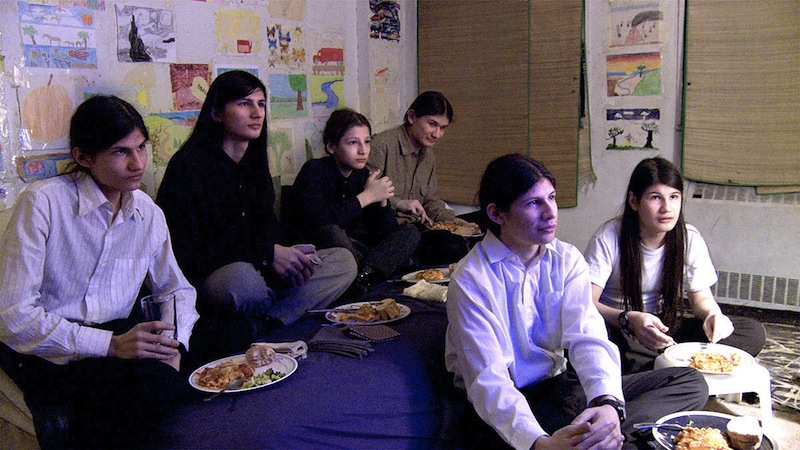 This is an excellent example of a certain kind of documentary filmmaking, founded on trust and access. Some time after the Batman episode (which might also be referred to as the Michael Myers episode, for disturbing reasons I won't disclose), director Crystal Moselle found herself invited by the boys into their home, apparently with the permission of the parents, and started to document their recollections and their gradual process of liberation.
Along with trust and access, Moselle's first feature documentary includes a high degree of collaboration, which makes sense given the boys' film ambitions; their re-enactments of beloved films, as well as a startling Halloween fancy-dress are very much for the benefit of the documentary camera. Along with the family's more traditional home movies, which take us back to when Oscar was at his most tyrannical, but also show the seeds of the boys' creativity that he to a large extent engendered, the result is a multi-layered narrative, slightly tricky and elusive in form, but with subjects who are refreshingly, touchingly frank.
The Wolfpack is not as sinister as it might have been, because the kids are so engaging, and one suspects that a fair amount of what happened in the past is withheld; a fictional version of the Angulo story would no doubt fill the gaps that this documentary leaves to our imaginations. And Moselle doesn't do quite enough to explain either Susanne – a lovely, ironically outdoorsy woman who herself seems to re-emerge as a person during the course of the filming – or her only daughter, Visnu. Personally, I couldn't help wondering how the apartment itself functioned, with the only identifiable bedroom being the one occupied by the determinedly unemployed Oscar.
But these are quibbles, with a film that is as miraculous as the escape into the light of these wonderful, brave, still vulnerable young men.
Overleaf: watch the trailer for The Wolfpack
Rather than take the boys further away from reality, cinema seems to have anchored them, given them a focus
rating
Explore topics
Share this article