Old review - time flies in tropical island mystery |

reviews, news & interviews
Old review - time flies in tropical island mystery
Old review - time flies in tropical island mystery
Alternative-reality holiday from hell is not M Night Shyamalan's finest hour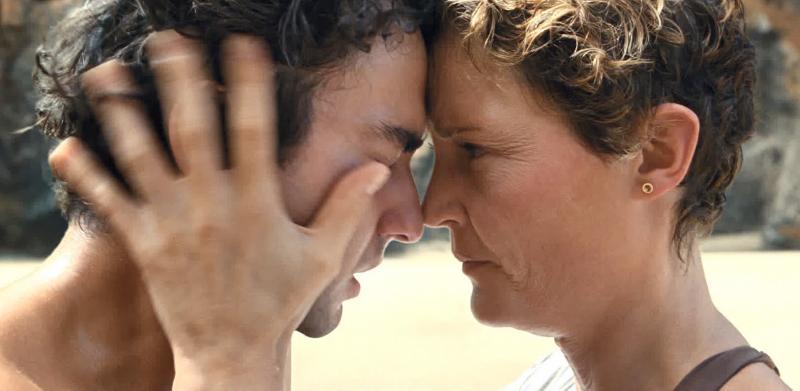 Growing up too fast: Trent (Alex Wolff) with Prisca (Vicky Krieps)
You can rely on M Night Shyamalan to deliver supernatural shocks and freakish events, but the alternative-reality nature of his projects demands suspension of disbelief. It's great when it works (The Sixth Sense or Split), but a bit of a bummer when it doesn't.
Old is not MNS's finest hour, though he does have a knack for making box-office hits that critics don't like. It's based on the graphic novel Sandcastle by Frederik Peeters and Pierre Oscar Levy, and tells the story of how a group of tourists on a lush tropical island (it was shot in the Dominican Republic) find themselves on a secluded beach where time moves in a mysterious way. They're been told by the ingratiating manager of their hotel that he only recommends this special spot to a select handful of guests. He missed out the bit about them becoming unwitting human lab-rats.
The director himself plays the role of the minibus driver who delivers the guests to the beach, as though personally guaranteeing that they're going to be entangled in his macabre fiction. After the visitors have unloaded their picnic hampers, assembled their deckchairs and put up their umbrellas, it isn't long before they start to get an inkling that their problems are likely to be greater than sunburn and jellyfish.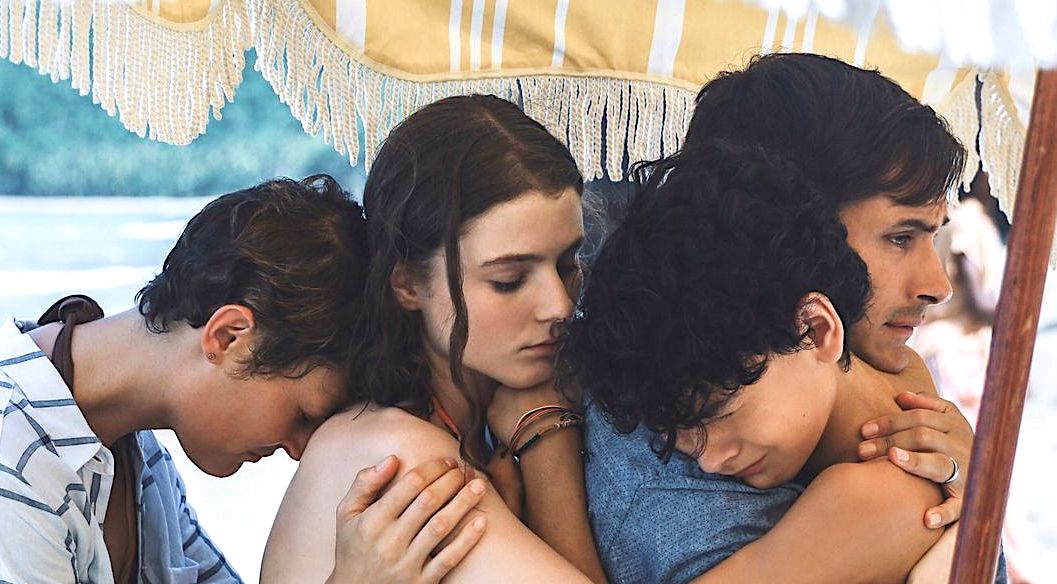 Prisca (Vicky Krieps, pictured above with family) is dumbfounded when her six-year-old son Trent goes to play behind some rocks, then comes back half an hour later looking about two decades older. Meanwhile her husband Guy (Gael García Bernal) finds that their daughter Maddox has accelerated from pre-adolescence to mature womanhood. During this same eventful day, six-year-old Kara, daughter of surgeon Charles (Rufus Sewell) and wife Chrystal (Abbey Lee), manages to get pregnant and have a baby before making a doomed attempt to escape by climbing the surrounding cliffs.
It's incredible, but the beachgoers are forced to face the fact that by some freakish process – there's a suggestion that it's something to do with the unique properties of the local rocks – time is racing ahead. The already-elderly, like Charles's mother Agnes (Kathleen Chalfant), don't have a hope of getting back alive in time for evening cocktails. A body found in the sea decomposes completely in a few hours. "There's something wrong with this beach!" cries Prisca, perceptively.
But why has this happened to them? It transpires that the characters have a variety of medical problems between them, including Charles's murderous schizophrenia, Prisca's cancer, Patricia's epilepsy and Chrystal's osteoperosis, and this has a critical bearing on the outcome. The problem is that Shyamalan's narrative begins to feel like a shopping list of outlandishness, as if he'd sat around with the crew saying "what bizarre occurrences can we think up next?" The fact that the bulk of the action is confined to the same beach location makes it feel like the cast have been assembled, given a few plot and character cues and told to improvise while the cameras follow then around.
There's a finale in which we get to see what's been going on behind the curtain, but it feels peremptory and unsatisfactory. Frederik Peeters, co-author of Sandcastle, made the point that they hadn't given their book a final twist because then they'd have had to explain the mystery rather than leaving it lingering enigmatically. They were probably right.