Nobody review - Bob Odenkirk reinvents himself as all-action dynamo |

reviews, news & interviews
Nobody review - Bob Odenkirk reinvents himself as all-action dynamo
Nobody review - Bob Odenkirk reinvents himself as all-action dynamo
Blood-splattered thriller keeps it taut, tense and tight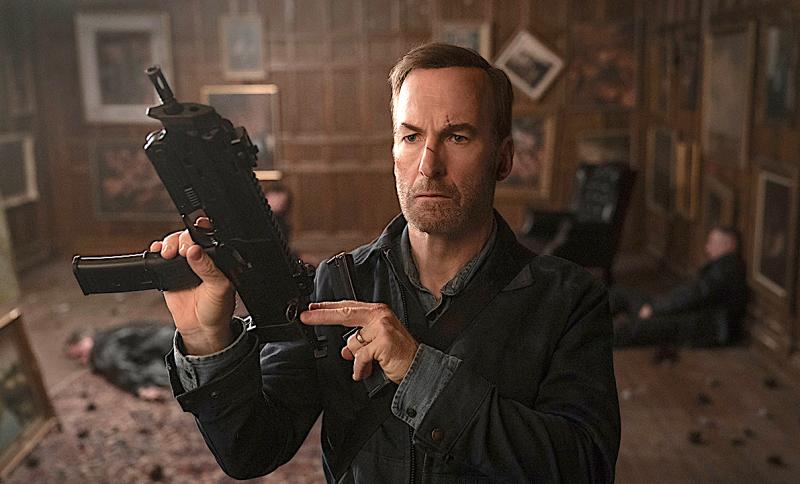 Special skills: Bob Odenkirk as Hutch Mansell
Fans of Bob Odenkirk's work in Breaking Bad and Better Call Saul will be delighted to see him taking centre stage in Ilya Naishuller's thriller, but perhaps bamboozled at the spectacle of Odenkirk taking the plunge into the blood-splattered territory previously the preserve of John Wick and Liam Neeson's Bryan Taken Mills.
Indeed,
screenwriter
Derek Kolstad created the
Wick
franchise.
Nobody
is a crisp 90 minutes of nearly-nonstop mayhem, with no time for the devious plotting or subtle character traits familiar from Odenkirk's work as Saul Goodman.
He plays Hutch Mansell, a suburban family man in an anonymous American city (it was shot in Winnipeg) who loves his estate-agent wife Rebecca (Connie Nielsen) and two kids (pictured below) but is locked into a cycle of wage-slave drudgery. A wry montage of the repeating pattern of his life – eat breakfast, put out the garbage, get the bus to work at Williams Manfacturing Ltd, sit at desk, type numbers on screen, go home for dinner – briskly sets up his "nobody" existence. When two masked robbers break into his home and Hutch backs down from confronting them, even though his son has already wrestled one of them to the floor, it seems we're looking at a timid man in whom confidence and ambition have long since been extinguished.
But when we hear him discussing the home invasion over the phone, and analysing how one raider was carrying an elderly .38-calibre Smith & Wesson revolver with no bullets in it, it's clear that Hutch has hidden depths. Perhaps he has something in common with Viggo Mortensen's Tom Stall in A History of Violence, a quiet family man concealing the trait adduced in the title.
Anyhow, tired of people telling him how he did the right thing by not battling the robbers while slyly insinuating that he's a cowardly wimp, he lets off steam by picking a fight with a gang of drunken bruisers on a bus. He gets battered, stabbed and hurled through a window, but the other guys come off far worse. His victims worked for the Russian mafia, and when one of them dies it's revealed that he was the son of mob boss Yulian Kuznetsov (the slab-like Alexey Serebryakov). Hutch has a problem, because Yulian is "as bad as they come. A connected, funded sociopath." In fact Kuznetsov is the guardian of a colossal mob slush-fund, called the Obshak.
From here on it's a slam-bang carnival of violence, as Hutch takes on swarms of avenging Russians with everything from kitchen knives, a baseball bat and a kettle of boiling water to all manner of firearms. He gets some help, too, from an old buddy who's a dab hand with a sniper's rifle, and his elderly dad David (Christopher Lloyd from Back to the Future), who drags himself out of his retirement home to revisit his wild days in the FBI. The denouement in the Williams factory is a riot of Home Alone-style mayhem enhanced by some crafty engineering work.
Ok, this isn't Citizen Kane, but it does exactly what it sets out to do without any hesitation or deviation, though perhaps some repetition. The hangdog, deadpan Odenkirk is impressive as the laconic loner who suddenly rediscovers a part of himself he though was dead and gone. And for a film where the bodies pile up in mounds, it manages to be witty and even uplifting. S'all good, man.