A Haunting in Venice review - a case of Poirot by numbers |

reviews, news & interviews
A Haunting in Venice review - a case of Poirot by numbers
A Haunting in Venice review - a case of Poirot by numbers
Kenneth Branagh and his cast have fun, but not enough narrative impact
Monday, 18 September 2023
On the trail of dark deeds: Kenneth Branagh as Poirot
You can imagine the thought processes that brought Kenneth Branagh's latest adventure as Poirot, his third, to the big screen.
"Memo to self: Find an Agatha Christie/Poirot story that hasn't been done to death already, in fact isn't well known at all so isn't an automatically 'spoiled' plot. Make it (inexpensively) exotic but still 'period' by moving the location to Venice in 1947, which looks very much like La Serenissima in 2023, minus the human sea of tourists following a guide holding up an umbrella. And there are still no cars and street furniture, and definitely no e-scooters, to CGI out. What an instantly creepy backdrop for a ghostly story set at Halloween… Oh look, there's a late-career little-known Christie novel (1969) called Halloween Party!"
So instead of the visiting Belgian supersleuth interrogating a roomful of Home Counties house party guests, the assembled suspects are locked up in various rooms of a lugubrious towering palazzo that has a reputation for being haunted by the ghosts of the incarcerated orphans left to die there in a time of plague. And Poirot is no visitor in Venice but a local resident, a disillusioned man who refuses all work and lives with his bodyguard in a house of his own, where he has fine confectionery delivered daily.
Some of the characters have been given names from the 1969 novel, but not their characteristics. The exception is Ariadne Oliver, still a mystery-writing novelist friend of Poirot's but now a bustling American, played pertly by Tina Fey (pictured below).
The trigger for the action is Joyce Reynolds (Michelle Yeoh), a medium brought in by the palazzo's owner, a former opera singer called Rowena Drake (Kelly Reilly), to hold a seance she hopes will communicate with her dead daughter, Alicia. Ariadne wants to use the event as the basis for a new hit novel about Alicia's death. Did she jump from her balcony in a fit of madness and drown, or was she pushed by malign forces, dead or alive? And Ariadne wants Poirot to accompany her to the seance, to denounce it as a fraud, which also makes good copy. Then somebody at the seance is murdered.
Poirot is made the representative of rational thought here, dismissive of ghosts and insisting on "order and method – and lists". He admits he has lost his faith, and when spooky things start happening, he is always ready with a plausible explanation as to why they are not caused by the dead. Until he isn't.
Branagh is still his own over-mannered version of Poirot: showily fastidious, a gourmet to the last. Comically, he measures eggs at the market and grows perfect-looking cavolo nero in orderly ranks on his roof terrace, which he inspects with a magnifying glass. His moustache now seems to have grown a moustache of its own.
His speech is as eccentric as ever, too, given a Classical Actor's delivery. When he tries to tempt Ariadne with his latest delivery of confectionery and she refuses, "What, not even the little chocky-wocky one?" he says silkily, with a camp moue. Olivier to a T. This Poirot still misuses idioms, accusing some of the suspects of being "in cahoot" to deceive him. Branagh plays up this silly stuff and also loves to put his face in close-up, happy to suggest Poirot's self-regard.
Plus ça change. There are, of course, several more murders among the cast, which is the standard roster of familiar faces, from Jamie Dornan as a Rattiganesque doctor with PTSD, to Call My Agent's Camille Cottin in a role not unlike Ingrid Bergman's in Murder on the Orient Express.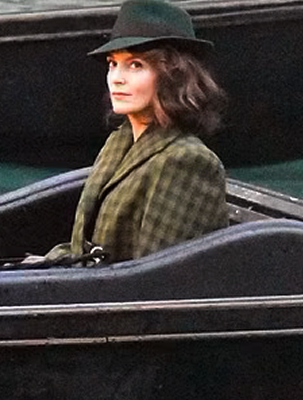 The plot is stuffed with familiar Christie tropes: a mysterious death in an impenetrably locked room; the possibility of there being not one perpetrator, but multiple ones "in cahoot"; even what seems to be the elimination of the cast one-by-one, Ten Little Indians fashion. Screenwriter Michael Green throws them all in.
The only disappointment on this score was his handling of Alicia's cockatoo, which hadn't spoken since her death after witnessing it close up. I was hoping it would find its voice again at a crucial point and produce a damning snatch of conversation, but no.
Meanwhile, director Ken pitches in traditional references used as shorthand for Venice's otherness: the ubiquitous black-cloaked figures in white masks, rats peeping out of gargoyles, gondolas in the mist, stopping short of featuring a small running figure in a scarlet hooded PVC coat. He tries all manner of kooky camera angles, too, from the opening scene onwards, where San Marco appears leaning at a Pisa-ish angle, and has hired Hildur Guðnadóttir to create eerie incidental music. But these are cosmetic tweaks to make the film's surface seem "right".
Underneath, the storyline is undernourished. There's not enough investment in characters, perhaps barring little Leo, the doctor's son, played by Belfast star Jude Hill. Dornan has a good stab at building something out of Ferrier's army task of liberating Bergen-Belsen, but has to do it alongside quoting Vera Lynn lyrics. Perhaps having the most fun is Michelle Yeoh, whose channelling of the dead is wonderfully, um, spirited.
If this film popped up on your television on a rainy winter's afternoon, you would probably be happy you gave it a try. But it's not quite grisly enough to be a crime thriller, or juicy enough as a plot to sustain interest even as a mystery. The scares aren't that scary, and Poirot's solutions aren't impressively revelatory. It's Poirot by numbers.