Edinburgh celebrates British films |

reviews, news & interviews
Edinburgh celebrates British films
Edinburgh celebrates British films
Timothy Spall is amongst a host of talent lining up in two very different British films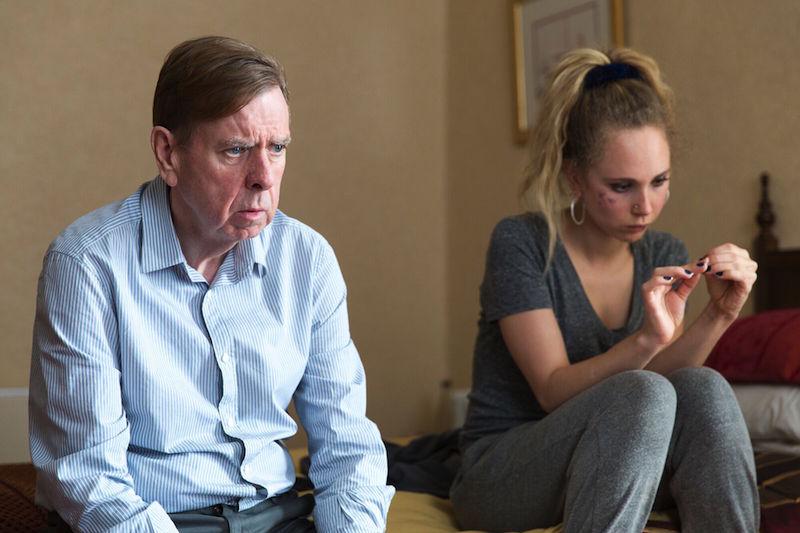 A stick of rock just won't do: Timothy Spall and Juno Temple as lost souls in 'Away'
The Edinburgh film Festival's signature prize, named after one of its most celebrated directors, is the Michael Powell Award for best British feature film. The dozen up for the award this year have included a Scottish love-triangle road movie, a dystopian drama, an adaptation of Macbeth, and a Welsh language thriller involving identical twins. Where once British film was a predictable affair, rooted in costume drama and social realism, it appears to be happily diverse at present.
Two in particular took my fancy. And while neither is perfect, each fulfilled expectations – one for performance, the other for adventurousness.
Away fits familiar templates: the crime movie that switches from the city to the sea; a middle-aged man and a young woman finding solace and solutions in each other's company; a woman escaping male abuse. Writer David Blair doesn't chart new territory, then, but he does fashion a piece which, a little like his recent, impressive BBC drama Reg, is undemonstrative yet engrossing. He also presents the older male-younger woman dynamic without the icky wish fulfilment that male directors invariably give it.
'Away' needs its actors on song and this pair really deliver
Juno Temple is Ria, who escapes from her boyfriend-cum-pimp and heads for Blackpool, with a stash of his drugs that she intends to sell, in order to fund a new life for herself and her sister. Timothy Spall is Joseph, a wreck of a man on a suicide mission, whose reaction to his wife's recent death extends beyond simple grief. The pair are staying in adjacent hotel rooms, and what appears to be coincidence is incrementally revealed as something more complicated.
While criminal elements create underlying tension – the inevitable arrival of the pimp, the local gang who have their beady eyes on Ria – the real driver of the film is the mutual dependency of these two very different individuals, one young, feisty and defiantly optimistic, the other middle-aged, full of anger and self-loathing.
Beneath Ria's determination is a sad vulnerability. "I've been a lot of things, but a kid isn't one of them," she asserts to her dismissive new acquaintance. As for Joseph, this is the first time, for me, that an actor has convincingly portrayed someone who might actually be drinking themselves to death since Nicholas Cage in Leaving Las Vegas. Mottled and volatile, Spall's countenance looks as though it could literally explode at any moment. Who most needs the other of these two lost souls is a highly debatable question.
Blair and writer Roger Hadfield overuse their flashbacks and their ending doesn't ring true enough. But the director uses the locations well, whether it's the seaside attractions revealing the childlike wonder that Ria has rarely been able to tap, or the town's seedy underbelly in which Joseph's death wish grows.
Ultimately, Away is a character piece that needs its actors on song. And this pair really deliver. Spall recreates the tragedy and pain of his character with unerring conviction; opposite him, Temple (pictured above) ably maintains the film's energy levels, preventing the whole thing being sucked into Joseph's black hole. While people aren't surprised by Spall any more, I feel that Temple is still under-valued. Not by filmmakers – she has worked with a number of great ones, in a range of roles that suggest a versatile young risk-taker, who can show distress and disturbance beneath that eerily serene, elfin face. But unlike the likes of Felicity Jones and Lily James, she hasn't yet garnered high acclaim; I wonder if she's just too edgy. This role will hopefully widen her appeal.
Brakes is a very different animal – more personal, more experimental, punk rock to Away's concerto. It's raw and uneven and messy, and thoroughly entertaining.
It's directed by Mercedes Grower, an actress and comedy writer who collaborates here with a number of comic buddies (notably Julian Barratt and Noel Fielding of The Mighty Boosh) to devise a bitter-sweet comedy about faded love. This isn't a spoiler – we know her characters are doomed because Grower's is an exercise in reverse narrative: she shows us nine relationships as they end, before returning to the beginning of each.
Invariably in portmanteau films, there are strong and poor entries. And this is no exception. The stand-outs start (which is to say, end) with gay Eliot (Barratt) calling on Raymond (Oliver Maltman) unannounced, with the aim of following up a holiday fling, but being roundly rejected by his terrified one-night stand; a wannabe actress (Julia Davis), whose director boyfriend (Peter Wight) calls time on a relationship that she probably only entered for her career; a middle-aged couple (Paul McGann and Kate Hardie) who break up on a station platform; and a young couple (Fielding and Grower, pictured above) being torn apart by his childish reactions to her pregnancy.
These succeed because the pairings are well made and the improvisational approach most effective. Barratt and Davis are both hilariously excruciating – he exuding all the menace of the deluded romantic, nay stalker, she the appalling pushiness that only a talentless person can have; and if we feel we have the measure of these characters in their endings, both performers and their victims kick up a storm in their beginnings.
McGann and Hardie (pictured right) have one of the more recognisable tragedies, of a couple who have been together for a long time, but caught in a cycle of separation and reunion that she, finally, determines to end. As she's waiting to escape on the train to Richmond, only for a tannoy to report that it's been cancelled, who wouldn't feel a frisson of recognition?
And though the sight of Fielding in naff shorts and kicking a ball on a snowy, freezing Soho day is ridiculous, the cumulative power of this young couple's needless implosion, accompanied by the quirky sweetness of their meeting, is very affecting.
Some other scenarios are too flimsy or not particularly well played; the guerrilla-style filmmaking (it was made over four years, apparently on a zero budget) is felt more in the underwhelming locations (London is largely wasted) than in the rough and ready mini-DV camerawork.
But there's an honesty about it, a refreshingly anti-romcom spirit, and such humour that I'm expecting more from Grower. Away is released in cinemas in October, and hopefully Brakes will get the break it deserves and follow suit.