Blu-ray: Lynn + Lucy |

reviews, news & interviews
Blu-ray: Lynn + Lucy
Blu-ray: Lynn + Lucy
A small town and a lifelong friendship gone sour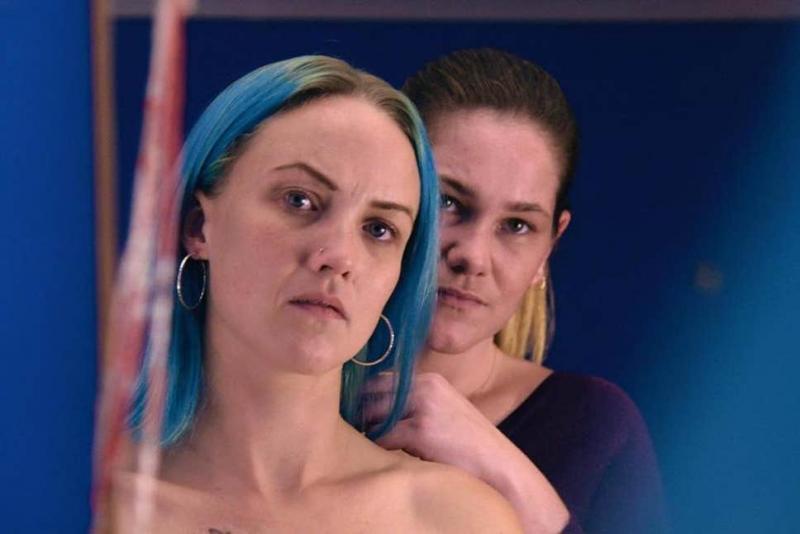 Lynn (Roxanne Scrimshaw) and Lucy (Nichola Burley)
If you're after a relaxing Sunday watch, Fyzal Boulifa's Lynn + Lucy is not the one. It begins as a story of old friends in a small town and ends as a complex and uncomfortable tragedy.
The banality of the everyday is stripped away throughout the film to reveal the resentments and tensions that underlie even the quietist of communities. The town itself (Harlow New Town) becomes a character in its own right, and is celebrated in a 1956 documentary in one of the extras on this
BFI
release.
Lynn + Lucy
is a very powerful film, told well, but the moralistic overtones can sometimes feel a bit much, almost clumsy at times.
It opens at the christening for Lucy's son, Harrison, with a speech given by her best and oldest friend, Lynn (Roxanne Scrimshaw, cast from the street and interviewed with others in the extras), who had her own child at the age of 16. Lucy's partner, Clark, is far younger than her, something that is highlighted when they argue before a night out, the green light of the games on his computer monitor backgrounding the scene. There is some sense of unease, the faint signs of postnatal depression that are so terribly reinterpreted later on in the film. Neither of their lives are perfect, Lynn watched by a disinterested husband and embarking on her first-ever job, sweeping floors at the hair salon of an old school enemy. Lynn and Lucy (Nichola Burley) have each other, though.
But soon their relationship twists and becomes toxic, Lynn feeding off the ruins of Lucy's life in the wake of the suspicious death of Harrison. The vigilante tendency of small communities is examined and exploited, as rumours swell out of all proportion and become fatal. The suspicions and the hatred grow as the two protagonists split apart, climaxing in an almost primal shaming scene where Lynn's new friends watch as Lynn shears Lucy's hair clumsily off, and Lucy smiles briefly. Moments like these are what the film does so well, but they can also be its downfall, becoming laboured metaphors.
The cinematography of Lynn + Lucy is beautiful, pulling glimpses of lushness out of daily life. There are some excellent tableaux – in one, Lynn looks out of the window at the wilted silver balloons from Harrison's memorial, profane graffiti scrawled on her windowpane, as Lucy walks across in her silver coat. In another, a drunk and enraged Lucy is dragged out of a pub whilst Lynn's profile remains impassively staring forwards.
Lynn + Lucy demonstrates very well how blame can infect and corrupt, symbolised in an almost throwaway moment when a client at the hair salon picks up a salacious gossip magazine. The powers-that-be seem intent on finding either Lucy or Clark to blame, and this is what Lynn picks up on, first defending her friend, then fanning the flames as suspicion turns on her. Lynn is a complex character, her infrequent speech leaving yawning gaps of interpretation for others to create their own readings of what really happened. The audience, likewise, can project their ideas of her character on to her, but Boulifa effectively confounds these expectations. There is no villain as such, but Lynn, and the film as a whole, is an excellent demonstration of how the most unobtrusive people can at once exploit and be exploited by a society that is always looking for a scapegoat.
The vigilante tendency of small communities is examined and exploited, as rumours swell out of all proportion and become fatal
rating
Explore topics
Share this article