Blu-ray: Luminous Procuress |

reviews, news & interviews
Blu-ray: Luminous Procuress
Blu-ray: Luminous Procuress
An offbeat counterculture classic resurrected
Excess and otherness: 'Luminous Procuress'
Salvador Dali loved when he saw it, describing Steven Arnold's debut feature as "an extraordinary, fantastic film", subsequently inviting Arnold to help decorate his museum in Figueres.
Maybe you just had to be there; viewing the film on a sunny afternoon in suburban Leeds can't compete with hanging out at New York's St Regis Hotel in 1974. Second Run's release of this 1971 curio is well worth a look, though I'd suggest watching the videoed introduction from media curator and film historian Steve Seid before pressing play. Seid was instrumental in the preservation and rerelease of Luminous Procuress, and his talk is as entertaining as it is informative.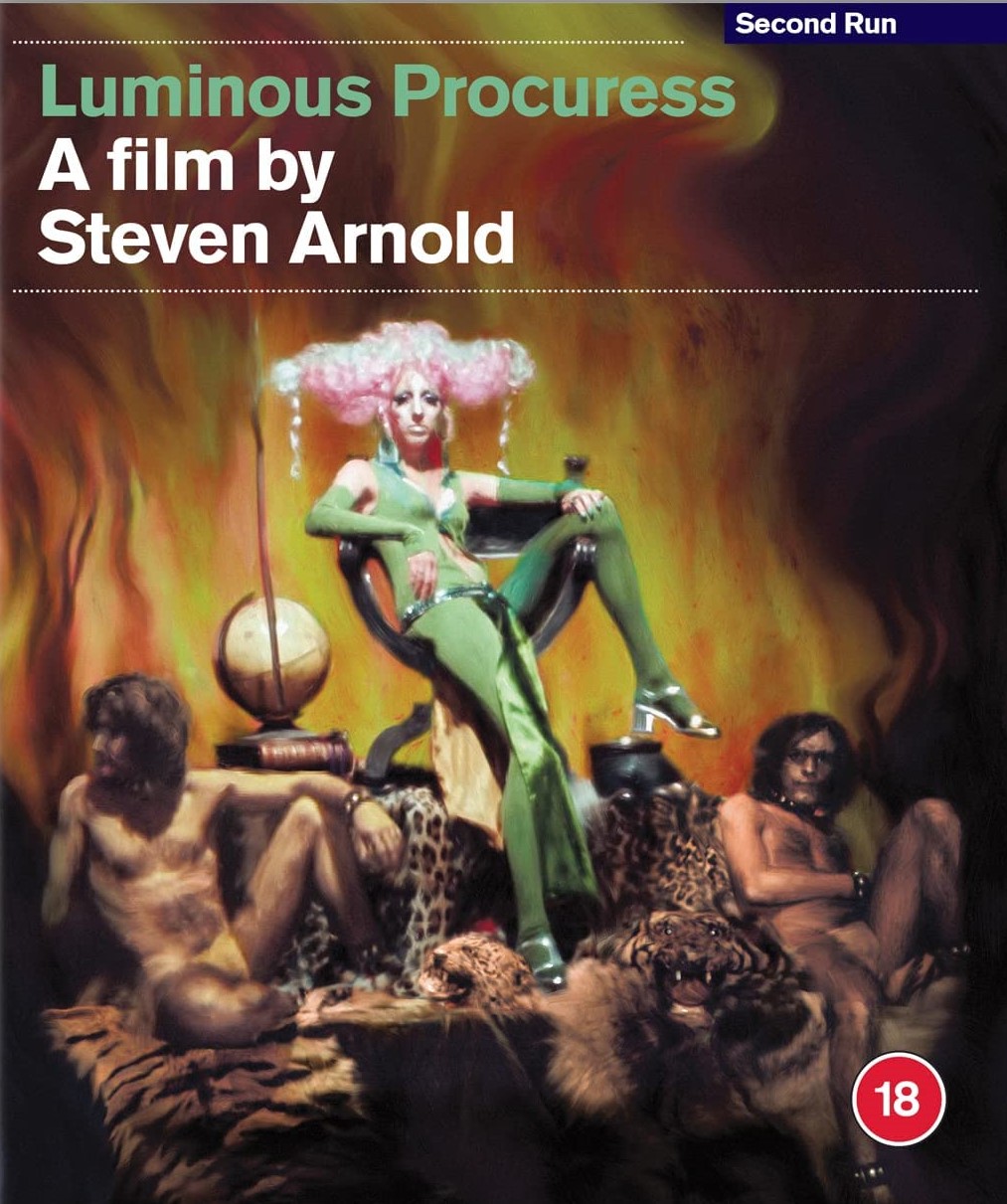 Arnold, a young artist and designer living in San Francisco, made the film with the help of a boutique owner for whom he'd designed posters, the large, non-professional cast comprised mostly of friends and colleagues. Not forgetting The Cockettes, described by Seid as "a loose troupe of norm-busting, meta-sexual hippies, all living in the Kaliflower commune in Haight-Ashbury, offering manic musical satires in rustic drag."
The film opens with two young men (Steven Solberg and Ron Farrell) arriving at a chic modern house, the gateway to an enchanted underworld overseen by the Procuress, a long-limbed, pink-wigged apparition played by Pandora (pictured, right), a childhood friend of the director. Solberg and Farrell are guided through a series of deeply strange environments, accompanied by Warner Jepson's pulsating electronic soundtrack. Scantily clad commedia dell'arte dancers dance to a hand-cranked music box. Silver spheres rise and fall. We get an unexpected interlude set in an idyllic wooded landscape, and an Egyptian mummy flickers into life.
Then there's the sex sequences, one, starring the film's improbably named set designer Skosh, so explicit that the film could only be premiered with the said scene darkened. The restored footage leaves nothing to the imagination. Near the close we watch a semi-naked food fight and an episode oddly reminiscent of the close of Kubrick's 2001, before Solberg and Farrell's journey comes full circle and it's assumed that they walk away, their lives enriched by their experiences. Luminous Procuress convinces as an exuberant celebration of excess and otherness. Though made on a miniscule budget, it looks marvellous, Arnold's makeup artists and costume designers achieving miracles with limited means. That the film is dialogue-free was a happy accident; Arnold shot much of the footage in a laundry which wasn't soundproofed, and Jepson's blend of synthesiser noodlings and muffled, incomprehensible murmurings was overlaid instead. Second Run also include an interesting interview with the aforementioned boutique owner and producer Harry Tsvi Strauch, and the booklet makes for an enjoyable, informative read.
That the film is dialogue-free was a happy accident
rating
Share this article