RIP dance critic John Percival |

reviews, news & interviews
RIP dance critic John Percival
RIP dance critic John Percival
Friend of Nureyev, foe of MacMillan, tireless advocate of the art of dance
John Percival, one of the heavyweight group of dance critics of the past 60 years, died last Wednesday, aged 85. He had watched and reported on ballet and dance from their infancy in the Forties right up to recent years, offering a powerful perspective on one of the most vivid and energetic movements in British culture in the 20th century.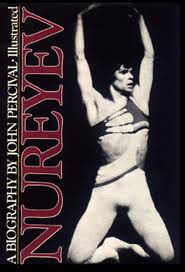 The first biographer of Rudolf Nureyev and choreographer John Cranko, Percival was for 30 years the dance critic of The Times and also the editor of Dance and Dancers, the now defunct but eminent monthly magazine that charted the growing maturity of the dance scene from the Second World War on.
Percival saw the first appearances in Britain of the New York City Ballet, the Bolshoi Ballet, Martha Graham and Pina Bausch, among others, and monitored the burgeoning bodies of work of the Royal Ballet's two great resident choreographers Frederick Ashton and Kenneth MacMillan. For the generation of following critics and for ballet-lovers worldwide, he was a vigorous and responsive observer, as well as an alert reporter of goings-on, and his near-70 years of dance-going gave his opinions a credibility that added considerably to British dance history.
His packed life included a career employed with London governments, from the London County Council through to the Inner London Education Authority, and permanent stations as the London critic for publications in Germany and New York. He was active in the Nureyev Foundation and Gulbenkian Foundation, served as President of the Critics' Circle, and was made MBE in 2002.
A Walthamstow boy, he got the ballet bug on seeing a wartime performance when he was 16. He looked back over his life in an interview on the ballet website ballet.co.uk, in which he said he was determined to be a ballet critic even as he went up to university to read English. There he met four others who would also become distinguished dance critics, Clive Barnes, Clement Crisp, Nicholas Dromgoole and Oleg Kerensky.
It is indisputable that the riches of the British dance scene from the 1950s on, ranging from world-beating excellence in classical ballet over to the dynamic birth and growth of native contemporary dance, were identified and fertilised by that influential generation of critics of which Percival was one. They not only watched but compared multiple performances over time in an accessible and enlightening way, and their keen advocacy helped to increase the ballet public from small numbers to millions as they persuaded newspapers to print more detailed and frequent reviews. Their passion and well-informed understanding was valued by choreographers, creators and performers, and the growing body of 20th-century dance history was much enhanced by the addition of the generous reviews in newspapers and magazines.
Percival was decided in his likes and dislikes - he found MacMillan's work overrated and Anthony Dowell a "disastrous" director, and he made no bones in his reviews about his belief that the Royal Ballet had lost its focus for the past quarter-century. He said he could not help doing so, as his standards had been formed in so high a period as the Fifties and Sixties when he thought the company, under Ninette de Valois and Ashton, was at its peak in dancers, repertoire and energy. His favourite ballet companies reflected his world perspective: New York City Ballet, the Kirov (Mariinsky), and the Paris Opera Ballet. Among contemporary creators Bausch, Paul Taylor and Mark Morris were his top picks, and he gave early exposure to the young British talents Jonathan Burrows, Michael Clark and Siobhan Davies.
While the delivery and format of criticism may change as time and technology changes, quality should not, and John Percival as a critic was an important witness to one of the most exciting periods in the history of dance.
Explore topics
Share this article