Edinburgh Fringe 2022 reviews: Tiff Stevenson / Seann Walsh / Rosie Holt |

reviews, news & interviews
Edinburgh Fringe 2022 reviews: Tiff Stevenson / Seann Walsh / Rosie Holt
Edinburgh Fringe 2022 reviews: Tiff Stevenson / Seann Walsh / Rosie Holt
The world's biggest and best arts festival begins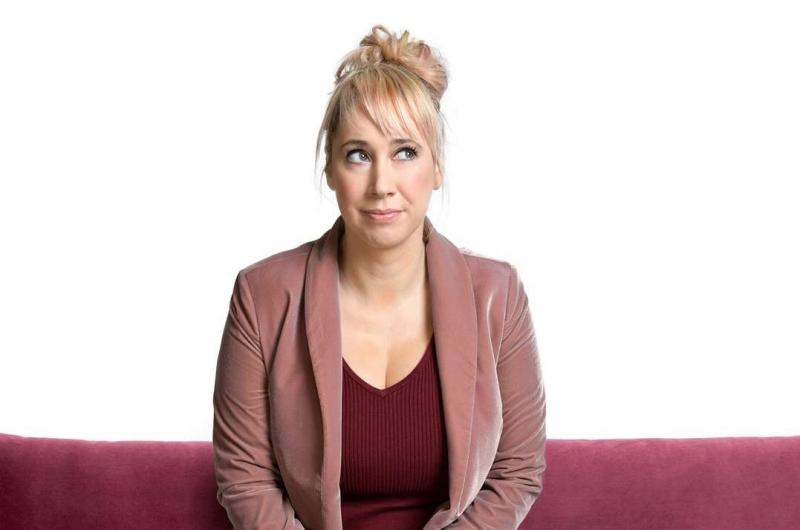 Tiff Stevenson covers a lot of territory in her show
Tiff Stevenson, Pleasance Courtyard ★★★★
Tiff Stevenson doesn't like labels, and is particularly irritated by how the once mildly mocking insult "Karen" is now just another misogynistic slur. So she invented a label for herself, Sexy Brain, which is the title of her show, and over the hour she explains how she arrived at it
She suffers from ADHD, or rather she diagnosed herself with it after failing to complete a bunch of online surveys (a symptom, apparently), and decided she has a sexy brain. Sexy as in mysterious – you know, the way women are supposed to be.
Much of this is playful and lighthearted about the strange ways her thought processes work and how she interacts with her mum, her partner and 15-year-old stepson. But Stevenson, an astute political observer, also makes some serious points about feminism, being a woman over 40 with opinions and our current political situation.
She covers a lot of territory – everything from mean dolphins and menstrual products to Wyatt Earp's medical problems and the modern styling of women's public hair – in a seemingly meandering thread, but one with an ultimate destination.
The energy moves up a gear when Stevenson describes her recent sojourn in Hollywood when she discovered the painful truth about the difference in alcoholic intake between the British and Americans. When it comes to making arses of ourselves through drink, Britons (as represented by Stevenson) are clearly world class – and she throws in a fabulous name-drop while recounting her experiences.
The story that ends the show takes us in an unexpected direction, with a great callback for Stevenson to finish with a flourish.
Seann Walsh, The Stand ★★★★

When Seann Walsh appeared on Strictly Come Dancing in 2018, he thought he had made it into the big time. But a drunken offstage kiss with his dance partner meant an end not just to his appearance on the shiny-floor show, but to his longstanding relationship too. Walsh has dealt with the fallout of this "tabloid scandal" in a previous show, but in Seann Walsh: Is Dead. Happy Now? he describes the fallout after the fallout.
It's serious stuff. He was suicidal, went into therapy, was diagnosed with PTSD and gave up drinking three years ago. He mostly steers clear of mentioning the difficult split with his ex-partner, except for one crucial detail about the division of household wares, and instead delves into his family history. Is it any wonder he has addictive tendencies when his father was a heroin addict for the entirety of the comic's childhood?
But this is no misery memoir (even if some details are shocking); it's touching and unflinching about the route back from what seemed like the end of Walsh's career – and it's very, very funny. Along the way he talks – with some humility and dollops of good humour – about what Strictly contestants invariably call their journey, but it is never po-faced. As a bonus he throws in cracking impersonations of Michael McIntyre and Josh Widdicombe in a couple of anecdotes, and the ending is not the one we were expecting.
Rosie Holt, Pleasance Courtyard ★★★★

Rosie Holt is an actress turned comic who shot to fame with her spoof lockdown videos about a right-wing "opinionist" who is slavishly loyal to her party leader, no matter what the moral and linguistic contortions needed to defend the Prime Minister's latest behaviour. The Woman's Hour is her accomplished debut hour of character comedy based on those videos.
The complicated story, which means frantic costume changes by Holt and the use of pre-recorded inserts shown on the onstage screen, involves (among others) Tory MP "Rosie Holt", who is standing for the Tory party leadership and whose campaign song is the gloriously inappropriate "Boss Bitch" by Doha Cat, conservative journalist Harriet Langley-Swindon, TV presenter Kirstie Allsopp, Liz Truss and conspiracy theorist Russell Brand.
The show addresses political hypocrisy (from both ends of the left-right spectrum), cancel culture and celebrity idiocy on social media. It starts strongly but rather loses its way in the last quarter, and not all the characters hit the spot. Yet much of The Woman's Hour is whip-smart and funny, proving, if proof be needed, that Holt is a very talented writer and performer indeed.
The energy moves up a gear when Stevenson describes her recent sojourn in Hollywood
Explore topics
Share this article