Aditi Mittal, Soho Theatre On Demand review - cows, mothers and fempowerment |

reviews, news & interviews
Aditi Mittal, Soho Theatre On Demand review - cows, mothers and fempowerment
Aditi Mittal, Soho Theatre On Demand review - cows, mothers and fempowerment
Indian comic on how she discovered feminism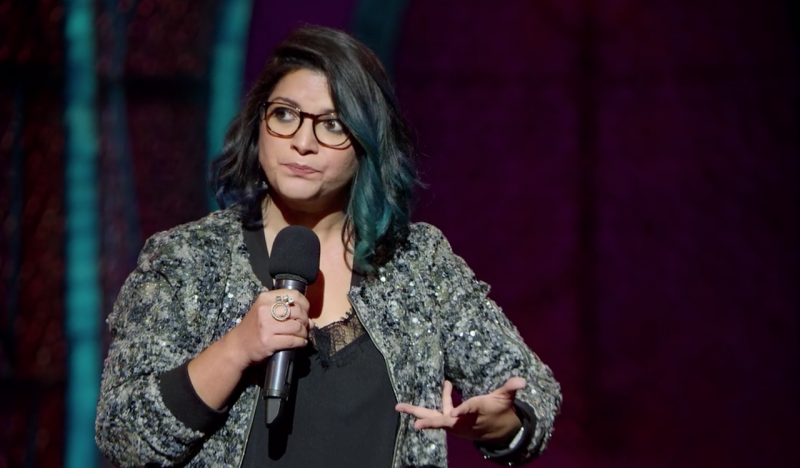 Aditi Mittal talks a mile a minute and is a physically expressive comedian
"There are places in India where it's safer to be a cow than a woman" is a seemingly innocuous statement, but for Indian comic Aditi Mittal it was a dangerous one to make in a comedy show.
It led to her arrest after a man complained that it was offensive to Hindus (and possibly cows, who knows).
Yet Mother of Invention, an energetic and engaging hour about where Mittal's feminism comes from, isn't a political show per se. It's silly and often raucous – she's upfront about her sexual life – but the low value placed on women in Indian society is an ever present underscore, and all the more powerful for that.
Her account of that cow story is delivered not as political agenda-setting, rather as part of a playful tale about her fiercely protective mother, who went to the police station "groin-first" and rescued her thirtysomething daughter from prosecution.
The show begins, though, with Mittal's award for "fempowerment" at charity event where she managed to upset another man with material about sanitary napkins ("In front of my wife!"). This one spat at her and caused her to drop and break her award.
Mittal, who talks a mile a minute and is a very physically expressive comic, paints a vivid picture of Indian life and those in it – particularly her take-no-prisoners mother, who adopted her when Mittal was three. She has a fondness for wearing the icons of several religions, all at the same time, and wearing a camouflage jacket with multiple pockets that house all manner of objects.
I've no doubt that much of Mittal's material would mark her out as a free thinker, even transgressive, in India, in what is still a nascent comedy scene, but in the UK it seems rather tame. And among the really strong gags in this show is a lengthy anecdote about having a camera stolen when she was a teenager; it's pointless and noticeably lacking a punchline. But she brings the show to an end on a hopeful note with a clever callback.