Wallen, Filthy Lucre, Rich Mix review - classical music meets club night |

reviews, news & interviews
Wallen, Filthy Lucre, Rich Mix review - classical music meets club night
Wallen, Filthy Lucre, Rich Mix review - classical music meets club night
Genres fuse together in this exciting and eclectic showcase of new music
Saturday, 05 February 2022
Byron Wallen leading the performance of 'Hurrican Bells'
Despite its delightfully poetic feel, Hurricane Bells is a very literal title for this event - the first public outing post pandemic given by London based contemporary music outfit Filthy Lucre, whose blended approach of club night meets concert drew a strong crown to Shoreditch's Rich Mix.
It takes its name from a set of bells cast in 2018 by artist Peter Shenai, the shapes of which are modelled on the physical structure of Hurricane Katrina. Hurricane Katrina ravaged much of the Gulf Coast of the United States in 2005, especially the city of New Orleans, and her fingerprint will be forever etched into the city's story. These unique percussion instruments form the basis of British jazz trumpeter Byron Wallen's suite Hurricane Bells, a fascinating musical exploration of the natural and social effects of this devastating storm. It's very much rooted in the jazz tradition, with Wallen leading the band and playing as a soloist, though the players are equally at home in both jazz and classical styles of playing. As a whole, Byron's 35 minute suite is poignant and moving, its final pieces reflecting on the unjust effects of unbridled capitalism that were exacerbated by the storm.
The music though is also consistently joyous, reminding us of the hope and beauty that lies in mankind's perseverance. As well as Shenai's hurricane bells, other instruments are deployed in innovative ways, conjuring up images of extreme natural disaster. The cello and trumpet both evoked the sounds of a malevolent wind, while Zoé Pascal on drums skilfully emulated the noise of a far-off helicopter. This work is a richly hued and musically profound portrait of one of the most prominent natural disasters the Western world has seen in recent years. I, for one, hope that its world premiere on Friday marks the start of many performances; partly because it provides a potent message as the climate catastrophe escalates, but mostly because it's a bloody good piece of music that deserves to be heard.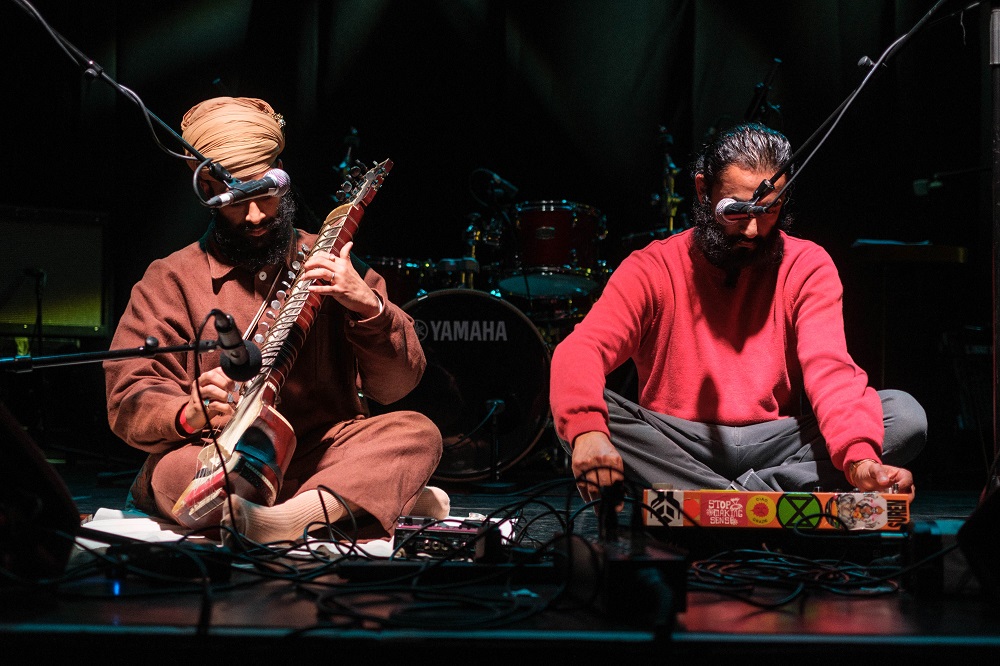 The evening opened with two pieces by Australian composer Liza Lim. Ehwaz (Journeying), for trumpet and percussion, saw an intuitive dialogue between trumpeter Lucy Humphris and percussionist George Barton. Humphris created a vast range of sounds, from delicate breathy tones with dextrous flutter-tonguing to modified volumes using a variety of mutes, including at one point, a CD. Cellist Colin Alexander played Lim's solo work, Invisibility, with two bows – sometimes even at the same time! The first had the hair twisted round it, giving the visual effect of a kind of candy cane, and the impact of wood and hair on the strings produced an eerie, haunting sound. The piece demonstrated the possibilities of the instrument in an elemental yet profound way, with Alexander's playing captivating the audience.
Rich Mix's space is definitely more club than concert hall, and the night took the form of a gig, with seated and standing space, and three half hour long sets. The final set was from duo Jatinder Durhailay and Suren Seneviratne (pictured above), who perform under the moniker Petit Oiseau. They combine Indian classical instruments with custom designed synth patches, and their unique blend was a stimulating yet hypnotic end to the evening.
I hope the world premiere of Byron Wallen's 'Hurricane Bells' marks the start of many performances
rating
Explore topics
Share this article