Ryedale Spring Festival online review - sowing the seeds of live music |

reviews, news & interviews
Ryedale Spring Festival online review - sowing the seeds of live music
Ryedale Spring Festival online review - sowing the seeds of live music
Music and visuals combine in this seasonal celebration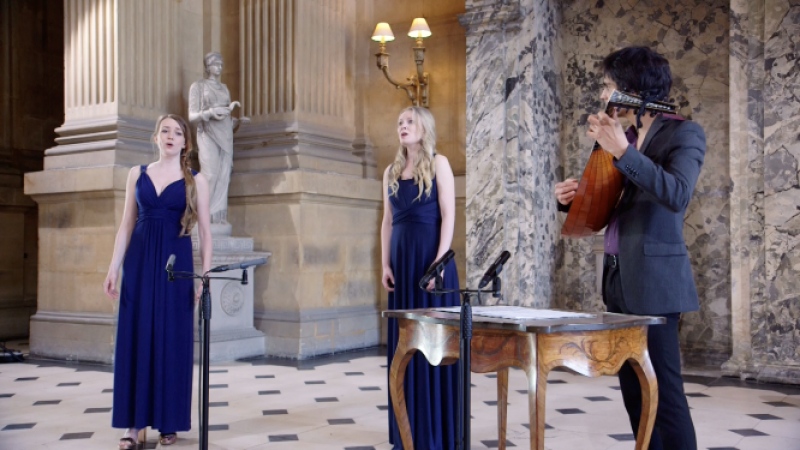 Soprano duo Fair Oriana perform in the Great Hall at Castle Howard with lutenist Sam Brown
Marking its 40th anniversary, this year's Ryedale Festival kicked off with an online-only spring series ahead of the main festival later this summer. With any luck, by then, the festival's rural Yorkshire venues will be filled with people once more, but for now audiences can experience beautiful music made in beautiful places wherever they are at home.
The series of mini concerts is tied together by the central theme of springtime, with each performer invited to reflect on the season in their respective programmes. Clarinettist Michael Collins and pianist Michael McHale gave a charming performance of Beethoven's "Spring" Sonata, the video interspersed with stunning visuals filmed in and around the Yorkshire Arboretum by naturalist and wildlife photographer and filmmaker Cain Scrimgeour. Though written for violin, the lyrical qualities of the music shone equally brightly in this transcription for clarinet, and were a perfect soundtrack for scenes of a swan gliding on a lake. Widor's Introduction and Rondo (which you can hear the duo playing live from the Wigmore Hall on Monday 17 May) had a rich, rounded depth. Poulenc's Clarinet Sonata – originally written for Benny Goodman and Leonard Bernstein – ended the recital, with Collins and McHale giving the music both a glossy serenity and a sassy bite.
Again opening with some of Scrimgeour's filming, the ribbeting of a frog served as a prelude to the duet recital of pianists Pavel Kolesniklov and Samson Tsoy, filmed in Castle Howard's Long Gallery (pictured above). After so many months of online concerts, we all know that streaming can never replace the real thing, but it does have its positives; not least, being able to watch these four hands gracefully glide over the keys of the gallery's Bösendorfer close up and in HD. They strikingly evoked the different characters of Brahms's 16 Waltzes, though it was the seldom heard Divertissement à la hongroise written by Schubert towards the end of his life that stood out for its depth, wisdom and poise.
Soprano duo Fair Orianna performed a mix of Elizabethan, folk and contemporary songs, bookended by settings of the text their concert took its name from: "Now is the Month of Maying". Fraser Wilson's song – recently commissioned by the duo – had the same sprightly energy as the Renaissance composer Thomas Morley's, but was given a modern folky feel, with jazz tinged harmonies. Sopranos Angela Hicks and Penelope Appleyard both sung with fresh, light voices, blending perfectly together. In another vocal recital titled "Spring is Returning'', mezzo soprano Helen Charlston performed a programme of art song accompanied on piano by Christopher Glynn. Copland's "Nature, the gentlest mother" was blissfully peaceful, Charlston's crystal clear mezzo bringing the words of Emily Dickinson's poem vividly to life. Brahms's "Feldeinsamkeit" was sung with a glowing warmth which evoked the contented mood of the poem, while the more sorrowful "Die Mainacht" was skilfully imparted by both Charlston and Glynn. Having been forced to cancel her wedding in April last year, Charlston wrote a poem which she then sent to a composer friend who set it to music. This sparked her "Isolation songbook", a collection of songs written in response to lockdown which has recently been released as a CD on Delphian Records. Two of these were performed in this recital: Joshua Borin's "Nature is Returning", a witty and insightful contemplation on an evening walk at the cusp of spring, and Nathan James Dearden's lush, colourful setting of poet Katherine Towers's "the way we go".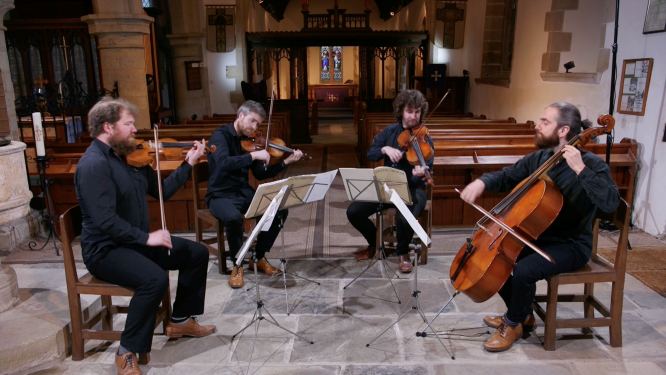 Bringing a dose of Scotland to the Yorkshire countryside, the Maxwell Quartet (pictured above) performed a programme of mainly Scottish music, although they were sadly not attired in kilts as they are in many of their promo images! They began, however, with Haydn, performing his String Quartet in C major Op. 74 No. 1 with punch and panache. The piece still has a nod to the north, with a rousing bagpipe drone in the bass heard in the final movement. Playing some of their own arrangements of traditional Scottish tunes, "Coilsfield House / Drunk at night, dry in the morning" opened with a stunningly simple air played by George Smith on first violin, the tune then being picked up by the other players. "The Beauty of the North / Miss Dumbreck" began with another slow air on the fiddle, with gently quivering accompaniments from the rest of the quartet before moving into the faster paced second tune. An ode to one of her favourite bands as a teenager, composer Anna Meredith's A Short Tribute to Teenage Fanclub saw all strings playing pizzicato inspired by the Glasgow rock band's guitar playing. The quirky rhythms always brought forth something unexpected in this perfectly presented little piece, written with Meredith's trademark genre-defying style.

"Spring will be a little late this year" was the title given to the Immy Churchill Trio's concert (pictured below), and as I sit at my laptop in a grey and drizzly Birmingham, it feels oddly prophetic. The name is taken from a song written for the 1944 film "Christmas Holiday'' by the American composer Frank Loesser, and the group's upbeat performance felt fun and lighthearted, with excellent solos from all three musicians.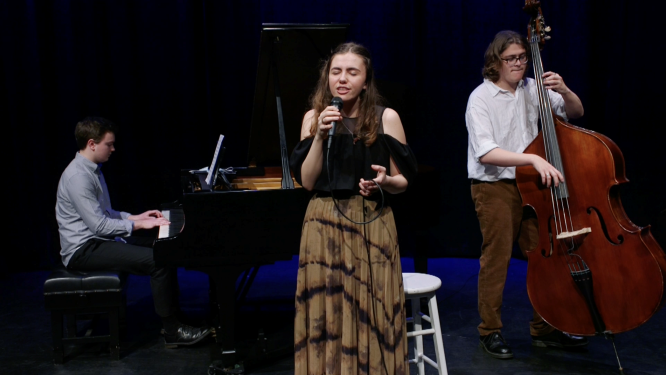 Giving a programme of pieces from the Great American Songbook, this young jazz trio performed with style and synergy. Tony Yapp's double bass playing was tight and deft, and vivid colours resounded from Scottie Thompsonon on keys. A new skill which Churchill tried her hand at in lockdown was singing in Portugese. I don't speak the language myself so cannot tell you if her annunciation was any good (although I suspect it was), but musically, her performance of Antonio Carlos Jobim's "Corcovado" was gorgeous, with a soft, lilting vocal line.

Where, though, would a series themed around springtime be without hearing what's probably the most famous musical depiction of the season: Vivaldi's "Spring" from The Four Seasons? The London Mozart Players rounded off the festival with an ebullient rendition of the movement, followed by Vaughan-Williams's "The Lark Ascending". Ruth Rogers's violin solo was ethereally tender, enshrined in delicately shimmering harmonies from the rest of the group.
RyeStream is an expertly curated and crafted online festival, the stunning nature footage that's blended with the music giving it an extra special, transcendental power. With such a diverse range of fabulous performances from brilliant music makers, it's a timely reminder that live music will once again be in full bloom.
It is an expertly curated and crafted online festival, the stunning nature footage giving it an extra special, transcendental power
rating
Explore topics
Share this article