Igor Levit, Wigmore Hall review – full-spectrum Bach from a prodigious talent |

reviews, news & interviews
Igor Levit, Wigmore Hall review – full-spectrum Bach from a prodigious talent
Igor Levit, Wigmore Hall review – full-spectrum Bach from a prodigious talent
The Russian-born Berliner delivers gripping pianistic theatre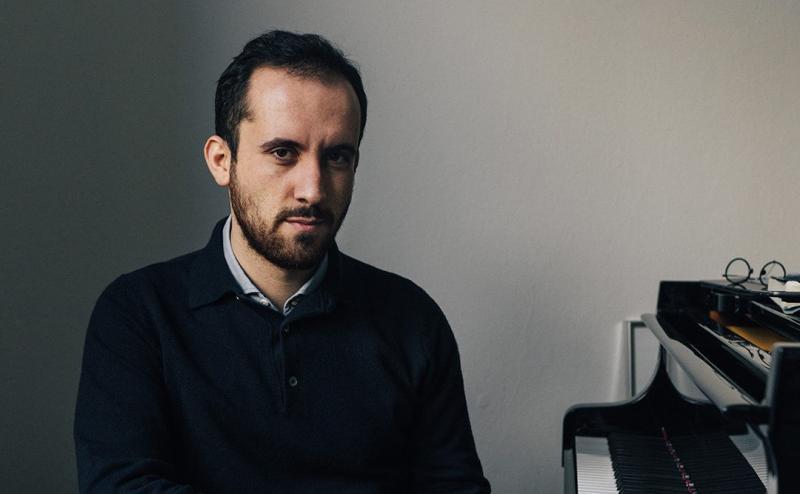 Levit: high drama on the keys
You seldom hear a Champions League-level roar of approval at the Wigmore Hall. Last night, though, Igor Levit drew a throaty collective bark of appreciation from the audience after (for once) an awed hush had followed the final dying cadences of the aria's return in Bach's Goldberg Variations. Had he earned it? Absolutely. This recital was first of three devoted to the idea of Variations.
Friday will see Levit play Beethoven's Diabelli set, and Frederic Rzewski's mighty deconstruction of the revolutionary anthem "The People United Will Never Be Defeated". On 27 May, the Russian-born Berlin pianist will take his regular explorations of lesser-known music further with the enormous, post-Shostakovich
Passacaglia on DSCH
composed by the Scottish-Welsh Lancastrian Ronald Stevenson in the early Sixties.
Yesterday, though, the universally acclaimed Levit showed his paces at the familar core of the modern piano repertoire (albeit with a work that Bach conceived in 1741 as exercises for the two-manual harpsichord). When Levit won accolades for his 2016 recording of the Goldberg, Diabelli and Rzewski, some judges deemed his Bach a little more routine than its two partner works. If so, Levit's interpretation has strengthened and deepened since. There was nothing humdrum or dutiful in a rendering packed from first to last with bright colours, broad contrasts and the pervading crackle of high drama. For sure, if the more austere contrapuntal clarity of András Schiff embodies your Goldberg-for-piano ideal, or the peerless grace and poise of Murray Perahia, then the bold statements, stretched tempi and dynamics, and sudden coups de théâtre that Levit finds both within and between the variations will fall short of Baroque perfection.
Levit is not afraid of the odd swaggering fortissimo, or heavily pregnant pause, and can push rubato moments into passages of almost proto-Romantic expressivity – as in the swooning lyric sarabande of 13. But his wonderful singing line, spectacular but never show-off ornament, and ability to shift instantly and convincingly in mood and texture, made this an edge-of-the-seat ride. Besides, Levit's supreme technical assurance, never more remarkable than in the fiendish trill-rich toccatas of variations 28 and 29, would take the breath away – if only he had not already given so much proof of his prowess.
The sheer theatricality of those scene-changes, as when the zestily brilliant hand-crossings of 20 yield to the sombre gravity of 21 (like a wordless Handelian funeral rite), mean that some listeners might miss the wide-span architectural control of the whole musical arc that marks out other legendary Goldbergs. I found those guiding props, however, in the canons that punctuate the piece as every third variation. Levit's versions called us back to 18th-century discipline and formality, even after his wilder flights into freedom of volume and velocity. His full-spectrum playing swung between the skittering, Frenchified razzle-dazzle of 16 and the transparent, tender gravity of 6. Mostly, Levit gave himself scant time for reflection between the parts. However, he did pause solemnly before 25, the famous "black pearl" in G minor. Levit made a delicious, extended meal out of its unearthly beauty and abiding sense of mystery. He can sometimes, as here, sound "Russian" in the best-old fashioned way. Or even Polish: there were sensuous, brooding touches and lavishly re-moulded note-values here that seemed to turn Bach into Chopin, and the 1740s into the 1840s. I suppose "purists" would object. But then, by rights, they shouldn't be listening to piano Goldbergs anyway.
Thanks to Levit's quicksilver transformations, a change of costume is never far away. If he can sound at moments like a Horowitz, then the barnstorming jollity of the Quodlibet before the aria returns, and its out-of-the-blue pub sing-song, brought an entirely different sort of pianist to mind: Jools Holland, perhaps? Earthbound as often as ethereal, this was a well-spiced Goldberg that pursued and achieved depth of flavour, and range of texture, rather than elegant uniformity. It showcased not only Levit's phenomenal accomplishment but the mature audacity he shows in his choices as an interpreter. Why, then, did I spot a few empty Wigmore seats? Here was one of our planet's most stupendously gifted pianists, on peak form. Champions deserve full houses.
The Goldbergs showcased not only Levit's phenomenal accomplishment but also the mature audacity of his choices
rating
Explore topics
Share this article