CBSO Quartet, Hockley Social Club, Birmingham review - unveiling of innovative new partnership |

reviews, news & interviews
CBSO Quartet, Hockley Social Club, Birmingham review - unveiling of innovative new partnership
CBSO Quartet, Hockley Social Club, Birmingham review - unveiling of innovative new partnership
Classical music meets street food in first of a bold series
Saturday, 23 October 2021
The quartet from the CBSO plays in an unaccustomed venue
Kicking off a brand new partnership between the City of Birmingham Symphony Orchestra and Hockley Social Club, this first ever Symphonic Session saw a string quartet from the CBSO take centre stage at Birmingham's latest street-food venue, Hockley Social Club, on Thursday evening.
Hockley Social Club is the new, permanent Brum-based home for street-food stalwarts Digbeth Dining Club. Founded almost a decade ago, Digbeth Dining Club has brought its signature street food events to myriad Midlands venues, including the ruins at Coventry Cathedral and the stunning grounds of Warwick Castle. Setting up in slightly less lofty surroundings, the group behind DDC have managed to make a large warehouse space in the back streets of Hockley feel classy, cool, and genuinely cosy.
Introduced by violinist Colette Overdijk, the quartet performed a variety of pieces , both from the classical canon and more modern voices. Opening with an arrangement by Michael Atkinson of Indie Singer/Songwriter Sufjan Stevens's Year of the Boar, the quartet at once showed their innate musicianship, performing with synergy and passion. American composer Caroline Shaw's Entr'acte was a beautiful piece full of rich and unexpected harmonies, which ended with a perfectly balanced pizzicato cello solo from Arthur Boutillier.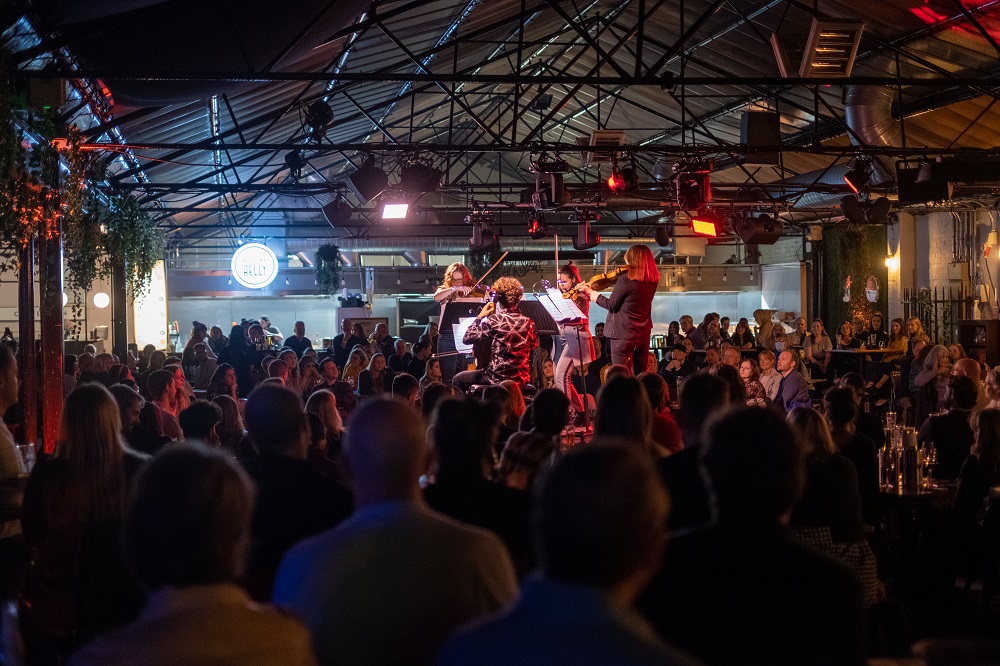 Playing a couple of movements from Anna Meredith's Songs for the M8, the quartet in the first movement managed, rather gorgeously, to conjure up the horrible sounds of ceaseless traffic, while the fourth movement, with its higher pitches, seemed to embody the sheer annoyance of being on the motorway. The final piece of the first set was, to be honest, the only real low-light for me. A very nice arrangement of a very nice song (Sigur Rós's Hoppipolla) was played very nicely. There was nothing at all wrong with it, but it wouldn't have sounded out of place on a television advert for a high-street bank, and after such innovative programming felt like a bit of a damp squib to conclude the set.
Another of Atkinson's arrangements of Sufjan Stevens's songs opened the second set. Year of our Lord was played with expertly precice glissandi, all four players working as one to tease out the harmonies. The second movement from Shostakovich's Eighth String Quartet had a strong and fiery drive, before the quartet seamlessly moved into Bach's Art of Fugue with an equal intensity yet a stiller tone and a cooler passion. The same rawness was heard in the violins at the end of the fierce Shostakovich and the beginning of the more calculated Bach. During the Bach, though, the perfection unravelled, with both violinists' microphones dropping from their instruments. It was a shame that a technical glitch like that soiled what would have been a gorgeous musical moment, but shit happens. Or, in Colette's words, "What a Ride?!"
Mics firmly reattached, the group played Bryce Dessner's string quartet Aheym with driven rigour, before ending with a rousing set of Scandinavian folk tunes arranged by the Danish String Quartet.
With fabulous food from Hockley Social Club residents Buddha Belly, Low n' Slow and Kodawari, a fully stocked bar and eclectic sets from Birmingham DJ Pritt Kalsi, this was a concert like no other -and judging from the crowd's reaction, one that should definitely be repeated.
The quartet seamlessly moved from Shostakovich to Bach with an equal intensity yet a stiller tone and a cooler passion
rating
Explore topics
Share this article