Brian Elias Focus Day, Concert 1, Wigmore Hall online review - portrait of the artist in miniature |

reviews, news & interviews
Brian Elias Focus Day, Concert 1, Wigmore Hall online review - portrait of the artist in miniature
Brian Elias Focus Day, Concert 1, Wigmore Hall online review - portrait of the artist in miniature
Young artists deliver a compelling composer showcase
Brian Elias: A British composer whose works combine rigorous technique with an ingenious play of texture
What comes to mind when you think of Brian Elias? The violence and humming, background threat of The Judas Tree, his score for Kenneth MacMillan's brutal final ballet?
The outpouring of
Electra Mourns
, cor anglais a schizophrenic double for the mezzo's monologue? Or perhaps his breakthrough 1984 Proms commission
L'Eylah
, a Middle Eastern love-song gradually revealed at its core?
Elias's output isn't enormous, but there's a real breadth within it. Thanks to a series of fine recordings on NMC, it's easy to lose an afternoon in the British composer's taut, carefully crafted music. But opportunities to hear it in the concert hall are less easily come by, so the Wigmore Hall's Focus Day was a welcome reminder of a voice we still hear too seldom – an opportunity not just to revisit Elias's own music, but to set it in the context of works by his teacher Elisabeth Lutyens as well as by Debussy and Ravel – all chosen by the composer himself
Dedicated to soprano Jane Manning, whose death last month robbed new music of one of its most fearless advocates, where else could the concert start than with one of several works composed for her by Elias? Peroration is an arresting opener: an unaccompanied monologue for soprano whose dense, multilingual text from Robert Browning's The Ring and the Book is transformed into solo counterpoint for a voice that sings, hums, mutters and speaks.
There's a bitterness, a rage to a work that fights against text that (outwardly) attempts to exonerate, or at least soften into bland legalese, an act of double murder. The Count's defence peppers his speech with plenty of Latin phrases, but bubbling up against this cool formality is music for female voice that fizzes and bursts with all the two silenced women are unable to say on their own behalf. Soprano Mimi Doulton (pictured right) never let us off the hook, holding us with unwavering gaze and musical intent that offered a certain path through this dense musical web.
We needed release afterwards, and it came in the form of L'innominata for cello and piano, Christopher Graves' cello singing sweetly over the obfuscations and challenges of Daniel Lebhardt's piano. Still more distilled was Arioso – a bewitching showcase for the baritone saxophone (Rob Burton), all mossy, muted tone and rustling sotto voces, coloratura turned from outward display to inward musing.
Lutyens' Requiescat (written in memory of Stravinsky) and Ravel's Introduction and Allegro were the two bookends Elias had placed around his music – the former tight with epigrammatic, ambiguous grief, the latter a gleaming textural showcase. Olivia Jaguers' harp glittered at the centre of the Ravel, thrown into relief by the woody warmth of the Castalian String Quartet (pictured below in the concert), smoothing over the work's surges rather than carving them out.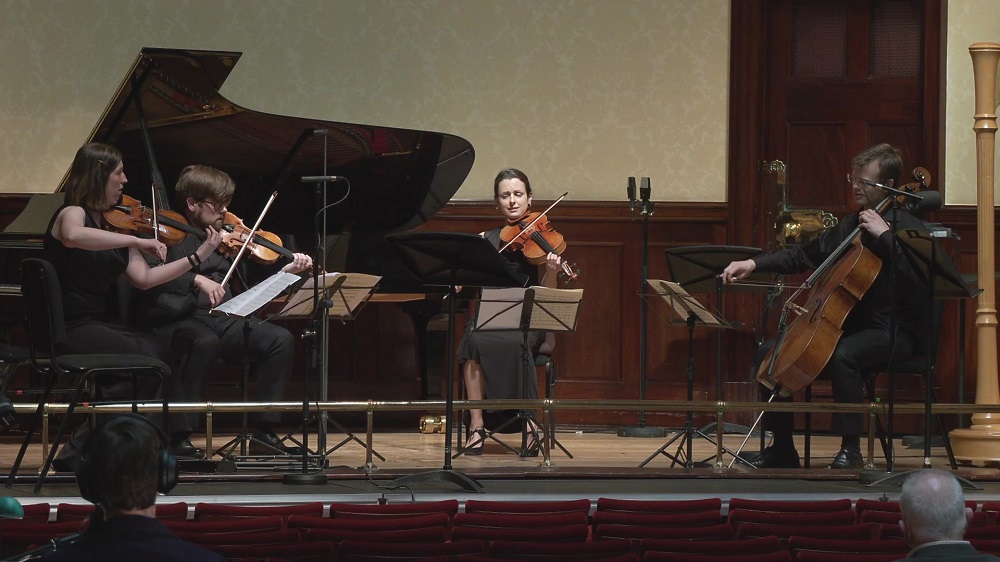 It was restraint that allowed us to hear right through the translucent texture – clarity echoed in Elias's own String Quartet. Composed in 2012 for the Jerusalem String Quartet, the work finds Elias inside the motor of the genre, playing with motif, development and variation in four continuous, interconnected movements. Most striking are the two inner sections – the Adagio a glassy surface over tectonic shiftings, the Scherzo a flickering shadow-play of pianissimo semiquavers – elegantly handled here by the quartet.
This was an afternoon full of musical threads to pull, works to revisit, to relisten to. With a second concert also available to stream (including dance-cycle Geranos and the lovely Meet me in the Green Glen) it's a detailed portrait of the composer in miniature. For the full-scale experience, we'll need a bigger hall.
Where else could the concert start than with one of several works composed for the late Jane Manning?
rating
Explore topics
Share this article