theartsdesk in Bergen: Questions upon questions at Borealis Festival |

reviews, news & interviews
theartsdesk in Bergen: Questions upon questions at Borealis Festival
theartsdesk in Bergen: Questions upon questions at Borealis Festival
The sublime, the ridiculous and the brain-cleansing in the bracing North Sea air
There comes a point in any experimental music festival when you have to accept the silliness and go with it. And at Borealis, that point comes very early.
Only a couple of hours off the plane in Bergen and we're in a pedestrian tunnel under the bus station, where a crowd surrounds Slovakian musician Joná
š
Gruska who is sitting cross-legged on the floor with a laptop, directing the whirs, rumbles and cascades of bleeps that are emanating from different sections of the tunnel wall and ceiling. Through all of this, Bergen's Friday evening commuters bustle, variously perplexed and amused, many of them with skis over their shoulders as they head for the mountains that surround the town.
It's the skis that do it: the piece is already disorienting in its manipulation of one's sense of space, but the sight of whole families moving through it makes it hilariously, profoundly strange. Which is just as it should be: a programme like Borealis's is nothing if it doesn't pull the rug out from under your feet and leave you uncertain where the line between the sublime and the ridiculous lies.
Many of the events through the weekend are concerned with drawing attention to spatiality and rewiring the idea of where listener and performer should be situated. Immediately following Gruska's rewiring of a thoroughfare into an instrument comes a concert by Norwegian improvising group LEMUR. Lemuria, built around themes of islands in the work of 20th century composer Luigi Nono, sees the four members of LEMUR – playing flute, cello, French horn and double bass – plus two singers, all on pedestals dotted around a grand concert hall.
We're encouraged to promenade around this or lie down on beanbags, getting the sounds multi-directionally: from the musicians themselves, and in occasionally electronically processed form from an array of speakers around the room. The effect is bordering on psychedelic as the smallest breaths or clicks of instruments are amplified and moved around the room, and the musical personalities of the ensemble melt together and re-coalesce around us on micro and macro scales.
And so it goes on through the festival: we sit on floors, stand in gallery spaces, have drummers walk through the crowd, watch Angharad Davies slowly rotating as she dismantles a violin, participate in improvisations by writing on papers thrown into a goldfish bowl. Even when it comes close to a traditional gig format with standing audience and artist on stage, the fourth wall is well and truly broken: the astounding Moor Mother from Philadelphia delivers a live set that manages to combine abstract electronica with all of the booming power of modern hip hop and dancehall and a hint of punk fury, as she pushes out into the crowd, literally in our faces with her narratives of black American history and contemporary politics.
How that squares with a polite, overwhelmingly white, northern European audience privileged enough to be able to buy terrifyingly expensive Norwegian beer, you might wonder. Likewise the truly hypnotic installation art I Call America by composer and "patchwork" artist Matana Roberts, or the rowdy Afro-Portuguese beats of DJ Marfox. And it is uneasy at times: but at this intimate festival, artists, delegates and ticket-buying public are constantly mingling, and there's a generosity of spirit from all sides that is exhibited in extra-curricular conversations.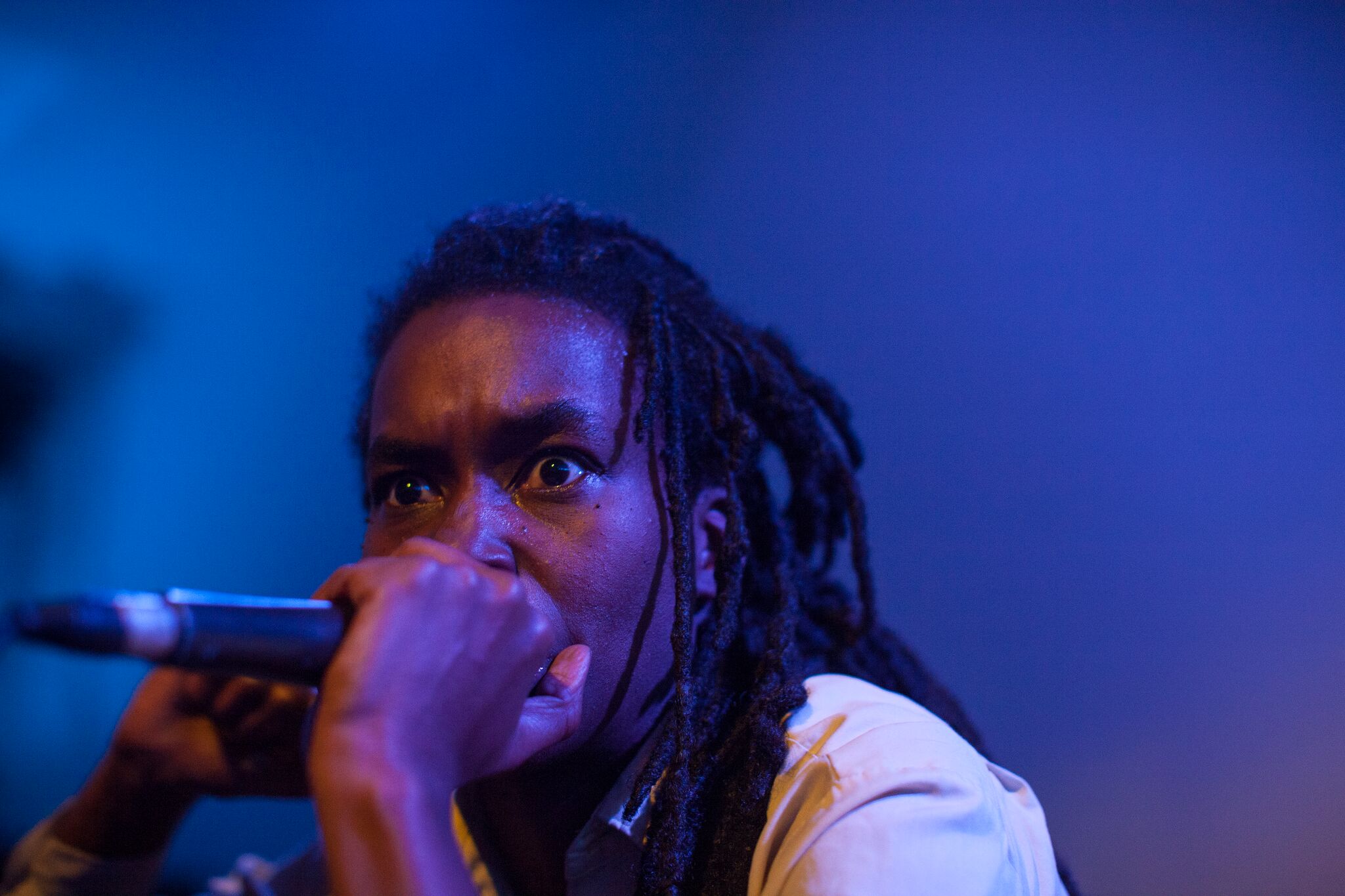 And as the Brooklyn-based writer/artist Christopher Stackhouse suggests in his response to Roberts's work, maybe there's particular value in being in this genteel, orderly, quiet little port town in oil-rich, progressive Norway, culturally a world away from the America of Trump and Black Lives Matter: somewhere to get a new perspective on fraught and deep-rooted issues. And maybe there is. Of course nobody's going to come away from three days with new answers, but as with so much in this festival, there's no doubt we come away with a whole lot of new questions.
We also come away refreshed and with a renewed sense that improvisational and experimental music and performance can be joyful and pleasurable in their own right. It's somehow symbolic that the one big misfire of the weekend is the most classically composed and performed piece: Annelies Van Parys's opera Private View. Though it's exquisitely (and expensively) staged, played and sung, the piece is ultimately hackneyed in its themes of voyeurism and atomisation in Hitchock and modern urban life, its messages telegraphed, and the ability of modernist classical methods to capture real human speech and interaction feeling like it hasn't advanced anywhere in a century.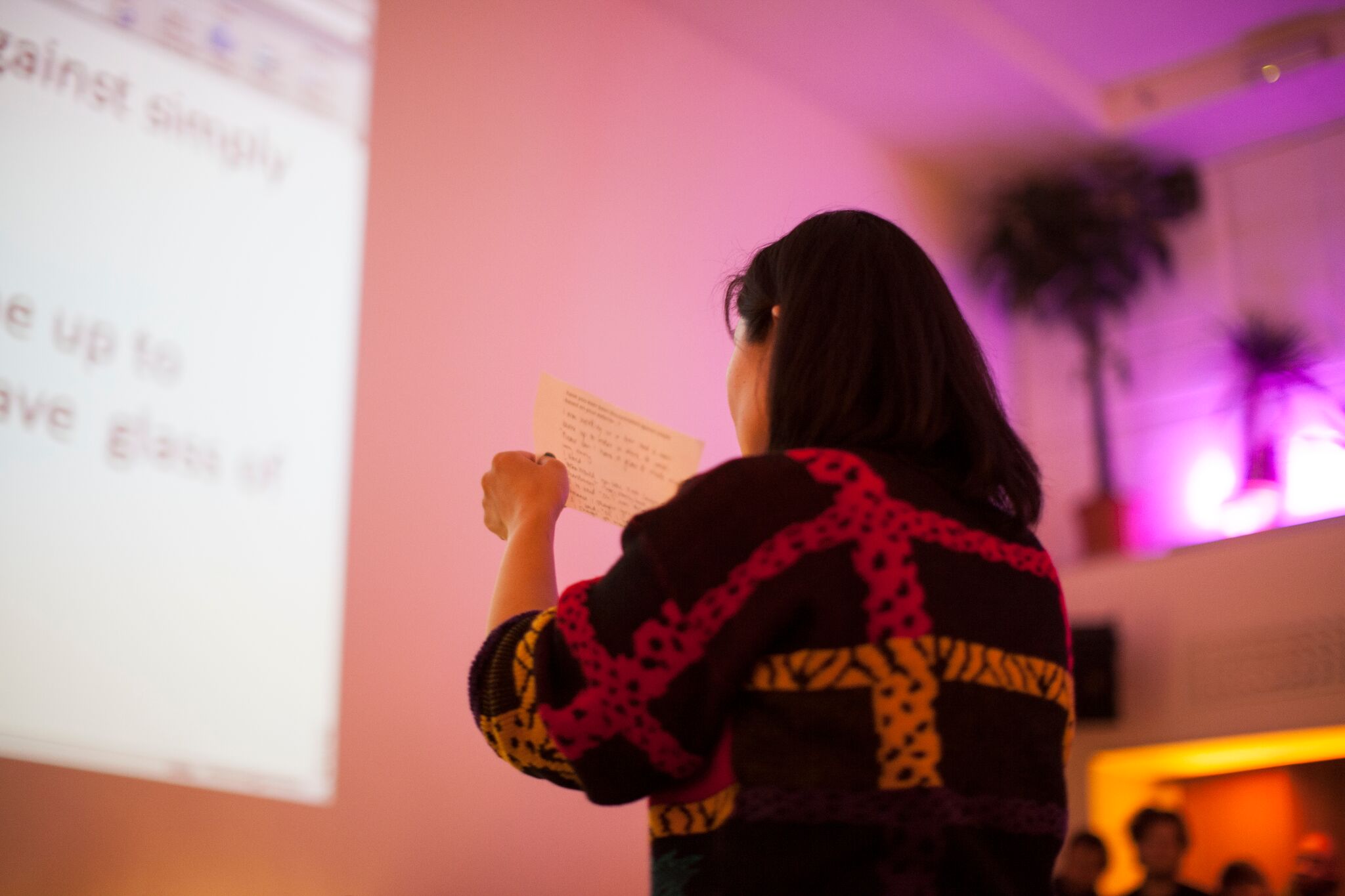 In radical contrast, pieces that weren't broadcast from the stage but were more immersive and/or participative felt alive, wired into our emotions and cognition, and just better. On the final evening, there's a tribute to the late Pauline Oliveiros by composer/cellist Oliver Coates: incorporating projected virtual landscapes, ambient electronica, a girls' choir and a final section with the prone audience joining in one of Oliveiros's "tuning meditations", it's frequently blissful.
Then we head to the closing concert, an improvisation led by cellist Okkyung Lee, with drummer Chris Corsano, harpist Rhodri Davies and violinist Angharad Davies. During this the aforementioned goldfish bowl is used for the audience to anonymously answer questions set by Lee, which answers are then projected on a large screen, while a man steps through the crowd handing out cups of tea. People's responses to questions ranging from the nature of the miraculous to bad haircuts become part of the lovingly detailed chaos. It's simultaneously silly and profound, shambolic and virtuosic, troubling and tranquil, and as cleansing to the brain as the cold, clean North Sea air of Bergen.
Pieces that weren't broadcast from the stage but were more immersive and/or participative felt alive, wired into our emotions and cognition
rating
Explore topics
Share this article