William Trevor: Last Stories review - final intimations |

reviews, news & interviews
William Trevor: Last Stories review - final intimations
William Trevor: Last Stories review - final intimations
A sotto-voce leave-taking for the short-story master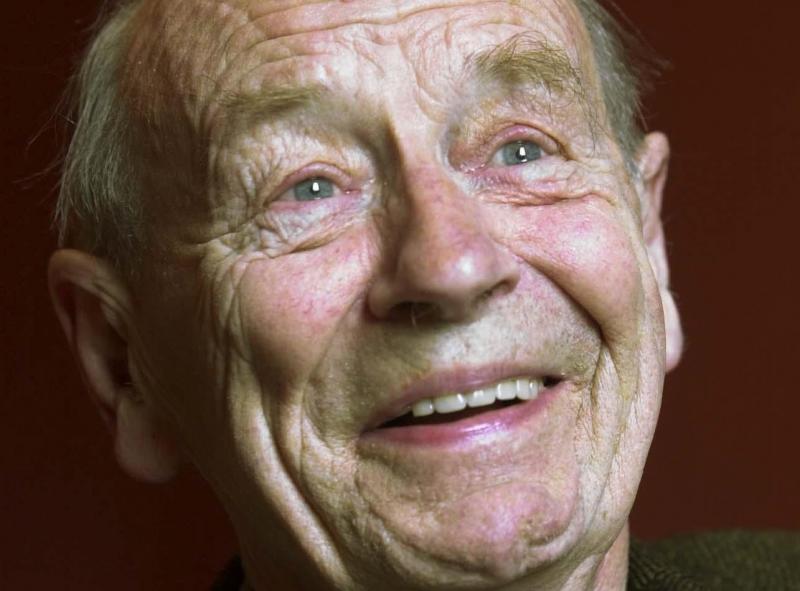 William Trevor: 'a modern Chekhov'
An Irishman who spent more than half a century in London and then Devon, and a prolific writer – nearly 20 novels and novellas, some 20 collections of short stories in varying combinations – William Trevor (1928-2016) is often eulogised as a modern Chekhov.
He is invariably characterised as the master of the short story in
post-Joycean
times, rightly revered, esteemed, admired, awarded. Several of these last 10 stories were published in
The New Yorker
, where much of his finest work in this form has appeared, while several iterations of his
Collected Stories
published previously have run to over a thousand pages. But he evidently did want these last 10 put together in book form as
Last Stories
.
There is no introduction, no distillation, no helping hand as to whether he might have seen these tales as a kind of farewell, in view of the 10 previous anthologies and collections of his stories in book form (most were published singly in distinguished magazines of the anglophone world including Harper's and The Atlantic Monthly). Were these special to him, did he plan the sequence as it enfolded? Nor are we given the dates they were written, or where one or two might have previously appeared in relatively ephemeral magazine form.
The reason this framework might matter is that these stories, while haunting, and utterly characteristic in their economy of means and in much of their subject matter – the life half-lived, the fleeting recognition of inadequacy, the repressed desire, the inability to transcend circumstance – are curious shadows of Trevor at his mesmerising best. They do share ambiguity, the narrative only partly revelatory.
In Taking Mr Ravenswood how is Roseanne, the seemingly dowdy bank clerk who keeps a lonely widower – a customer – company, and has concealed her obsessive attachment to her sometime partner Keith and her child from her working colleagues, going to respond to the determination of her ethically bankrupt lover to blackmail Mr Ravenswood over this seemingly clandestine association? We don't quite know. William Trevor's stories never quite end – this is part of their gift – as lives go on being lived, at least in Trevoresque terms.
The Piano Teacher's Pupil gives us a protagonist, Miss Nightingale, a woman still beautiful in middle age, her father dead, her liaison with her married lover over, facing the ramifications of compromise. The young boy who comes for his weekly lesson is supremely gifted, his playing transcendent; but at every visit he steals – she cannot even grasp how he does it – some small object from her house. The price for hearing him play is never to face him with this knowledge. He leaves abruptly, then comes back once as an adolescent; the truth is never spoken, and she wonders how other hitherto unacknowledged compromises have affected – adversely, perhaps – her life. The reader could practically write another short story about whatever glimpse (a Trevor word for what a short story is) the author vouchsafes.
Martina lives with a relative, The Crippled Man of the title, on a remote farm in Ireland; she is his support in more ways than one, and in turn is kept on his benefits. Stateless itinerant workers from an unnamed community in Eastern Europe are hired to patch up the decaying house, and on their return from an unplanned absence the crippled man has vanished, but not Martina and the cheques that continue to arrive. Was the invalid murdered, did he die naturally? The impotent reader is as suspicious as the labourers, who do nothing. The endings of a Trevor story are slow dissolves rather than any kind of conclusion, snatches of an overheard narrative without beginning or end.
The reader may be curiously wearied by the lack of vitality, exuberance, effervescence, and just plain energy in the people the author shows us: but they are all, however circumscribed, survivors
There are cruelties, some deliberate: the first wife Anita hears from the second wife, Claire, once her best friend, of the death of the philandering husband. They meet At the Caffé Daria, a London café named in honour of the Italian owner's adored, estranged wife who had left him for a poet, prompting his migration to London. Claire is in the depths of abysmal loneliness but her attempt at reconnection is spurned quietly and with subtle relish.
In An Idyll in Winter a halted connection between an adolescent girl and her tutor is resumed as just that – an idyll in adulthood, Anthony now a husband and father in London, Mary Bella running her inherited and significant farm in the North. She finds, however, the strength to end her only opportunity for connection, unable to pay the price of guilt. As Mary Bella says in a decisively poignant moment when she seems to finish the only relationship that mattered to her inner core: "How slightly we know ourselves until something happens… How blurred the edges are: what we can do, what we can't. What nags, what doesn't." Anthony, who did not have the strength to leave until told to, tells her that her courage is extraordinary.
The tenth and longest story, The Women, is disquieting and inconclusive, as is William Trevor's wont. The first sentence sets the tone: "Cecilia Normanton knew her father well, her mother not at all." The mother's absence is unexplained; after home schooling, Cecilia's only company her tutor and the housekeeping couple who visited the prosperous house, Cecilia goes to boarding school. There she – and the reader – becomes slowly aware that two retired women who live together are creepily seizing attempts to glimpse Cecilia. Is one her mother? Was she illegitimate? Is Mr Normanton her actual father, or rather did he in turn seize a chance to adopt? We are given no irrefutable conclusion.
This voices perhaps the underlying theme of these yearning lives, with fulfilment tantalisingly always just round the corner. Here are tales of compromise and melancholy and uncertainty, yet with moral and ethical considerations also shadowing decisions. In all these stories, however melancholy and even at times lackadaisical their characters are (they never plumb the depths or attain the heights of tragedy), there is one overwhelming conclusion. The reader may be curiously wearied by the lack of vitality, exuberance, effervescence, and just plain energy in the people the author shows us: but they are all, however circumscribed, survivors.
William Trevor novices: please, don't start here. The earlier collections contain significantly more robust and longer stories, even more intricate, which enable us to further appreciate these last echoes.
Last Stories by William Trevor (Viking, £14.99)