Sunday Book: The New Yorker Book of the 60s |

reviews, news & interviews
Sunday Book: The New Yorker Book of the 60s
Sunday Book: The New Yorker Book of the 60s
Must-have story of a Technicolor decade in the words of some of the magazine's greatest writers
Truman Capote, whose 'In Cold Blood' was first published as a four-part serial in 'The New Yorker'
As the United States – and the world – agonises over the coming of Donald Trump, it seems to many of us that all hope is almost irretrievably lost. How timely, then, is the publication of a collection of essays which chronicle and celebrate a decade when hope abounded, when it seemed (despite manifold horrors) there was still all to play for.
That's not to say it was all peace and love. Far from it. At home, Americans fought a bloody battle for the most basic civil rights and abroad a costly and futile war in Vietnam. Khrushchev decided to park nuclear missiles on Cuba and for 13 days the world stared into the abyss. How would President Trump have dealt with such a dangerous crisis?
The 1950s had unfolded in black and white. The 1960s were all Technicolor. In his January 1961 inaugural address, President John Fitzgerald Kennedy exhorted the nation: "Ask not what your country can do for you – ask what you can do for your country… Ask not what America can do for you, but what together we can do for the freedom of man". Mere words perhaps, but inspiring words nonetheless.
Indeed, as George Packer writes in an introduction to the book's opening section, Reckonings: "If the country now seems to be painfully breaking down, in the Sixties it was quite dramatically exploding. The sense of continuous crisis forced a change in journalism that appeared in the New Yorker. The magazine lost its habitual cool, its restraint. It began to publish big ambitious essays that attempted to meet the apocalyptic occasion."
What ambition, what essays – or more accurately, what essayists! Among them: Rachel Carson and "The Silent Spring", a manifesto which brought environmental issues to the attention of the American public. Truman Capote and "In Cold Blood", about the murder of the Clutter family in Holcomb, Kansas, which still exemplifies "the non-fiction novel". And James Baldwin, who confronted the "cowardly obtuseness of white liberals" – New Yorker readers – in a despatch from the Harlem of his childhood. William Shawn, the magazine's distinguished and long-serving editor who had commissioned the piece, struck out the author's original title ("Down at the Cross") and called it "Letter from a Region of My Mind". It would later appear in Baldwin's seminal book The Fire Next Time.
No British publication has ever done what the New Yorker (the Tina Brown era aside) has done so consistently, commissioning long-form writing about the most urgent issues of the day from writers who were in the thick of it. Attempts to emulate the approach usually results in an Amis or a Rushdie or some other (usually male) media darling being assigned a subject that's topical but not necessarily within their natural expertise. Celebrity is now, after all, what counts – which is what made the New Yorker, in which much was un-bylined, all the more remarkable.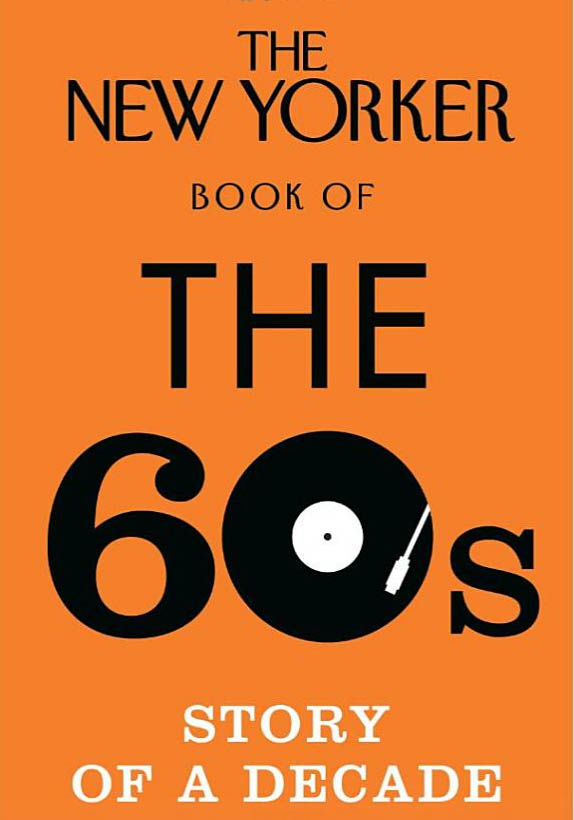 Shawn, who presided over the New Yorker from 1952 to 1987, may not have been a Sixties' figure but he was determined that his magazine engage with the culture and (as it would come to be known) counterculture of that momentous decade. For example, in 1968 he appointed its first rock music critic, Ellen Willis, represented in this book by two pieces, one of which, "Packaging Rock and Post-Rock", seeks to explain this new-fangled phenomenon to readers. But well before the arrival of Willis, the magazine was clearly alert to the significance of popular culture. As early as 1964, the esteemed Nat Hentoff was writing about Bob Dylan in a lengthy think-piece that still strikes sparks.
The collection runs to almost 700 pages, including helpful pen portraits of each of the writers, and it is divided into nine over-arching sections (Confrontation, American Scenes, Farther Shores, New Arrivals, Artists & Athletes, Critics, Poetry, Fiction) within which content is arranged chronologically, so creating a biography of the 1960s. There is reportage on the assassinations of President and Robert Kennedy and Martin Luther King. Britain's own Jonathan Miller features with a critique of JFK's televised funeral – he was at the time starring in the Broadway production of Beyond the Fringe. The London production of BFG is mentioned briefly in a piece by Kenneth Tynan, whose own celebrated review, Oh! Calcutta, is trashed in a report by Brendan Gill, who finds more to admire in the upmarket smut of Philip Roth's Portnoy's Complaint ("unremittingly revolting and hilarious").
As citizens in the US and elsewhere once again take to the streets in large numbers, reports in this book remind us of the importance of people power with articles such as Calvin Trillin's on the Berkeley Free Speech Movement and Joseph Wechsberg on the Prague Spring, which of course did not end so well – at least not until 1989. There are reflections on feminism and abortion, the Second Vatican Council, the Six-Day War and Paris 1968.
Brief Encounters features interviews with figures as diverse as Joan Baez and Ronald Reagan, Twiggy and Tom Stoppard, Marshall McLuhan and the Maharishi Mahesh Yogi. There are perhaps fewer reviews than one would like but Poetry and Fiction provide compensatory rich pickings.
For anyone at all interested in the history and culture of our recent times, and in good writing, The New Yorker Book of the 1960s is a must-have. Buy it immediately before its short print-run disappears from the shelves. You will find it endlessly rewarding.