Nick Hornby: Just Like You review - funny but inauthentic Brexit novel |

reviews, news & interviews
Nick Hornby: Just Like You review - funny but inauthentic Brexit novel
Nick Hornby: Just Like You review - funny but inauthentic Brexit novel
Hornby's latest novel tries so hard to be 'woke' that it ends up being tone-deaf
Sunday, 13 September 2020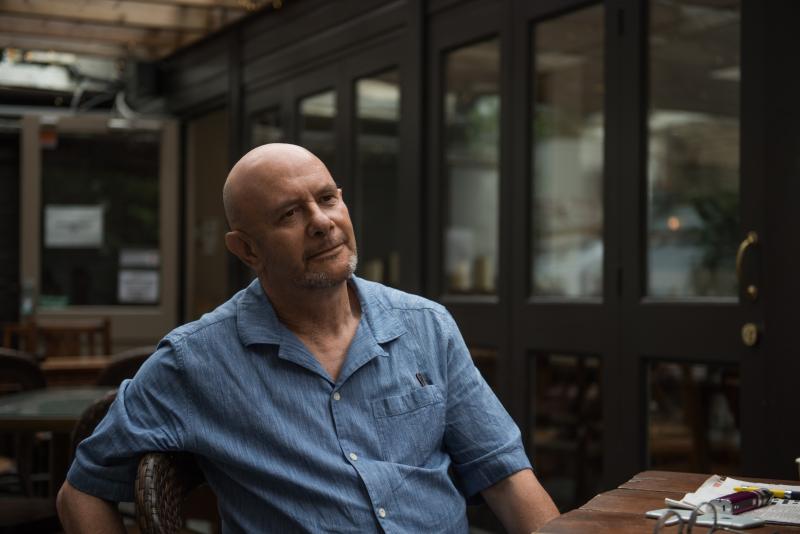 Nick Hornby's inimitable style is not enough to save this novel
Nick Hornby's protagonists are worlds apart. Joseph is a Black 22-year-old with a "portfolio career", which includes shift work at a butcher's and a leisure centre and the distant dream of becoming a DJ.
Lucy, a regular customer at the butcher's where Joseph works, is a white, forty-two-year-old mother, recently divorced from an addict ex-husband and Head of English at a local "troubled inner city school." When she asks Joseph to be a babysitter for her two children, the pair embark on an unexpected romantic relationship.
Just Like You
charts the highs and lows of that journey, as they navigate a twenty-year age gap and vastly different social circles.
Set in 2016, the backdrop to their romance is the impending referendum vote on the European Union. While Lucy and her "graphic designer, publisher and independent filmmaker friends" are ardent remainers, Joseph's father, a scaffolder, is a vocal leave campaigner. Exploring race, politics and class in Britain, Hornby is in volatile and controversial territory.
As so-called "Culture Wars" dominate the headlines, fiction has the potential to be an antidote to divisiveness, exploring tensions with nuance and creating space for empathy and resolution. Sadly, Just Like You squanders this potential; despite the effortless quality of the prose and the flashes of warmth and humour emblematic of vintage Hornby, there is an inauthenticity at the novel's heart which seeps through even in the opening pages. At times, Just Like You is trying so hard to be a "woke", "political" novel that it ends up being one-dimensional and tone-deaf.
Racism is a theme explored throughout the book. Hornby highlights the ubiquity of racist micro-aggressions through Emma, Lucy's ex-neighbour and fellow regular customer at the butcher's, who fetishes Joseph and asks Lucy which "actor" she thinks Joseph reminds her of.
Though some of Hornby's depiction of racism is thought-provoking and well observed, the confidence with which he writes about an experience which, as a white author, he can never fully understand, is at times unsettling. In writing from Joseph's point of view, Hornby arguably fails to approach the act of writing from the perspective of a working-class Black man with sufficient humility, making pronouncements on racism that feel more like virtue-signalling than a nuanced depiction of the way in which the world responds to Joseph and his Blackness.
Despite having clearly set out to write a Brexit novel, Hornby's discussion of Brexit is stuffed awkwardly into exchanges between the characters. Setting a "Brexit novel" solely in wealthy, remain-voting Islington, and thus eliding any exploration of the experiences of the major leave-voting towns in the Midlands and the North, seems an odd way to examine the tensions that were sparked by the referendum. This artistic choice makes Just Like You feel more like an exercise in North London navel-gazing than a meaningful reflection on the complex divisions along regional and class lines that drove the Brexit vote.
Of course, Hornby's effortless prose still soars from the page, and his exploration of a romantic relationship with an age gap is interesting, comedic and moving. He also captures the terrifying aimlessness of being 22 with aplomb, as he muses about Joseph's age: "The weird thing about being his age was that you spent half your time dreaming about what might happen to you, and the other half trying not to think about it and either way you were stuck living a life that didn't see to count for much, somewhere halfway between childhood and whatever permanent adulthood might bring".
Similarly, his infamous talent for everyday observation sparkles in Lucy's interactions with Michael Marwood, a self-obsessed middle-aged writer who is an age-appropriate, but deeply tedious date for Lucy: "She was pleased to learn that he had a volume control knob, because there had been no sign of one before dinner. However it wasn't a dial as such, more of a switch with a choice between two settings."
However, Hornby's inimitable style is not enough to save this novel, which flounders under the weight of the political topics it exerts itself so obviously to tackle. "The referendum" Hornby writes, "was giving groups of people who didn't like each other, or at least failed to comprehend each other, an opportunity to fight." This may be true, but it feels a lot like stating the obvious, which unfortunately is just about all Just Like You really manages to do.