Nicholas Blincoe: Bethlehem - Biography of a Town review - too few wise men but remarkable women |

reviews, news & interviews
Nicholas Blincoe: Bethlehem - Biography of a Town review - too few wise men but remarkable women
Nicholas Blincoe: Bethlehem - Biography of a Town review - too few wise men but remarkable women
An English writer's heartfelt guide through a myth-crowded neighbourhood
Saturday, 23 December 2017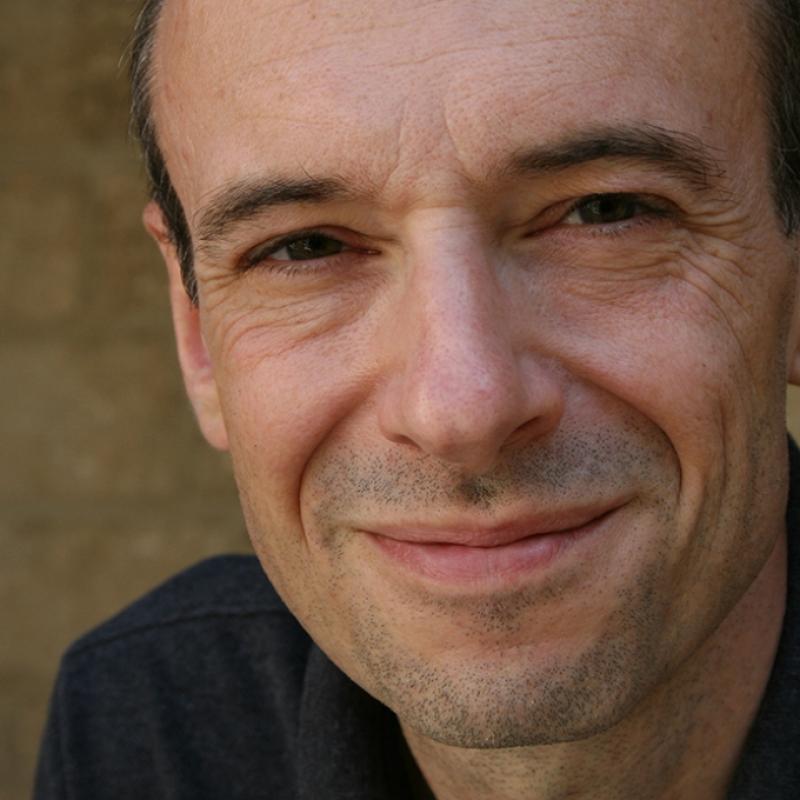 Hopes and fears: Nicholas Blincoe
Suitably enough, Nicholas Blincoe begins his personal history of the birthplace of Jesus with a Christmas pudding. He carries not gold, frankincense and myrrh but this "dark cannonball" of spices, fruit and stodge as a festive gift to his girlfriend's parents in their home town of Bethlehem.
Anton Sansour, a mathematician, academic and his partner's father, jokes that all the fruit – from apricots to lemons – grows in his garden, while the seasonings traditionally arrived in town, on camel trains, along the ancient spice route from the East. This calorific symbol of "goodwill and fellow-feeling" helps to bond the English writer with his
Palestinian
hosts. It sets the tone – flavoursome, intimate, gently didactic – for Blincoe's enlightening excursions through two millennia of the town's past, and his evocations of its tense and troubled
present
.
Shaped by his closeness to the Sansour family – via their artist daughter, Leila – Blincoe's proud commitment colours almost every page. From the ancient Canaanites and Nabataeans to the "hostile military occupation" (the UN's legal formula) by Israeli forces that began across the West Bank in 1967, he recounts the ever-disputed history of this hilly terrain with an admirable calmness and clarity. Yet his own presence as a curious insider-outsider adds the spice, and the zest, to this chronicle. When he quizzes museum curators about the Stone Age erotic statuary found near the town, visits Roman, Christian and Islamic monuments now isolated from its citizens by the wire, walls and guns of occupation, or runs across a sympathetic armed guard in one of the 40-odd Israeli settlements that now encircle Bethlehem, he brings both distant and recent events to life by putting his feet on every corner of this steep and stony ground. Sometimes, he edges perilously close to history's action. In 2002, as the Israeli army invade Bethlehem during the Second Intifada ("We were woken by Apache helicopters swooping over the house"), he tries to bring food to locals – both fighters and civilians – besieged in the Church of the Nativity itself.
Two factors have lent Bethlehem the enduring strategic value that might, two thousand years ago, have drawn a young family from the Galilee here to meet the fussy demands of imperial Rome's bureaucracy and its quisling placeman, Herod the Great. First, these steeply-raked houses and orchards lie on the border between cultivated land and desert, "an airlock between the farming towns of Palestine's hills and the encircling wilderness of the Bedouin". Trade routes from the East converged on this nodal point, and spawned the sort of travellers' caravanserai on the outskirts that, in the Gospels, becomes an "inn". Second, even more crucial to history: control Bethlehem, and you may turn Jerusalem's water supply on and off at will. Six miles away, the Holy City – which, Blincoe argues, did not hold the same sacred role in early Jewish belief it later acquired – depends on the springs that rise around the town. Renovated by every conqueror, from Romans and Crusaders to Ottomans and British, the main aqueduct that runs down from Bethlehem to Jerusalem "remained in use for something like twenty-three hundred years".
Once a philosophy postgraduate, Blincoe draws on Derrida to press his case that fundamentalists of every stripe – from Greeks, Crusaders and Saracens to the often anti-Semitic Victorian "Christian Zionists" who, perversely, did so much to mould right-wing Israeli and US opinion today – have interpreted the many-stranded past of the place in a literal rather than figurative way. You might say that what Blincoe wants for Bethlehem, and this land as a whole, is poetic justice – the sort of justice that admits the ambiguity of metaphor, and mingled identities, and so leads towards an ideal of peace now thwarted by scriptural literalism in every camp. As he drily notes, the doctrine that "the Bible ought to be taken literally is surely one of history's strangest ideas".
Yet that literalism, of course, has driven the economy of Bethlehem over 1,700 years or so of pilgrimage, tourism and (pretty often) naked exploitation. One of Blincoe's most revealing chapters spotlights the role of wealthy, dynamic late-Roman woman – such as St Jerome's patron, Paula – in making the presumed site of the Nativity a focus for monks and pilgrims. They built the infrastructure that made it "the most famous little town in the world". These women left a deep imprint on Christianity in Palestine. One of many wrong moves recorded by Blincoe involves the medieval takeover of Arab churches, often friendly to women and inclined to "heresy", by the more patriarchal Greek hierarchy. From the time of Herod himself, Bethlehem has not fared well by its rulers. In the present, Blincoe likes the corrupt cronyism of the Palestinian Authority, and the bloody stunts of Hamas, no more than the "baroque" oppressions – petty and profound – of Israeli occupation.
Blincoe is a partisan, but not a propagandist. However, in the contested field of ancient history and archaeology, he can select his sources to bolster his case
Post-Crusades, Egyptian Mamluks and Turkish Ottomans proved less meddlesome that most, although a further Egyptian power-grab in the 1830s ended with a massacre – by no means the first or last in local annals – of Jews and Christians alike. On a more recent killing-ground, Blincoe perhaps lets his commitment cloud his statistics. He states that, during the Deir Yassin massacre of villagers by Zionist irregulars in 1948, "Six hundred unarmed people were murdered". Multiple sources (including Palestinian ones) give 600 as the rough population of the village, of which perhaps 120 were killed. Not that a lower figure mitigates the crime.
Blincoe is a partisan, but not a propagandist. However, in the contested field of ancient history and archaeology, he can select his sources to bolster his case. Thus he cites the Israeli historian Shlomo Sand's polemic The Invention of the Jewish People without alluding to the fierce controversy it caused. Sand's critics have argued that his total deconstruction of a unified Jewish identity – to leave, in effect, nothing more than a multi-cultural patchwork of communities who ended up worshipping the same eastern-Mediterranean god – inverts but mirrors the ethnic essentialism of his foes. As Blincoe knows and elsewhere urges, shared principles of law and justice will – if it ever comes – bring peace to the town and region, not scholarly wrangles over Bronze Age genetics. If you reject international law and regard the settlements that strangle Bethlehem as legal, or dispute the statement that the Palestinian claim to rights in this land "is as ancient and deep as any connection to any homeland, by any people, anywhere", this book will politely seek to correct you. But it's always genial, never strident, and mostly employs the historical and archaeological record to puncture cherished myths on every side with a notably even hand.
Swayed by the Biblical fantasies of the Christian Zionists, David Lloyd George announced the capture of Bethlehem and its vital reservoirs in December 1917 as "a Christmas gift to the British people". Given the mischief that the British, like most of its other overlords, brought to the place, that present turned out to be more of a turkey than a pudding. A century on, Bethlehemites really need the gift of peace. As Blincoe shows, they and their not-so-little town richly deserve it.
Bethlehem: Biography of a Town by Nicholas Blincoe (Constable, £20)