Christie Watson: The Language of Kindness review - tender memoir, impassioned indignation |

reviews, news & interviews
Christie Watson: The Language of Kindness review - tender memoir, impassioned indignation
Christie Watson: The Language of Kindness review - tender memoir, impassioned indignation
Movingly remembering her first career, the novelist tells 'A Nurse's Story'
'Amusing, hilarious even, enthralling and sad, and definitely an indictment of our time'
Anecdotal story-telling wrapped up in hypnotic prose, Christie Watson's narrative is a gentle, emotive five-part layered package of reflection and indignation.
It is part
memoir-
autobiography
, part
history
of nursing (Indian, Greek, Byzantine and African from millennia ago, not to mention Florence Nightingale and her revelatory common sense), and underlying all a polemic in persuasive praise of its crucial importance. There is also rage at what is happening to
the NHS
today, politically, socially and economically, and what it shows about the state of Britain.
We are whisked through the narrator's childhood – loving parents, rebellious adolescence, no idea as to what she should do as she contemplated life working in a video shop – until a job with the Spastics Society somehow led a restless, wayward teenager into training to be a nurse. She was 17 when she started, her hands soon raw and chapped from the endless washing.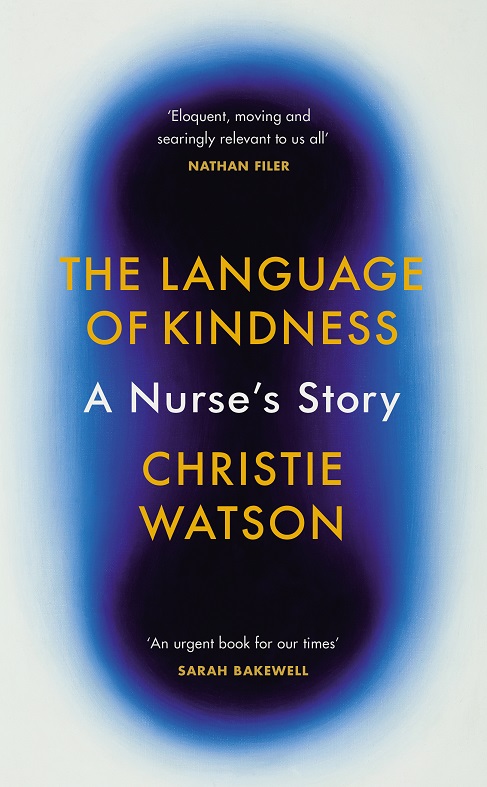 At first the omens are not great; Watson faints when her own blood is being taken. She makes mistakes, leaving a needle in a child's thigh doing her first intramuscular injection. But she finds her metier relatively rapidly, spending most of her career in the neurological and acute- and intensive-care children's wards in major teaching hospitals, finally specialising as a hospital-wide resuscitation nurse. (After her first novel Tiny Sunbirds Far Away won the 2011 Costa First Novel Award, Watson left her two decades of nursing behind to embark on a career as a full-time writer.)
She describes with a quiet brilliance the unexpected. She rushes a very old lady, Betty, who seems to be heading for cardiac arrest, into A&E, to work out that yes, she is having heart trouble – a broken heart as a widow after a very long marriage, and with little financial resources not eating well and with no energy to look after herself. Christie spends time on the geriatric wards too, also with those who have no family; incontinence is described graphically, disgusting and hilarious and somehow, as they clean up, a triumphant team taking good care of the situations. Not enough time, not enough staff.
This indicates an underlying theme throughout: the extraordinary importance of compassionate, empathetic nursing, a willingness to listen, to pick up on the clues offered by a patient beyond conventional medical testing and theories. Time and again the experienced nurse, the author and many a colleague – don't worry, not everyone here is put on pedestals, or shown as saints: all are human, and Watson would not have trusted one colleague to take care of a hamster – have to suggest to a doctor something beyond that which can be measured and analysed by the usual methods.
We see all the busyness and business of wards, a combination of housekeeping and stocktaking as well as relationships however fleeting – or sometimes long-lasting, with chronic cases – with the people being nursed. Nurses have far more person-to-person contact with patients, yet are undervalued and underpaid. Watson is subtly savage about the cuts, which work in unexpected ways; qualified nurses are replaced by nursing assistants, while runners are no longer even employed to, well, literally scamper to collect whatever is needed, saving the nurses time and letting them, simply, nurse. Even more underpaid and invaluable are the play-therapists.
It is the all-too-human face of the NHS, not on any pedestal, and absolutely one of the best things we have
There are traumatic, unexpected, even unprecedented disasters: a machine cleansing a patient's blood literally blows up, spattering everything from carers to walls with blood, and (we gather) killing the patient. Sometimes drugs are given accidentally with life-threatening doses. There are poignant, unpredictable and insoluble moments, like the death of a baby, the son of a nurse, in a routine operation. One young patient, nine-year-old Tommy is totally paralysed from the neck down in an accident, wired up to all kinds of machines as he cannot even swallow, crying silently, kept alive through technology. His mother tells Christie how they had been planning on getting him his bike when he was 10. Tommy cannot even bear to look out of a window. For months Christie is his night nurse, reading stories and Harry Potter; his mental health is even more important than whatever is going to happen to his poor broken body.
Then there is 14-year-old Aaron, who has cystic fibrosis and is having a heart-lung transplant. Christie watches the operation: as crucial as the surgeons and anaesthetist, the scrub-nurse is responsible for all the instruments, for getting them correctly to the doctors and also seeing that nothing is left in after the long procedures end. Aaron returns to health and for the first time a semblance of normalcy; cystic fibrosis sufferers can't eat dairy, and Aaron finally gets to have strawberry ice-cream.
Other episodes are more complicated and nuanced. There is Mandy, a prostitute and drug-addict, coming in to visit her tenth baby, who loved being pregnant – but not enough to stop drinking, smoking and substance-abusing herself in all possible ways, and completely unrealistic in her assumption that this time she will keep the child. There is society changing too, both within and without the hospital walls. The narrator and her colleagues do not pick up on one of their own being violently abused by her husband, and we are told that more and more abuse cases are coming into hospital.
Somehow, although individual situations are tragic and insoluble, there are also the miracles of resilience, unexpected recoveries, and just excellent care providing excellent results: this is a true rainbow coalition on many levels. Yes, it is the all-too-human face of the NHS, not on any pedestal, and absolutely one of the best things we have. Its tales are free of all of sentimental gush, these stories of life and death and all that lies between, told with real anger reserved for an indifferent society which allows harmful politics. At one point the author sneaks into a private ward to find some desperately needed supplies that are absent on the public side.
This is a wake-up book in the best possible way, a study in-the-round: amusing, hilarious even, enthralling and sad, and definitely an indictment of our time.
The Language of Kindness: A Nurse's Story by Christie Watson (Chatto & Windus, £14.99)