The 47th, Old Vic review - ambitious Trump satire doesn't quite hit its target |

reviews, news & interviews
The 47th, Old Vic review - ambitious Trump satire doesn't quite hit its target
The 47th, Old Vic review - ambitious Trump satire doesn't quite hit its target
As a playwright, how do you handle an arse-fixated arch-disrupter?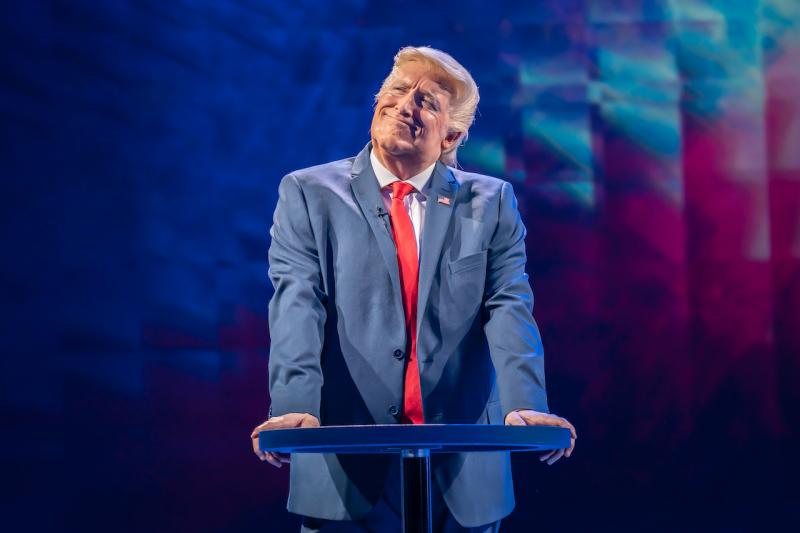 Basic instinct: Carvel delivers a pitch-perfect observation of every physical tic
Megalomania is inherently theatrical. So it feels like it was only a matter of time before Donald Trump took to the boards, blasting the assembled crowd with his tangerine paranoia and clownish nihilism.
What was less predictable was the turbo-charged brilliance of his reincarnation by Bertie Carvel, whose pitch-perfect observation of every physical tic is underscored by the understanding of Trump's primal need to reduce everything around him to its basest physical state. Whether it's the alpha-male gorilla waggle of his buttocks while playing golf or his putrid inability to value any woman – even his daughter – for her brain rather than her vagina, Carvel damningly embodies how, for Trump, getting down and dirty is key to his superiority.
How do you handle an arse-fixated arch-disrupter as a playwright? Mike Bartlett has never shied away from a challenge – whether with his constitution-interrogating King Charles III or his climate change epic Earthquakes in London. Right now it's an indication of how firmly his finger's on the twenty-first century pulse that this is one of three plays he has on in London. Cock opened to enthusiastic reviews at the Ambassadors last week and his Restoration-style Scandaltown will be raising the roof at the Lyric Hammersmith next week.
The Old Vic's controversial former artistic director, Kevin Spacey, made the link between Shakespeare and American politics explicit in House of Cards so it seems apt that Bartlett has taken on the challenge of Trump by refracting his future through King Lear, Macbeth and Richard III. It's strangely fitting too that, as with Charles III, Bartlett makes his characters express themselves in iambic pentameter – while it's a counterintuitive move when dealing with a man famous for his abbreviated scattergun obscenities, the rhythm disturbingly adds punch and venom to the rhetoric.
Bartlett's long-term collaborator Rupert Goold takes the helm as director for this excoriating roller-coaster ride through the next American presidential election in which Biden is replaced by Kamala Harris (the titular 47th) and Ted Cruz is shoved to the side by Trump. At a point when Viktor Orbán has just triumphantly reasserted power in Hungary and Marine Le Pen has come second in the first round of the French elections, it feels salient to look at how the far right might impact on American voters next time they go to the polls.
Yet politics is moving at the speed of a Tsirkon hypersonic missile right now and there is a problem, which is that if you are going to channel the anarchic energy of Trump you cannot ignore the full implications of his anti-liberal rhetoric. The wonderful entertaining sweep of Bartlett's vision rightly gives prominence to the Capitol Riots; it also subverts Lear by making Ivanka's Cordelia-like speech key to her inheritance of everything her father believes he can screw from the capitalist system.
But while no-one – not even the most experienced Putin-watchers – could predict the scale of the Ukraine invasion, Trump's appeasement of everything the Russian leader stood for was in plain sight throughout his presidency. The undisputed part Russia played in his election – not least through the hacking of Hillary Clinton's emails; Trump's repeated meetings with Putin without security staff; and his over-eager praise of the Ukraine invasion have played a significant part in the biggest threat to democracy of our age.
So it feels like a damp squib to remind us of how dangerous Trump is with next to no allusion to his foreign policy. Now more than ever the championing of strongman politics resonates to deadly effect across the world. It goes beyond conspiracy to say that Putin was there from the beginning of Trump's presidential term. If you're scared about everything from the delusions of the apparently educated American white male to the QAnon shaman inspired by Trump's rhetoric (who recurs symbolically throughout the play), then why aren't you equally scared about potential mushroom clouds rising above Kharkiv?
None of this is to say this isn't a highly entertaining evening. Lydia Wilson is superlative as a fierily pragmatic Ivanka, Oscar Lloyd is hilarious as a deluded Donald Jnr, and Tamara Tunie (as Kamala Harris, pictured above) grows in stature throughout the production as the president that every Old Vic audience member really wants. Miriam Buether's genius revolving set embodies a music of the spheres that takes us from the golf course to a Dr Strangelove-stye negotiating table. A sub-plot involving siblings divided by politics is gently diverting.
Yet theatre is a live form, and if you are going to go for the jugular with Trump then surely you should be able to make time for at least a couple of updates alluding to the fact that the fallout from his presidency extends as far as the Black Sea. This is a never less than high energy production in which Bertie Carvel gives the performance of his career; but like the golf ball he strikes across the stage in the opening scene, the satire doesn't entirely hit its target.