The Watcher, Netflix review - fear and loathing in the New Jersey suburbs |

reviews, news & interviews
The Watcher, Netflix review - fear and loathing in the New Jersey suburbs
The Watcher, Netflix review - fear and loathing in the New Jersey suburbs
Real-life story put through the fictional blender by Ryan Murphy
Wednesday, 19 October 2022
Haunted: Naomi Watts as Nora Brannock, Bobby Cannavale as Dean Brannock
Netflix can't get enough of Ryan Murphy, whose list of productions with the super-streamer includes Halston, Ratched and recent hit Monster: The Jeffrey Dahmer Story. Now here he is again with The Watcher, a teasing little mystery based on a true story about a couple moving into their dream home in New Jersey only to be confronted with anonymous threats and hair-raising goings-on.
Murphy's seven-episode version is a mix of haunted-house chiller, Polanski-style horror and domestic drama, as well as (strangely) a kind of essay on obsessive, nimby-ish property ownership. Dean and Nora Brannock (Bobby Cannavale and Naomi Watts) want to leave sleazy, crime-ridden New York City with their two children, and find a bucolic haven out in the 'burbs. They pull out all the stops to buy 657 Boulevard, an imposing old house in Westfield, New Jersey. However, their enjoyment of their rural idyll is spoiled somewhat by the letters which keep appearing in their mailbox, from an unknown writer who seems to be obsessively studying the house and every move the Brannocks make.
In fact the neighbourhood seems to be full of sinister weirdos. Mitch (Richard Kind) and Mo (Margo Martindale) seem to feel they have a right to come into the Brannocks' garden and help themselves to chunks of their shrubbery, and like to peer at the Brannocks through binoculars. Pearl (a ghoulish-looking Mia Farrow) takes an intrusive interest in what the Brannocks are doing with their new home, while her emotionally impaired brother Jasper (Terry Kinney) somehow manages to sneak into 657 where he likes to ride up and down in the dumbwaiter elevator (pictured above, Farrow and Kinney).
The crafty part is the way Murphy depicts the way the unsettling location exposes faultlines in the Brannocks' marriage. Dean wanted to move his family out of the city because they didn't feel safe, only to find life in the suburbs much more menacing. Expecting a major promotion and consequent salary hike at his firm, Dean has stretched himself to the limit to afford their new property, only to find his professional prospects heading rapidly south. As ghastly details about the house's past emerge, and horrific deaths occur in the neighbourhood, the Brannocks find themselves trapped in a private purgatory.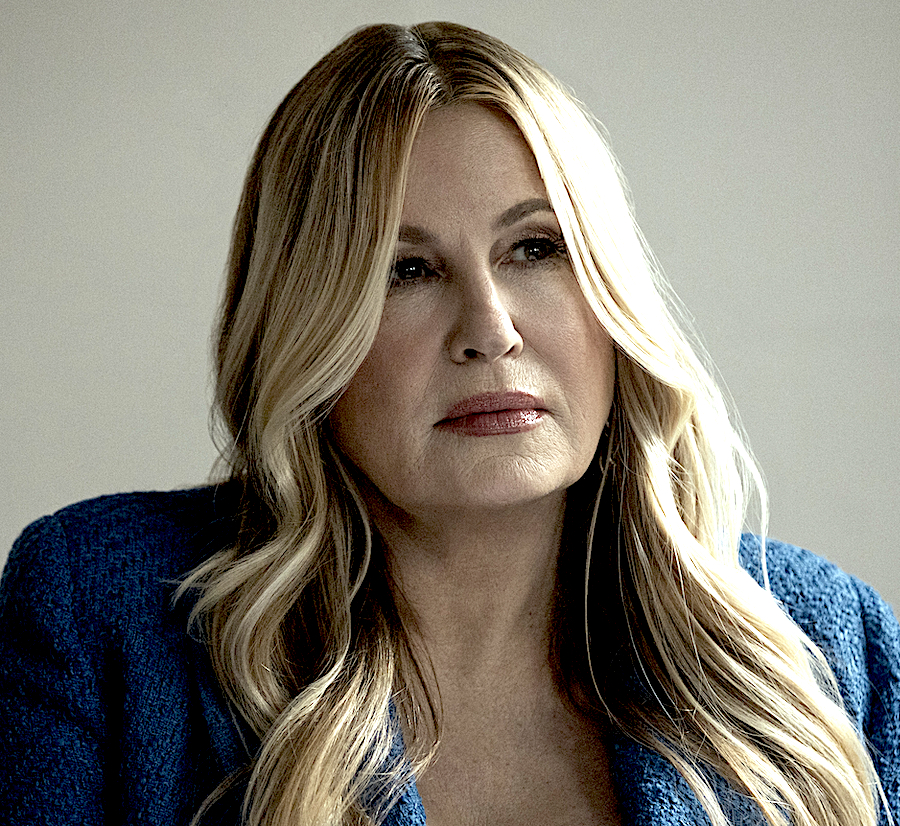 The Watcher might have been a mere melodramatic potboiler were it not for the efforts of a superb cast. Cannavale vividly portrays a man steadily losing his grip on what he thought was rock-solid reality, while Watts's evocation of a woman aghast at the way her husband and family seem to be being pulled away from her is expertly drawn. There's excellent support from a squad of gifted character actors. A special nod must go to devious estate agent (or should that be realtor?) Karen, an outsized performance from Jennifer Coolidge (pictured above), while Christopher McDonald's Detective Chamberlain and Noma Dumezweni's Theodora Birch bring bags of depth and nuance to the drama.
An added bonus is the way Murphy has laced his narrative cocktail with dark humour. The baffling twists, feints and dead ends are disturbing but also sometimes comical as they lure the Brannocks into increasingly desperate responses, while the clandestine machinations of the Westfield Preservation Society – a coven of ultra-conservative architecture obsessives – are handled with a droll satirical touch. Try episode one, and you won't want to stop.