The Same Sky, More4 review - Cold War thriller from both sides of the Berlin wall |

reviews, news & interviews
The Same Sky, More4 review - Cold War thriller from both sides of the Berlin wall
The Same Sky, More4 review - Cold War thriller from both sides of the Berlin wall
Deutschland 74: German-British co-production explores the surreality of spying
Making a pathway to the emotions: Lars (Tom Schilling) and Lauren (Sofia Helin)
"Make contact with the left eye - it is a direct pathway to the emotions. Then make yourself scarce so that the desire in her can grow." This fine flirting advice comes from a Stasi officer to his students, preparing them for a honey-trap mission to seduce West Berlin intelligence officers.
The Same Sky, set in 1974 (on Netflix for three years before C4 and Walter Presents took it up) is an unusual – and very well acted – six-part UK-German co-production, directed by Oliver Hirschbiegel (Downfall) and created by Paula Milne, whose English script was translated into German by the director. And you can't help thinking that this translation method could rev up a lot of lame British TV dialogue. German sounds so much more compelling – Büro klatsch has a more forceful, sinister ring than "office gossip" – and the English-speaking interludes in the series sound slightly wooden in comparison.
On a smaller scale geographically, perhaps wisely so, than Deutschland 83 and 86, The Same Sky is equally fascinating and energetic. DDR Marxismus-Leninismus is in full swing, though the luxury West Berlin apartment meted out to 25-year-old spy Lars Weber (Tom Schilling), the Romeo operative from East Berlin, would be enough to turn any good communist's head.
He looks unswayed, however, by the state-of-the-art white TV and the Lucite hanging bubble chair, recognising them as a mere Schaufenster des Kapitalismus, and sticks to the task in hand: to make a direct pathway to the emotions of an eerily wide-eyed Lauren Faber (Sofia Helin; The Bridge; Mystery Road), a British intelligence analyst at Teufelsberg, a NSA listening station in the British sector of West Berlin.
Recently divorced, she has a tousled teenage son from hell (Jascha Rust) who's always shouting obscenities at her, stealing from her purse to buy weed and sticks Baader-Meinhof posters on his bedroom door. Not surprisingly, she's a lonely vodka-swigger, very much on the other side of the Seventies generational wall from her son. In the words of Lars's über-slobbish, chain-smoking, pizza-guzzling handler Ralf Müller (a brilliant Ben Becker), who ridicules the Western need for instant gratification, she is ripe for the plucking. Wearing synthetic-fibre waistcoats and shirts with enormous collars and looking a little like a tightly wound Wendy Craig in Butterflies, she falls under Lars's Dickens-reading, opera-loving spell pretty fast. Though there's a hiccup, a very nasty one, and she's soon out of the game.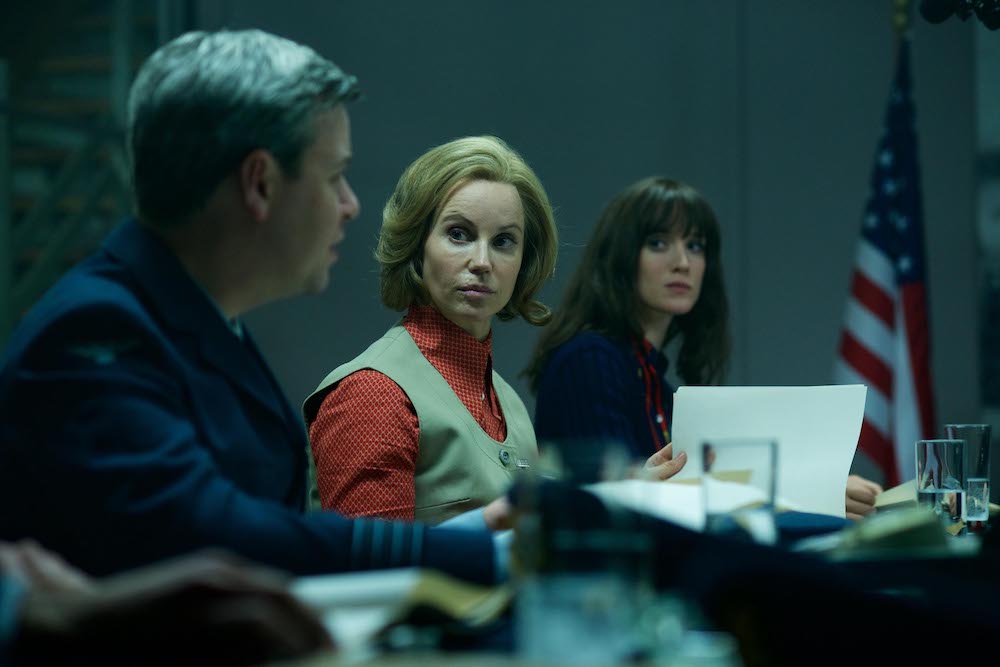 Meanwhile, Lars's father Gregor (Jörg Schüttauf) is holding the fort in East Berlin, where he's a super in an apartment block as well as working, naturally, as a Stasi spy and recruiter, though you feel his heart isn't in it. He's dangerously close to becoming a softie. And there's a tragedy lurking: Lars's mother was murdered when he was a baby. Or was she? Gregor seems oddly reluctant to discuss this with his cool-as-a-cucumber son. And why does the same photo of a woman with two babies that Gregor has on his sideboard turn up in the West Berlin home of the Cutter family, whose father and glamorous daughter Sabine (Friederike Becht, pictured above right) work for the NSA?
The atmosphere of suspicion, treachery, yearning and lust is powerful. In tandem with Lars and Lauren's romance, there's that between Axel, a gay physics teacher (Hannes Wegener) who hoped physics could exist without state interference, but no, and Duncan (Richard Pepper), a British man who's planning to run day trips for Yanks who want to see the East. Axel goes weak at the knees at the sight of Duncan's passport stamps, a concrete manifestation of life beyond the wall.
And that brings us to the inevitable tunnel, already in jeopardy by episode four, as well as the yearning felt by the ambitious mother of Klara (Stephanie Amarell), Gregor's grand-daughter, who's been picked to train for the Olympic swimming team, a tremendous honour with equally tremendous perks – travel, Western currency, a new car. But these perks come at price: testosterone pills to boost performance, with horrible hirsute side-effects. Leave the training to the trainers, the scary coach tells the parents, and most seem willing to drink the Kool-Aid. The Same Sky is good at showing the surreality of the East-West divide, as well its complexities.