Ozark, Series 4 Part 2, Netflix review - crumbling consciences and a last stand |

reviews, news & interviews
Ozark, Series 4 Part 2, Netflix review - crumbling consciences and a last stand
Ozark, Series 4 Part 2, Netflix review - crumbling consciences and a last stand
No spoilers, hopefully: farewell to this superbly-acted corruption saga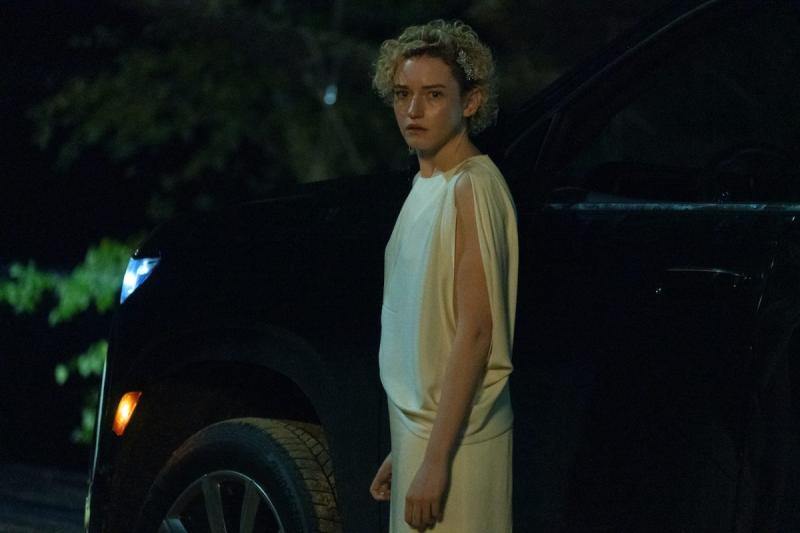 Julia Garner as Ruth Langmore: redemption or the end of the road?
As the final slew of episodes in the last series of Ozark begins, Marty and Wendy Byrde, ever more the Macbeths of Osage Beach, are "in blood stepp'd in so far" that we don't much care about their fate.
Sympathy has long shifted to trailer girl Ruth Langmore, so clever and empathetic that in another life she would have taken wing, as much caught in the web of drug-dealing and cartels as her elders, but still the nearest thing we're going to get to a moral core among the leading players.
You wonder whether the team responsible for Ozark envisaged as big a role for Julia Garner when Ruth first appeared (and in between the tranches of the final series, we've seen Garner as Anna Sorokin – much criticized for a slipping accent, but that turns out to be exactly how the original was, and is). Ruth – rhymes with truth – so often tells it as it is, notably here to the couple who've manipulated her and removed so many others who got in their way as they did what they had to do to stay alive in the snares of a Mexican drug cartel. Wendy is "like a fucking predator that doesn't even know why it's killing any more… and Marty, he pretends to care, but really he doesn't have any emotion or else he's too fucking cuntstruck to know who he is any more. Do you really think that everything you do is to protect your family [longsuffering teenagers Noah and Charlotte, figuring far less in this final strand]? Are you really that fucking shut down?"
Yes, they are, but the shut-downness takes many fascinating forms. Concentration on Marty's time in Mexico as cartel boss substituting for the jailed Omar Navarro (Felix Solis) didn't yield much, but its consequences on this Macbeth's nerves yielded good meltdown, coinciding with the mounting pressure on Wendy of having her creepy father (Richard Thomas) come back looking for his son. Result: one of the classic scenes of Ozark; the traffic jam sequence at the end of an episode. Jason Bateman and Laura Linney continue to convey every nuance of the dysfunctional, which is partly what keeps us watching (they also get to direct a couple of episodes). On Linney falls the burden – and the gift – of playing a character who's calculating even in her biggest crisis.
The gallery of grotesques has narrowed: after all, you don't last long if you work for the cartel, the Byrdes clearly being an exception. We have the pleasure of properly meeting clan matriarch Camila (Veronica Falcón), Omar's sister and mother of the psychotic Javi (Alfonso Herrera): face of buddha, heart of scorpion, as the Chinese saying has it. And Adam Rothenberg as the usual mess of a private investigator, Mel Sattem, is still around; the CIA aren't much in the picture, but Jessica Frances Dukes's Maya Miller, having done her work, gets one of the best lines about Mel "weighing his humanity" – which of course the Byrdes have long stopped doing. The scene is set for a showdown at the last big party; the bombshell is duly dropped almost in passing, leading to an appropriate climax. But the end, the coda, if you like, doesn't really work. The door remains open for offshoots, if not another series.