Only Murders in the Building, Disney+ review - this comedy crime drama is a class act |

reviews, news & interviews
Only Murders in the Building, Disney+ review - this comedy crime drama is a class act
Only Murders in the Building, Disney+ review - this comedy crime drama is a class act
Guest star Meryl Streep is the icing on the cake
Murder most theatrical: Selena Gomez, Martin Short and Steve Martin
Despite its cursory nods to new technology, there's something deliciously old-fashioned about Only Murders in the Building. Now into its third series, it tells the stories of a trio of affluent Manhattanites who make true-life podcasts about the mysterious deaths that occur in their palatial Upper West Side apartment building.
It's a grandiose pile designed in Italian Renaissance style, and its name, The Arconia, makes it sound more like an ocean liner than a block of flats. You could imagine bumping into Myrna Loy and William Powell in the lobby.
The leading threesome comprises veteran actors/comedians/writers Steve Martin (as Charles Haden-Savage) and Martin Short (Oliver Putnam), with pop star/actor/producer Selena Gomez as Mabel. They make a teeteringly unlikely mix, yet perversely that's why it works.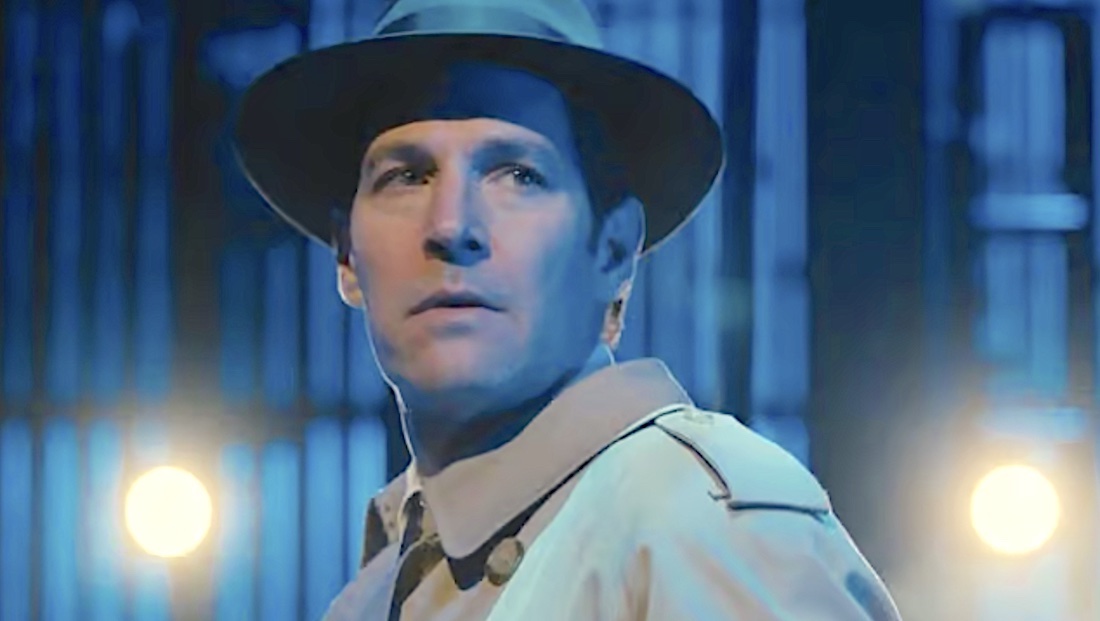 Now three episodes in, this third series centres around a production at Broadway's Goosebury Theatre called Death Rattle that Putnam is directing, or trying to. But disaster strikes early on when the leading man, Ben Glenroy (Paul Rudd, pictured above), egotistical star of such forgettable classics as Girl Cop and CoBro, dies suddenly. In fact, in an ingenious piece of plot-wrangling, he dies twice in the first episode, once onstage on opening night (not a good omen) and then again by falling down a lift shaft. It is perhaps the fastest yet shortest comeback in Broadway history.
While the show loves larking about with the cliches and conventions of crime fiction, whether it's Agatha Christie or Murder She Wrote, its heart really belongs to the stage. Short's portrayal of Putnam is one for the ages, as he tries frantically to rebuild his career and bury the memory of his previous theatrical calamity (hints of Mel Brooks territory here). His performance is a tour de force of hysteria, petulance, incontinent luvvie-ness and desperation, as he grapples with the seemingly insurmountable death of his leading man. Refusing to say die, he decides to turn Death Rattle into Death Rattle Dazzle – The Musical, and he writes the score overnight.
Only Murders… is already in the running for various Emmy awards, and is not having much difficulty in luring big names on board (previous guests have included Jane Lynch, Shirley MacLaine, Nathan Lane, Amy Schumer and Sting). Now we have Meryl Streep (pictured right) delivering a splendid turn as struggling actress Loretta Durkin, discovered by Putnam and cast as a children's nanny. Death Rattle is set in a deserted lighthouse in Nova Scotia, affording Streep a mirthsome scene in which she experiments with preposterous Scottish and French Canadian accents. More importantly, Meryl has a very respectable set of pipes on her, and her performance of the heart-rending lullaby "Look For the Light" was the show-stopping moment of episode three (aptly titled "Grab Your Hankies"). Indeed, it may have been the key to the survival of Death Rattle Dazzle.
The hunt for Glenroy's killer continues, with Gomez's Mabel displaying far more nous as an investigative newshound than her somewhat more self-obsessed companions, but the fun is in the ride rather than the outcome. Extra spice is tipped into the mix by Death Rattle's producers, the hard-boiled Donna (Linda Emond) and her son Cliff (Wesley Taylor), who has an unhealthy obsession with his mother. In suitably olde-worlde fashion, new episodes are released every Tuesday, to the chagrin of binge-watchers.