Nashville, More4 |

reviews, news & interviews
Nashville, More4
Nashville, More4
It's battle of the divas in Callie Khouri's hugely entertaining drama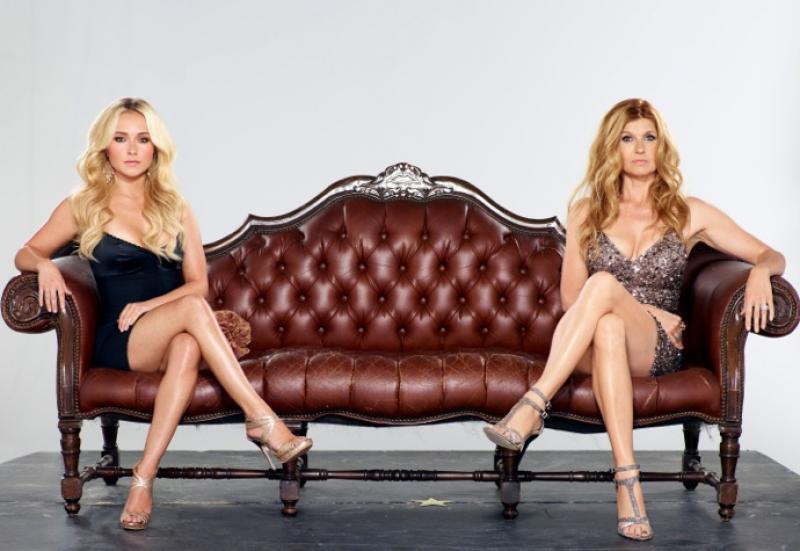 Country music superstars: Hayden Panetierre and Connie Britton in 'Nashville'
Usually that "similarity to persons living or dead is purely coincidental" note at the end of a broadcast is a mere formality - but I can't have been the only person to react with a start when a trio of shady record company execs referred to Juliette Barnes, Hayden Panettiere's perky blonde future of country music, as "the number one crossover artist in the country".
Mind you, I did spend more time listening to Taylor Swift's chart-topping album Red last year than is really healthy, or socially acceptable, for a grown-up woman. It's pretty hard to reconcile the all-American sweetheart who tweeted about her family buying her a Scrabble set and cat treats for Christmas with the sex-crazed she-devil that - on the face of it, at least - Panettiere plays in this Glee-by-way-of-Dallas drama from Thelma and Louise writer Callie Khouri.
Those earnest, beardy Americana boys do get to look awfully similar after a while
Barnes is one of the two leading lights of modern country at the centre of Nashville, and to list her first is a neat shorthand for the plot. The real star of the show is Rayna James (Connie Britton), a Reba McEntyre-esque musical megastar whose talent no longer translates to record sales and sold-out arenas in the digital age. To avoid the financial ruin - and certain humiliation - of half-empty venues, James' record label proposes a "co-headline" tour with their latest hot property. That idea goes down about as well as you might think, because of course you can't have two women working in a male-dominated industry who see each other as anything other than rivals. That's a story older than Britton's character (who can't be any older than 40) is made to feel by the inexplicable popularity of songs that sound like "screeching cats" on the radio.
At least the ructions and rivalries are equal opportunities, albeit while checking off the clichés. Barnes and James are complex, layered characters and both carry enough baggage to give the show more of the melodramatic, edge-of-your-seat feel of a soap opera than a big-budget primetime drama. In Barnes' case it's a drug-addicted mother and an insecurity she tries to hide by sleeping with every older male character who crosses her path. James has an out-of-work husband turned political candidate (Eric Close, pictured above, with Britton), hints of a past with her lead guitarist and songwriter and the sort of relationship with her manipulative, local politician father than can only be described as hostile. As a first episode it does more to set up future plot lines than introduce characters properly - and those earnest, beardy Americana boys do get to look awfully similar after a while - but what it lacks in coherence it makes up for in entertainment value and some hilariously bitchy exchanges between the two leads.
With the country music capital of the world as the backdrop, music plays a considerable part in the narrative. The good news is that the originals are not entirely terrible - if more Miley Cyrus and Shania Twain than Swift and McEntyre - thanks to the musical direction of the legendary T-Bone Burnett. The classics make the odd appearance too, as incidentals or playing on the radio, without the contrivance of something like Glee.
My one complaint of this pretty gripping pilot is that despite being filmed on location, not enough of one of the most intriguing cities in the world makes an appearance. Tootsie's gets a mention and the Bluebird Cafe plays a pivotal role, while Printers' Alley and the building I was told on my visit was called the "Batman Building" by the locals appear in the opening credits. Still, if the show turns out to be as much about the political machinations as the country music Nashville is famous for, maybe we'll get lucky.