The Midwich Cuckoos, Sky Max review - the 1957 sci-fi classic is given a contemporary spin |

reviews, news & interviews
The Midwich Cuckoos, Sky Max review - the 1957 sci-fi classic is given a contemporary spin
The Midwich Cuckoos, Sky Max review - the 1957 sci-fi classic is given a contemporary spin
A drama where children are manipulative little beasts: science fiction or social satire?
Modern Midwich: the cuckoo babies on patrol
If your memory of the 1957 John Wyndham novel about an alien invasion of an English village by chilling children with blonde pageboy hair is still pin-sharp, probably best to back-burner it before you watch Sky's new adaptation of The Midwich Cuckoos.
The bones of the original plot are still there, but tricked out in concerns of a more contemporary kind.
A brief prologue sets up the stakes: a couple trying to escape the family home are intercepted by an eerie child, who wags a reproving finger at them. Then the opening credit graphics roll, picturing a long vaginal tunnel of trees, at the end of which is … let's say, it's the hot-red gaping mouth of a cuckoo chick. We have arrived in a big womb.
The preternaturally mature children of the title are now a tribute to diversity casting, though all have staring eyes that glow golden when their powers are engaged. There is still a Dr Zellaby serving picturesque Midwich, but this one is played by Keeley Hawes, and she's not a GP but a touchy-feely family therapist. That makes her the ideal focal point of David Farr's makeover. His Midwich is typical TV commuter land, with familial dysfunction fruitfully lurking behind all the Osborne & Little curtains, despite boasts that the place is "number 6 in the country" for raising children.
The piggish candidate for the council is having an affair with a colleague while his daughter struggles with separation anxiety and possible OCD; DI Paul Haynes (a weathered-looking Max Beesley) is sheltering a headstrong sister-in-law who has fled a difficult partner; the new couple in town ('from London", as if in the Chilterns that's seen as another ecosystem) are struggling with fertility problems. Zellaby herself is a single mother, and her 23-year-old, Cassie (Synnove Karlsen), has unspecified "issues". Stamping all their lives with a big "Endangered" sign, predictably, is an eerie electronic soundtrack that hints at the unsettling currents in this middle class rural idyll (pictured below, Keeley feels spooked).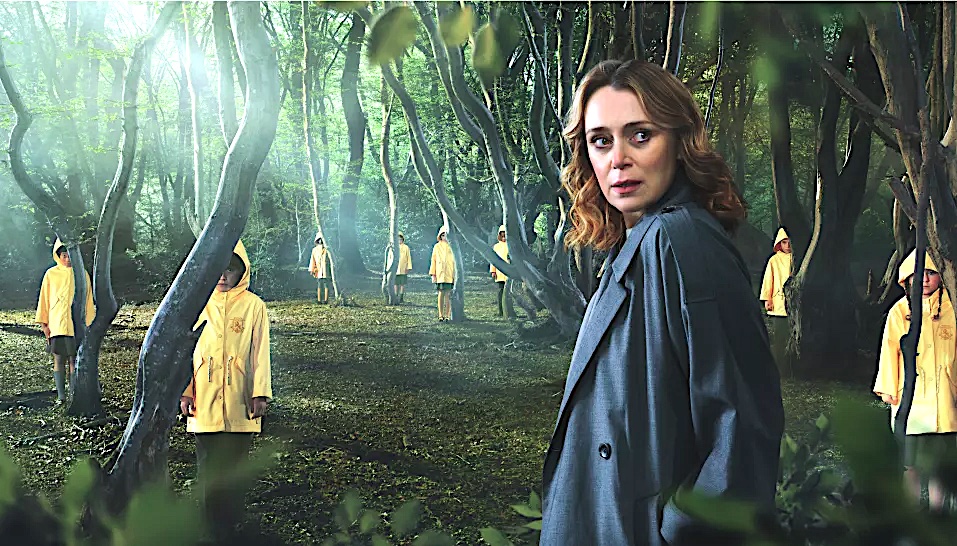 So parenting is already the fraught business it usually is without a strange force suddenly creating a blackout in several streets in the village and, mirabile dictu, impregnating all the women of childbearing age inside the zone. The theme gets another spin when the birth of the Midwich cuckoo-babies prompts the arrival of a squad of Home Office bods, led by a smartly-suited Sam West, waving copies of the Official Secrets Act for the mothers to sign and marshalling technology to monitor their children's every move. Soon the zone is under tight surveillance, and the natives get restless, bridling at being told how to live, where not to go. It's hard not to be reminded of recent resistance to the government's pandemic rules. Are the officials good public guardians or Big Brother?
While earth mother Dr Zellaby is sparring with DI Haynes over whether it's a free country or not (an odd topic in the midst of an alien invasion), the new mothers are having more subversive thoughts. Living their "secret lives" with their "special" children, whose development outstrips their actual age by several years, has made their world "smaller", they note. "We told ourselves we were happy," sighs one. The children seem to cast a spell on their parents, bending them to their hive-mind will, punishing them if they don't obey.
The epicentre of the "occupied" zone, the Home Office boffins establish, is the private prep school. If that isn't a metaphor for the pains of aggressively aspirational parenthood today, I will eat my Sunday Times Guide to the Best Places to Live.
But by the midway point of the seven episodes, the plot has opted for sci-fi over any serious attempts at social satire, with a big dash of modern conspiracy thriller. Is the government protecting the villagers or exploiting them as guinea pigs? Are the alien children a real danger? Why is Sam West to be found, still in his posh suit, staring at them from fields and gardens?
I was disappointed by this narrative choice, as it condemns the series to being more of a retread than a refresh. But it's still watchable, well paced over seven episodes as a gradual downwards slide into a nightmare. The trappings of modern middle-class life have become a deadly trap, its children stricter guardians than any cop. Whether that's your daily reality or a pungent metaphor, the drama still works.
And the children are highly entertaining, trotting about in tandem like little blazered robots. Notably scary is Hannah (Georgia Thorne), daughter of the previously infertile Londoners; from under her supersized fringe she peers out with the withering stare of a Medusa. You may well have seen that look at Hamley's.