The Last Kingdom, Season 5, Netflix review - Danes-and-Saxons saga hurtles towards an epic climax |

reviews, news & interviews
The Last Kingdom, Season 5, Netflix review - Danes-and-Saxons saga hurtles towards an epic climax
The Last Kingdom, Season 5, Netflix review - Danes-and-Saxons saga hurtles towards an epic climax
How much longer can the heroic Uhtred keep riding to the rescue?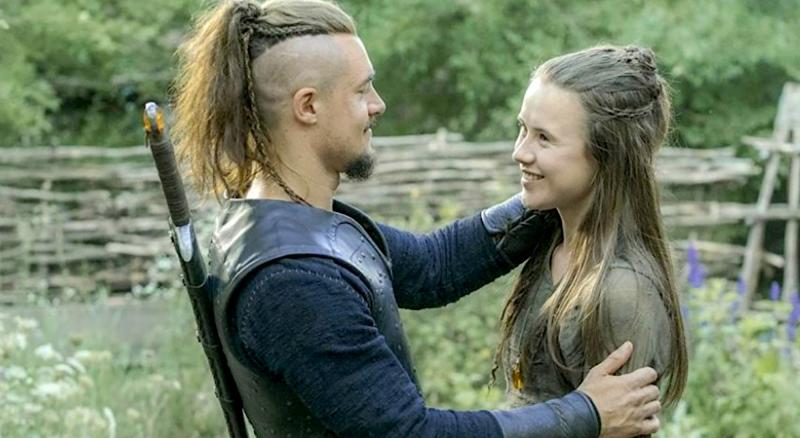 Uhtred (Alexander Dreymon) and his daughter Stiorrra (Ruby Hartley)
Two years ago, the fourth season of The Last Kingdom (Netflix) found the Saxon saga not quite hitting peak form, possibly reeling from the fallout of the haunting death of King Alfred (David Dawson).
Happily, any doubts are blown away with the arrival of 5, in which the show's trademarks of knotty dynastic rivalry, anguished romantic entanglements and horrifying eruptions of bloodthirstiness are all roaring ahead at full blast. Sadly, they say this series will be the last, though a feature film may be in the works.
Some things have changed (we are now without Ian Hart's stalwart Beocca, who died a heroic death last time around), but the sturdy underpinnings of Bernard Cornwell's original novels remain. The 10th Century Anglo-Saxon world (mostly replicated in Hungary) is depicted as a strange and numinous place, rife with symbols, superstition and dark magic. Eerie Celtic-inflected music enhances the mood of weirdness echoing back to the dawn of time (pictured below, Timothy Innes as King Edward).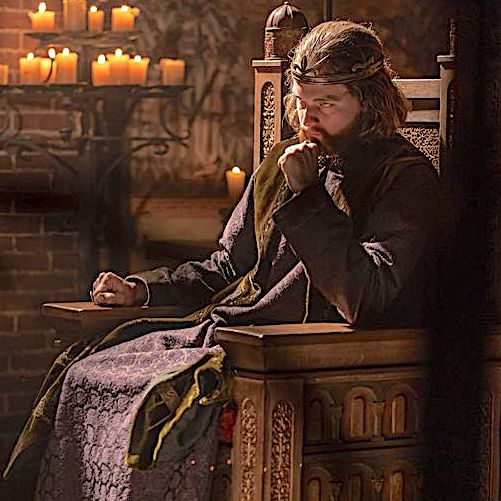 The land looks new-born and not yet fully formed, while the struggle between the Norse gods of the Danes and the Christianity of the Saxons is a fault line always on the point of ripping open, with catastrophic potential. As we see when the treacherous Saxon "ealdorman" Aethelhelm (Adrian Schiller), always seeking new ways to advance his own family's political interests, devises a black-hearted scheme to provoke a religio-racial war in this damp, foggy Britain. He gets a degree of come-uppance when he finds that his own daughter has become collateral damage, but his monstrous scheming doesn't end there.
One of the main plot-drivers is the eternal rivalry between heroic but star-crossed warrior Uhtred (Alexander Dreymon, looking a little sadder and wiser) and Brida (Emily Cox), which has been knitted into the saga since its very beginning. Both born as Saxons but captured as childhood slaves by the Danes – it's startling to recall that distant time when Matthew Macfadyen played Uhtred's father and ruler of Bebbanburg – they have been through a long and tortuous arc, from inseparable friends and lovers to implacable enemies. This time around, an increasingly psychotic Brida emerges with her entourage of face-painted vigilantes from the volcanic wastes of Iceland, and sets about slaughtering the populace of York. This is because the city is ruled by Sigtryggr (Eysteinn Sigurdarson) and his wife Stiorra (Ruby Hartley), who happens to be Uhtred's daughter. Brida's objective is to erase Uhtred's bloodline in its entirety, along with anybody else who gets in her way.
It's the dramatic oppositions which fuel The Last Kingdom's formidable grip – risk versus reward, or the heady allure of power balanced against what has to be sacrificed to attain it. The Mercian succession looms large in this fifth season, which forces Uhtred to assess how his life might have been changed if his love for the Mercian queen Aethelflaed (Millie Brady, pictured above with Stefanie Martini as Eadith) had been allowed to run its course, and her dynastic duty hadn't forced them apart. The necessity to make sacrifices for the greater good is explored through her brother King Edward's decision to overrule Aethelflaed's choice of successor with a cold-blooded display of force majeure.
The setting is antique and the characters have names it's impossible to spell. They may do ridiculous things, like Uhtred's exasperatingly lame decision to let Brida walk away free from the bloodbath in York (because it was too early in the series to allow her to be killed), but The Last Kingdom works because it's rooted in unfashionable but indestructible principles of life and death, love and duty, honesty and lies. Time to watch all five series from the beginning, perhaps.