Harlan Coben's Shelter, Prime Video review - what the hell is going on in Kasselton, New Jersey? |

reviews, news & interviews
Harlan Coben's Shelter, Prime Video review - what the hell is going on in Kasselton, New Jersey?
Harlan Coben's Shelter, Prime Video review - what the hell is going on in Kasselton, New Jersey?
High school confidential with a supernatural twist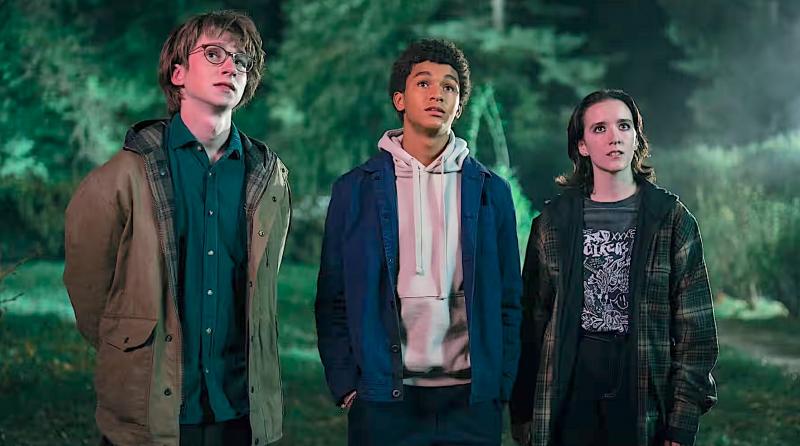 Jaden Michael as Mickey (centre), with Adrian Greensmith as Spoon and Abby Corrigan as Ema
Netflix scooped up the rights to an armful of Harlan Coben's standalone novels for a colossal sum, and now Amazon Prime has nipped in and signed up Coben's series of Mickey Bolitar books, which fall under the "young adult" heading. Shelter is the first one off the blocks.
We find our hero, the aforementioned Bolitar, as he's struggling to come to terms with the aftermath of a road accident four months earlier which killed his father, Brad, and has left his mother in hospital convalescing from the emotional trauma. Mickey, now staying with his aunt Shira, is just starting at high school in Kasselton, New Jersey, his dad's old hometown.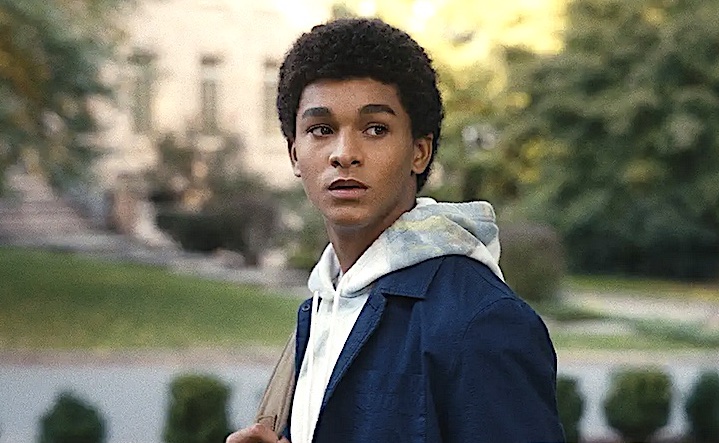 Mickey (Jaden Michael, pictured left) is still reeling from the tragedy and doesn't know any of the locals yet, but things just keep getting weirder. On day one at school, he meets a shy and charming girl called Ashley (Samantha Bugliaro). They hit it off right away, and arrange to meet at the local diner in the evening, but Ashley fails to show up. Then she won't reply to any of his messages, and stops turning up for classes. It's as if she's vanished off the face of the earth. And why was one of the school teachers, Mr V, surreptitiously taking pictures of Ashley on his phone while she was talking to Mickey?
Yet more disturbingly, Mickey finds himself drawn to a creepy old house (it looks like the one from The Amityville Horror) which is home to a weird elderly woman known locally as the Bat Lady (Tovah Feldshuh). When she not only knows who he is but tells him his dad is "not dead, he's very much alive", Mickey starts to feel the earth beginning to shake and crumble beneath his feet.
The opening scene from the first episode tipped us off about the murky history of Kasselton, flashing back 25 years to reveal Mickey's dad trapped in a maze of underground passageways with a bunch of younger kids. It's not long before Mickey's own researches discover these passageways underneath the Bat Lady's house, guarded by her thuggish minder who always wears a dark suit and sunglasses. Mickey does at least find some help in the shape of a couple of local misfits, the droll and bespectacled school nerd nicknamed Spoon (Adrian Greensmith) and the determinedly anti-social Ema (Abby Corrigan). They make a refreshing change from the supporting cast of knuckle-headed jocks and prom queens.
Coben's stories have a habit of starting out as one thing before turning into something else entirely, which looks likely to be the case here. After three episodes, there are enough tripwires and landmines strewn around to blow all preconceptions to smithereens. It was quite surprising when the picture-taking teacher got shot through the head, for example. Strange, too, to find that the shy and bashful Ashley was carrying a gun in her handbag. Also rather unexpected was the revelation of the long-smouldering love affair between aunt Shira (Constance Zimmer) and the wife of the boorish, bigoted local police chief.
Then the plot went right out on a limb with the eruption of a storyline about Auschwitz and the Holocaust. This concerned one Lizzy Sobek, who became legendary for helping children escape from Auschwitz, supposedly guided by some mysterious blue butterflies. Bafflingly, some of the show's characters have these butterflies tattooed on their shoulders.
It all sounds ridiculous. Hell, it is ridiculous, but you might be tempted to stick with it just to see how they work it all out in the end.