Chivalry, Channel 4 review - Steve Coogan and Sarah Solemani's sharp Hollywood satire |

reviews, news & interviews
Chivalry, Channel 4 review - Steve Coogan and Sarah Solemani's sharp Hollywood satire
Chivalry, Channel 4 review - Steve Coogan and Sarah Solemani's sharp Hollywood satire
Sexual politics in the post-MeToo world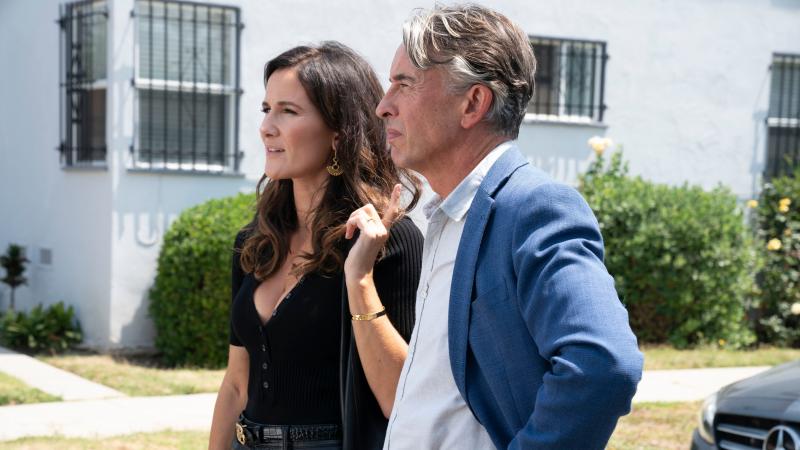 Sarah Solemani as filmmaker Bobby and Steve Coogan as film producer Cameron
It was inevitable that someone would soon tackle the question of how does Hollywood start behaving in the post-MeToo world, but few would have put money on a comedy drama starring Steve Coogan, the creator of Alan Partridge. But here it is, a whip-smart satire he co-wrote with Sarah Solemani, who also stars as Bobby, the indie filmmaker who is the polar opposite of his old-school (for which read, attracted only to women half his age) film producer Cameron.
The neat contrivance that brings these two odd-bods together is when he hires her to detoxify a film he is making with Pierre, another relic from, one hopes, a now bygone era of filmmaking that's just for the male gaze.
Pierre's leading lady Lark (Sienna Miller, having fun in the role as a modern-day diva) has complained about his behaviour on set – where she has to perform a sex scene – but before he can be chucked off the movie he dies. Yet all is not lost, as acerbic studio executive Jean (Wanda Sykes, getting a lot of the best lines), sensing an Oscar nomination, says: "The Academy loves it when an auteur takes a dirt nap."
As the series progresses, the writers subtly address the politics of Hollywood, racism and classism in American life, as well as the artistic compromises even the most talented filmmakers have to make if they want to continue working. Bobby takes over Pierre's Nazi love story only if Cameron can arrange funding for, as he dismissively calls it, her "feminist Iranian menstruation movie".
As with any drama set in Hollywood, it can't help but get meta at some points. Coogan – who has himself been the subject of tabloid scrutiny over his personal life – allows several barbs at his character's sexual adventures, as he also did in The Trip; it adds a layer of knowingness among the finely written comedy.
Solemani, meanwhile, so good in the gentle drama Him & Her, is fantastic here. When Cameron moans about now having to hire an intimacy supervisor on set, she responds: "Do you want to know why they're compulsory now? Because the men who had the power to stop women being abused chose not to." The line could be clunky and didactic but Solemani, as ever, delivers it with a gossamer touch without losing any of its anger.
The satire wanes slightly as the series progresses, with a will-they-won't-they feel running through, particularly when Cameron allows Bobby to move into one of his luxururious homes in Los Angeles. There's a lot of teasing of the audience in their relationship: can Bobby make Cameron mend his ways where women are concerned, or will Cameron corrupt the good feminist with his easy charm?
Chivalry takes a refreshing look at gender politics and the rules of modern romance, and while never straying into preachiness it looks at the small hypocrisies most of us indulge in. Bobby's moral vacillations about her career choices may be too many to believe in the space of a couple of episodes, but they're real nonetheless.
The guest cameos – by among others, Paul Rudd and John C Reilly – don't quite reach the heights of Extras, but they add value to the comedy as the actors play awful versions of themselves. Coogan and Solemani, who have great chemistry, are on sparkling form.