Best of 2022: TV |

reviews, news & interviews
Best of 2022: TV
Best of 2022: TV
Is too much TV choice making you tear your hair out?
Thursday, 29 December 2022
Can Tom Cruise save the movie business from the TV streamers?
It may be the lack of old-fashioned blockbuster movies that explains the staggering success of Tom Cruise's Top Gun: Maverick, and the explanation for the lack of blockbuster movies may be that all the money and effort are being poured into television.
But the downside is that we now have far too many streaming services, and viewers are sick of having to fork out for yet more subscription plans. It's baffling for TV critics too, since nobody can agree on what ought to be reviewed any more.
Despite all that, 2022 had many memorable moments, and we pick out our favourites (and not-so-favourites) below. As ever there are regrettable omissions, such as Hacks (Amazon Prime), The Ipcress File (ITV), Tokyo Vice (BBC One), Magpie Murders (BritBox), and the second and excellent series of White Lotus (Sky Atlantic). This was also the year that saw the end of Better Call Saul, Ozark and The Last Kingdom, and brought us Harry and Meghan's intriguing new style of documentary which presents "my truth" but possibly nobody else's. Adam Sweeting
Not one, but two series of Apple TV's utterly joyous Slow Horses have provided excellently potent shots of escapist pleasure this year. A bleakly noirish London, a general air of grubby despondency and plotlines involving murderous racists and efficient Russians with grudges shouldn't be the comfort blanket that it most certainly is, thanks to a loveable cast of beautifully written and acted characters. Gary Oldman (pictured above) makes a gloriously revolting, terminally flatulent Jackson Lamb, whose team of reject spooks – the "slow horses" named after their Slough House HQ – are subject to the bracingly unpleasant management style that is one of the show's main draws. "They're a bunch of absolute losers, but they're my losers," he tells Diana Taverner, his sparring partner and opposite number at MI5 proper, played by an immaculately icy Kristin Scott Thomas. Cartoonishly overdrawn characters are perfectly tempered by more nuanced performances, notably from Saskia Reeves as Catherine Standish, Rosalind Eleazar as Louisa Guy and Dustin Demri-Burns as Min Harper. Florence Hallett
Runner-up: The Watcher, Netflix
Bobby Cannavale and Naomi Watts starred in this addictive thriller-cum-cautionary tale, which warns against a grass-is-always-greener mentality via an appallingly spooky haunted house story. The claustrophobia and petty antagonisms of American suburbia prove as fertile a seam as ever, as a cast of neighbourhood oddballs, including Mia Farrow as an eye-poppingly creepy Pearl, switch disarmingly between comedy and horror. Florence Hallett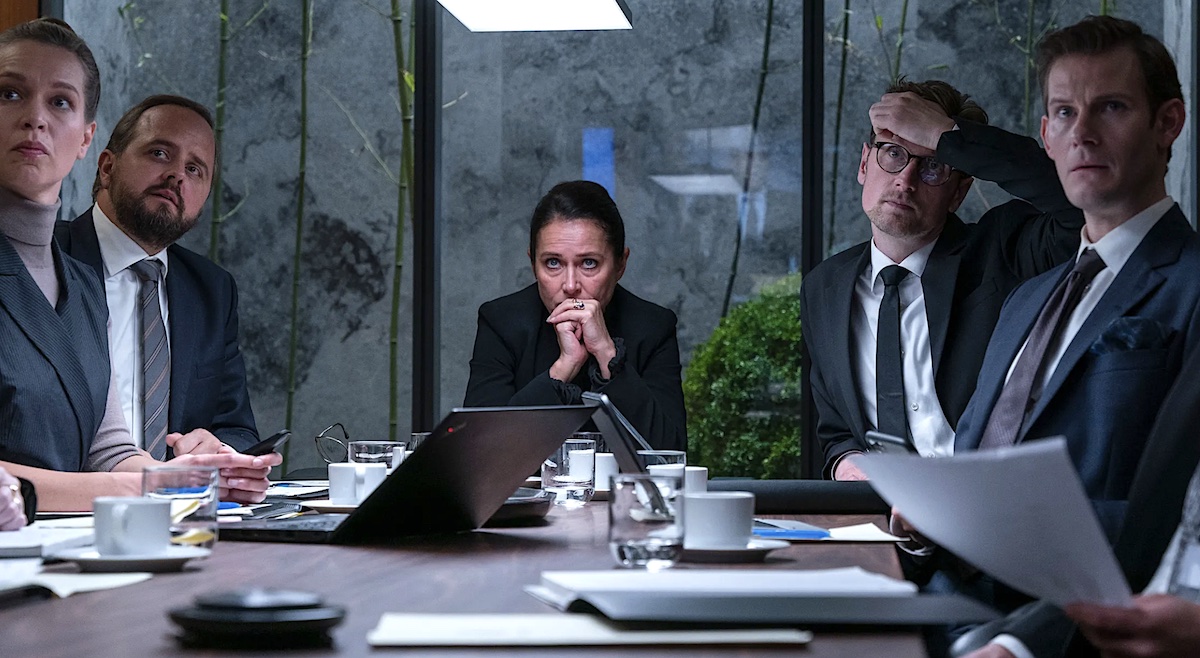 Borgen: Power and Glory, Netflix
It's always a risk getting the band back together. Will things still gel? Will fans want only the old tunes? All such fears were banished when Borgen (pictured above) returned with a new title and theme tune on a new channel. Everything else stayed the pretty much as you were: as played by Sidse Babett Knudsen, ex-statsminister Birgitte Nyborg was still a stellar centrist fantasy figure deploying fire, ice and a podium-topping smile.
In Borgen: Power and Glory she was back as foreign minister just as Denmark found itself in the eye of a massive geopolitical storm: how can diplomacy and decency triumph over muscular superpowers and staunch the flow of fossil-fuel wealth? Meanwhile, in the parallel world of TV news, ex-anchor Katrine Fønsmark (Birgitte Hjørt Sorensen) was now the boss, blindsided by hideous Twitter pile-ons and meddlesome shareholders. The bingeable narrative, which twists and turns and ticks along, felt just right for the show's new home on a streaming service.
While the script was more planet-facing – showrunner Adam Price even presciently invoked a crisis in Ukraine – there was a tasty side-snack of feral coalition feuding. In the gripping new Borgen, and in Nyborg herself, we were plunged into a Mephistophelean murk, and all you could do is cross your fingers for her and for the world. But then hope was always Borgen's renewable resource. Jasper Rees
Dud of the Year: American Gigolo, Paramount+
Jerry Bruckheimer, as well as bringing back Top Gun this year, exhumed Paul Schrader's American Gigolo as a 10-part TV drama and you had to wonder: erm, why? A semi-remembered sex worker from 42 years back somehow doesn't feel like a worthy candidate for cryogenic defrosting.
The writing and directing was taken on by David Hollander, who kept faith with a naff softcore aesthetic which was still very much essence of 1980: the pool, the flesh, the sleaze, the steam, the wheels, the pop. In this reimagined version, Julian discovered he was framed for murder after 15 years in the clink. The minute he got out he made contact with figures from his past, getting caught up in his own cold case as well as a new murder, while flashbacks revealed how Julian fetched up in the sex-work sector (pimped out by his mom to pay the rent).
Jon Bernthal was a dead ringer for Richard Gere: he had the whisper and the strut, the mahogany buns and abs of teak. It was as subtle as a brick wrapped in cement dunked in concrete. Also horribly slow, even the sections not unfolding in actual slow motion. Jasper Rees
Am I Being Unreasonable?, BBC One
Fans of This Country, Daisy May Cooper's breakthrough series, already knew that she was super-talented but this dark comedy, written and co-starring her great friend Selin Hizli, confirmed it. They play two women thrown together by circumstances in a sleepy Cotswolds village where bored, restless and lazy Nic (Cooper) befriends mysterious newcomer Jen (Hizli). They both have secrets, but as their respective stories – told with dry wit and some verve – unfold, the narrative seems to be pulling in one direction but ultimately lands somewhere else entirely.
The denouement that Cooper and Hizli (both pictured above) pull off in the last episode of the series is shocking, not just for its content but because there is not even a hint previously that it might come. The cleverness of the writing and the brio of the acting from the entire cast, which included Lenny Rush, Dustin Demri-Burns and David Flynn, made this memorable. Veronica Lee
Dud of the Year: The Woman in the House Across the Street from the Girl in the Window, Netflix
Strangely enough, considering the richness of the cliche-ridden source material, this disappointing series managed to simply recreate them and was a comedy-thriller that provided few laughs or thrills. The funniest thing about it was the title. Veronica Lee
The Marmite drama series of the year: hated by the action film crowd for its nothing-happening feel, but loved by people used to the pace and methods of arthouse cinema, who warmed to its careful mapping of a deep-rooted relationship while seemingly skating over its surface. Stefan Golaszewski's previous TV work wasn't exactly fast and furious (Him and Her, Mum), but here the focus narrowed for long stretches onto just one suburban couple (Nicola Walker and Sean Bean, pictured above), who impressively used nuanced glances and telling silences to air feelings their characters couldn't express. Their ordinary lives, their orderly house, their little family (an adopted black daughter, a nightmare father, unforgettably played by James Bolam), her unsatisfactory office life, his sudden lack of any work at all except housework, their secret sorrow: all were wryly and poignantly sketched out in simple dialogue that could inject real pathos into a supermarket argument about potatoes. Masterful. Helen Hawkins
Runner up: The Lovebox in Your Living Room, BBC Two
Harry Enfield's inspired spoof of Adam Curtis's ruminative documentary style also succeeded in taking a beady-eyed satirical swipe at BBC television over the years – and yet was ultimately a big Yes vote for making the government leave Auntie well alone.
Worst of 2022: Probably the Meghan and Harry extravaganza on Netflix, but I admit I can't bring myself to watch it. Helen Hawkins
Merli: Sapere Aude, Netflix
Unlikely Barcelona-set brew of philosophy, youth, sex and love. Most of us won't have seen the first series dominated, apparently, by the Merlin-like philosophy teacher who inspires his high school students but is dead by the beginning of the first strand to make it to Netflix. The bright boy from a poor background has gone on to university and finds another older guiding light in María Bolaño (Maria Pujalte), whose wisdom on campus is offset by her mid-life crises off it (she has a drink problem and a charming Down Syndrome daughter). All eyes are fixed, though, on the charismatic Carlos Cuevas as protagonist Pol Rubio as he seduces men and women on his way through a new university life. Everyone in the drama says he's magnetic, and he is. Not quite enough to carry a second series without another star performer, Azul Fernández as the vivacious Minerva, who's gone off to look after her grandmother in Venezuela. But Series One is top-notch throughout, beautifully filmed, with well-chosen music and a sassy script. David Nice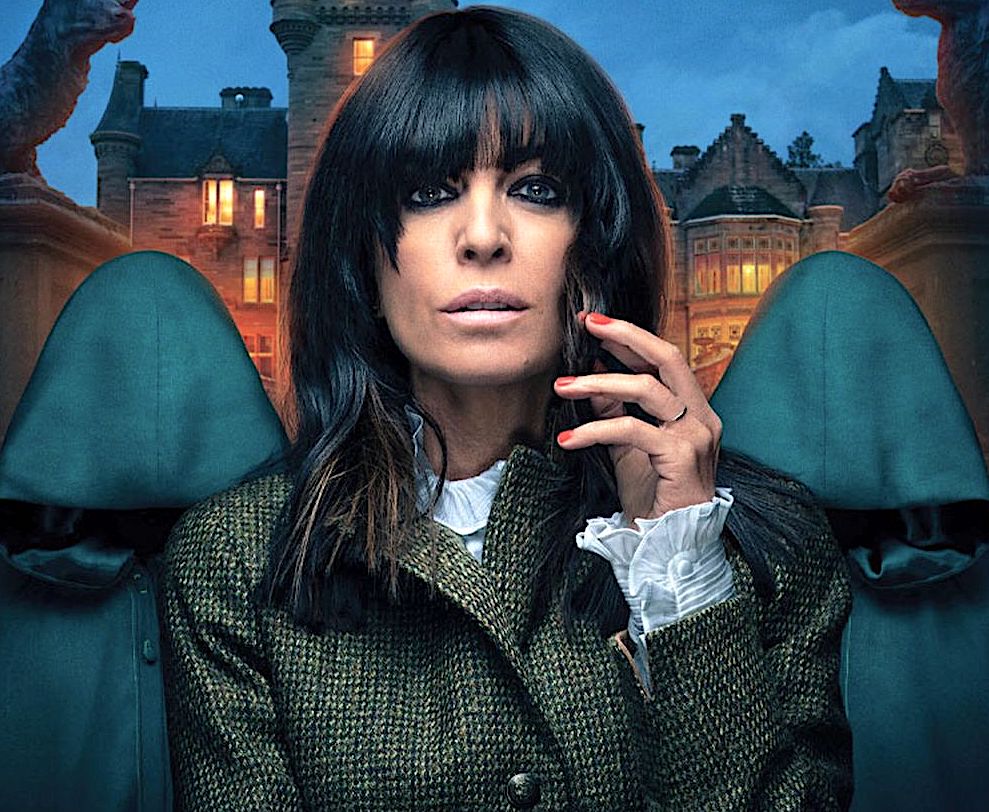 Runner-up: The Traitors, BBC One
From "why should I watch another reality TV show?" to addiction, I got hooked by the first episode and remained so, with no disappointments, to the final revelation of who wins the prize money – the "Faithfuls" inhabiting a Scottish castle and its ravishingly filmed surroundings, or one (or more) of the "Traitors" among them who assassinate the others more or less nightly. Claudia Winkleman (pictured above), whose TV celebrity had passed me by up to now, suits the Gothic aspect with her trademark black fringe and eyeliner; she's knowing but not too arch. And the beauty of it all is the mix of psychological games in which the wide range of players gets embroiled with the genuine thriller aspect: human nature trammelled by rules, some very entertaining outdoor challenges and the weekly eviction, voted at an increasingly fraught round table, before the nightly murder. Try and avoid any spoilers, as I did, and binge-watch. David Nice
The Old Man, Disney+
This seven-part series was the perfect vehicle for a rumpled, still powerful Jeff Bridges. He plays Dan Chase, a retired CIA operative, living quietly in upstate New York with his two exceptionally obedient Rottweilers, worrying about his health, dreaming about his late wife (Hiam Abbass) and talking to his daughter (Alia Shawkat) on the phone. A vulnerable old man? The first episode is deliciously misleading. During a break-in at his house, the Rottweilers come into their own and Chase, plus dogs, go on the run. His past in the Soviet-Afghan war has caught up with him – flashbacks are well handled, with Bill Heck convincing as a young Dan Chase – and it's soon clear that hired assassins attack him at their peril. John Lithgow co-stars in a fine turn as FBI boss and Chase's former colleague. The two are keen for the truth to remain hidden, and we see how the compromising of the true self is an agent's occupational hazard. Markie Robson-Scott
Runner-up: Yellowjackets (Sky Atlantic)
Gruesome, funny, gloriously bingeable, starring the excellent Juliette Lewis, Christina Ricci and Melanie Lynskey. A plane goes down carrying a high-school soccer team, some of whom manage to survive. And some don't. What exactly happened, and how they cope with the trauma 25 years later, is slowly and fascinatingly revealed. Markie Robson-Scott
Steven Knight's adaptation of Ben Macintyre's book about the formation of the Special Air Service in the Western Desert in World War Two allowed itself to take plenty of liberties, but successfully managed to convey the determination, imagination and cold-blooded fearlessness of Captain David Stirling and his crew of exceedingly unconventional warriors. Borrowing a trick from his work on Peaky Blinders, Knight and his programme-makers had crammed the soundtrack with adrenalin-pumping rock music, from the likes of AC/DC, The Clash and The Damned. It was a million miles from the wartime sounds of Glenn Miller's orchestra and could have fallen flat on its face, but it was a device which successfully conveyed the high-wire derring-do which was the SAS's stock in trade as they came charging out of the desert in their squadrons of jeeps to lay waste to the airfields and supply lines of the Axis enemy.
The show wouldn't have worked without its shrewdly-chosen cast. Jack O'Connor exuded fatal charisma as Ulster's own Paddy Mayne (even if Mayne's family found fault with aspects of the characterisation), Connor Swindells (pictured above) brought death-defying determination to his portrayal of Stirling, and Dominic West exulted in a spendidly ambiguous role as the decadent undercover operative Dudley Wrangel Clarke. Echoes of Knight's work on the Brad Pitt/Marion Cotillard war flick Allied were impossible to miss, not least in his creation of the exotic Free French spy Eve Mansour (Sofia Boutella), but Rogue Heroes was a bold gambit which paid off in spades. A little like the SAS itself, perhaps. Adam Sweeting
Runner-up: Freddie Flintoff's Field of Dreams, BBC One
As if the incredible transformation of the English Test team under Ben Stokes hasn't been amazing enough, former England all-rounder Freddie Flintoff popped up with this superb series about how he went back to his home town of Preston to create a cricket team from local kids who knew nothing about the game. "Think cricket is posh & boring? Think again" said the recruitment posters Freddie pinned up in the neighbourhood, prompting only a widespread wave of apathy. But Freddie was determined and he persevered, gradually gathering together a group of youths mostly from poor or broken backgrounds. Against the odds, he managed to convince his recruits that cricket was not only worth playing, but could be a life-enhancing experience. Especially if, as happened quite often, the lads discovered they had some natural ability, like the 16-year-old Afghan kid Adnan who showed precocious promise as a demon fast bowler and looks like getting picked up by the Lancashire county side. Flintoff even found them their own ground to play at. "If you build it, they will come," be reckoned. Adam Sweeting